Tento rok je z mojej strany, čo sa hudby týka, skôr pôstny. Pomaličky renovujem zbierku, tu a tam po jednom nosiči. Na začiatku roka ma prepadla detská nostalgia, nuž som si zadovážil aj tituly, ktoré by ortodoxných rockerov asi pripravili o desať rokov života, a preto ich menovať nebudem.
Priebežne si dočisťujem Zappu, občas dám na miestne odporúčania (Poobah, Fuchsia) a inak som skôr v letargickom rozpoložení. Užívam si muziku, ktorú dôverne poznám. Nemám teraz toľko času, aby som o všetkom písal siahodlhé články, tak aspoň takto. Dovoľte mi uviesť pár čerstvých prírastkov.
Čo sa týka tohoročných noviniek, okrem už recenzovaného diela Coat of Arms od Wishbone Ash som siahol aj po:
Nazareth – Loud'N'Proud (1973)
Nazareth patrí k tým kapelám, ktoré síce rešpektujem a vlastne mám rád, ale ani zďaleka som si jej diskografiu neskompletizoval. A tak sa mi album Loud'N'Proud dostal do rúk až tesne pred koronavírusovou uzáverou. Počul som ho naposledy ešte v detstve, a preto ho intenzívne nasávam. Asi nikoho neprekvapím, keď prehlásim, že to najpodstatnejšie na tomto albume sa nazýva The Ballad of Hollis Brown.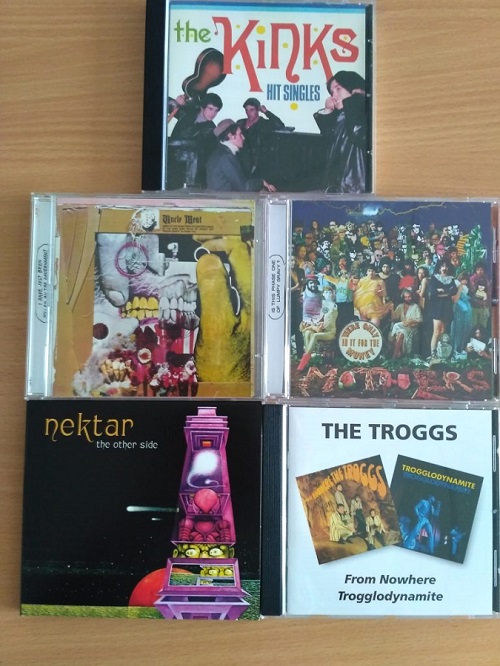 Frank Zappa & The Mothers of Invention – We're Only in It for the Money (1968) a Frank Zappa & The Mothers of Invention – Uncle Meat (1969)
Zappa a Mothers of Invention, 60. roky, psychedélia a džez, irónia a satyra. Úprimne, mám radšej jeho tvorbu zo 70. rokov, ale občas siahnem aj po jeho prvotinách.
Nektar – The Other Side (2020)
Nektar veľmi nesledujem, posluchovo sa orientujem hlavne na albumy A Tab In The Ocean, …Sounds Like This a Remember The Future, ale miestne oslavné príspevky ma nahlodali a album som si kúpil. Výsledok? Je fakt dobrý!
Troggs – From Nowhere/Trogglodynamite (1966/1967)
Wild Thing je skladba, bez ktorej by rocková hudba znela inak. Kapela je trestuhodne opomínaná na našich weboch, tak aspoň takto si ju pripomeňme. Chcel som bestofku, mám prvé dva albumy na jednom CD. Nie všetko ma oslovuje, ale je to klasika.
Kinks – The Singles Collection (1997)
Za pár drobných klasika, výberovka hitov zo 60. rokov, krásne sa to počúva. You Really Got Me!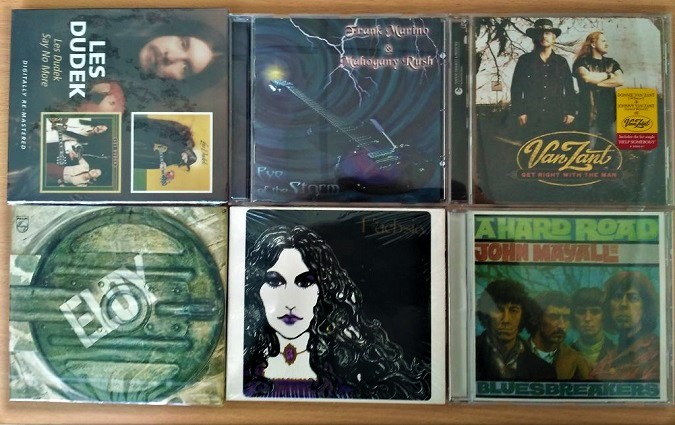 Frank Marino & Mahogany Rush – Eye of the Storm (2000)
Keby kamarát nerozpredával zbierku, tak sa k poslednému štúdiovému albumu kanadského borca Franka Marinoa asi nikdy nedostanem. Už mám jeho štúdiovú produkciu takmer kompletnú. Teším sa.
Fuchsia (1971)
Neodolal som miestnym tipom a album si zohnal. Ešte som ho nepočul, ale tak, hádam by ste ma tu neprekabátili!
Eloy (1971)
A je doma! Debut, ktorý mi veľmi chýbal a už nechýba. Ešte, že sa občas niekto zbavuje svojich pokladov…
John Mayall and the Bluesbreakers – A Hard Road (1967)
Peter Green a John Mayall, update CD na verziu s bonusmi sa núkal dlho a už sa nenúka.
Van Zant – Get Right With The Man (2005)
Tretí album bratskej dvojice VanZantovcov je lepší ako ten predchádzajúci. Príjemná kolekcia južariny so zameraním na balady. Niekedy dobre padnú.
Les Dudek – Les Dudek/Say No More (1976/1977)
Les Dudek je skúsený americký štúdiový gitarista, hral s The Allman Brothers Band a mnohými ďalšími veličinami. Svoje prvé dva albumy nahral aj s dvojicou hráčov z Toto – Jeff Porcaro (bicie) a David Paich (klávesy). Je to príjemná muzika.
A to je všetko. Večerná inšpirácia na počúvanie z mojej strany končí. Vašu môžete uviesť v komentároch.