Dovoľte mi zaspomínať si na počiatok 90. rokov, kedy sa, okrem iného, dostalo aj našim punkáčom luxusu vydať svoju muziku, takpovediac, oficiálne. Slovenský punk bol, trúfam si povedať, trošku iný, ako ten svetový.
Na základnej škole, počiatkom 90. rokov, po takzvanej nežnej revolúcii, vtrhli do našich detských poslucháčskych uší radikálne protestné a, čo si budeme hovoriť, až rasistické hudobné telesá. Texty oslavujúce "vágusáctvo", protestujúce proti sociálnemu systému, politike, nadávajúce na všetko možné, ktoré dieťa by odolalo… Aj ja som, vďaka spolužiakovi, dostal možnosť pričuchnúť ku kazetám s neoficiálnymi, ale voľne sa šíriacimi nahrávkami kapiel ako Zóna A, Karpina, ako aj k oficiálnym pokusom od Davovej Psychózy, Slobodnej Európy, Extipu atď. O českej scéne ani nevravím, možno si spomeniete na všetky tie Visacie Zámky, SPS-ká, HNF-ká, Šanovi, Tři Setry atď. Skinheadské bandy ako Orlík, Braník, Krátky Proces a pod. radšej ani nespomeniem, hoci, predstavte si, v tých časoch to šlo ruka v ruke.
Keď si to tak spätne rekapitulujem, najviac sa mi do pamäte zapísali skôr tie neoficiálne nahrávky, tých oficiálnych zasa tak veľa nebolo, nuž zostaviť top five šlo vcelku ľahko. Samozrejme, až na mikroskopické výnimky sa tu nebudeme baviť o nejakom hudobnom kumšte. Punk, to je muzika nemehiel, akákoľvek snaha o "sofistikovanosť" vyznieva minimálne trápne, maximálne falošne (neopunk by mohol rozprávať).
Zóna A
Myslím, že najväčšia veličina bola a je Zóna A. V 80. rokoch, za socíku, mohla na oficiálne pôsobenie zabudnúť, po revolúcii takmer okamžite vypustila do éteru album Potopa (1990), ktorý obsahoval väčšinu skladieb, ktoré sme počúvali z neoficiálnych nahrávok. A na tých boli onakvejšie kúsky, napríklad populárna hitovica Cigánsky problém, za ktorú by sa nehanbili ani z Krátkeho Procesu. Šokujúco som ju našiel na youtube, tak tu (už nie) je…
Z albumu som však vybral niečo, čo vo mne rezonuje dodnes, a síce skladbu Kde je Jozef Mengele, to, že operuje na Kramároch, ma strašilo hádam aj vo snoch:
Slobodná Európa
Myslím, že keby som mal vybrať svoj najobľúbenejší punkový album, zvolil by som Pakáreň (1991) od Slobodnej Európy. Jednak je hudobne zaujímavejší než väčšina ostatnej punkovej produkcie (miestami je to skôr rock), ostatne, hrali na ňom zaujímaví hostia s Pecim Uherčíkom v čele. Zároveň obsahuje niekoľko veľmi depresívnych, melancholických songov, napríklad The End:
Ale pochybujem, že existuje populárnejší song, než Analýza dokázala hovno: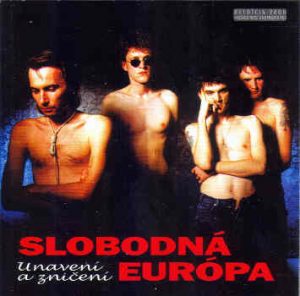 Nasledujúci album, Unavení a zničení (1994), bol prvým cédečkom, ktoré som si kúpil. Očakávania, ktoré som mal, sa nikdy nenaplnili, je iný, predsa len obsahuje viacero zaujímavých skladieb, z ktorých som vybral "pretextovanú" klasiku od Zóny A, Puf a Muf – Deti & Heroín:
Davová Psychóza
Debut Davovej Psychózy – Antropofóbia (1991), som svojho času zbožňoval. Obsahoval niekoľko zaujímavých intier a, povedzme si otvorene, podobne neznela žiadna iná kapela. Táto jedinečnosť ma zaujala okamžite, pre ilustráciu si vypočujte skladbu Spravodlivosť:
A ako sa to stalo aj pri predchádzajúcich kapelách, nadšenie z kúpenia kazety nasledujúceho albumu Svet žaluje (1993), vystriedalo sklamanie. Pre porovnanie prikladám titulnú skladbu:
Extip
Piaty album, ktorý som vybral, patrí ďalšej nie celkom punkovej kapele, a síce Extipu. Debut z roku 1991 obsahoval svojskú zmes muziky, o textoch nevraviac, ahaho, Kengura:
Zaujímavé je, že svoje debuty ani jedna kapela nedokázala prekonať. V "slobodnej" spoločnosti akoby celá tá revolta nemala vhodný protipól k pozérstvu.
Kým skončím, nedá mi ešte nevytiahnuť na svetlo sveta aj jednu srdcovku, ktorá sa s oficiálnym albumom v tých časoch nevytasila. Napriek tomu sa jej demá a záznamy z koncertov v Elame a v Unicu stali legendárne. Väčších bojovníkov s Mečiarom by ste v našich umeleckých kruhoch sotva našli. Karpina, synonymum humoru, čierneho humoru a brutálneho humoru, dokázala pobaviť priam románovými textami a neuviesť Nekromancu, to by som si neodpustil!
A ako som na tom dnes? Raz za "iks" rokov si spomienkovo niečo pustím a zaspievam si väčšinu textov, ktoré sa príhodne vynoria z útrob môjho prepchatého mozgového archívu. Aj keď je môj hudobný vkus inde, nemám problém podľahnúť nostalgii a s úsmevom zaspomínať na časy, kedy sme sa na prírodopise učili o ľudskom tele, rozmnožovaní a ďalších veciach, ktoré, keď sa ich za mladi naučíš, na škodu rozhodne nebudú. Ako to spievali The Exploited na svojom debute? Aha, už viem! Punks not dead!