Zvažuji, zda pokračovat v tomto způsobu představování nahrávek. Na samostatné recenze jsou to příliš krátké texty, ale jednotlivá alba prostě zasluhují představení. Ať pro svoji kvalitu, či nekvalitu. Tož, jedeme dál. Máte tu další hrst letošních střípků, co se pro někoho lesknou velmi, pro jiného méně.
TURTLE SKULL – Monoliths (2020) DR8 55:16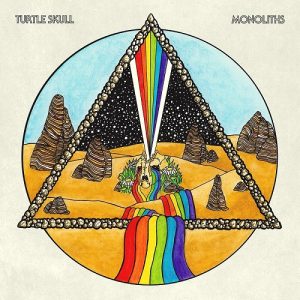 28.08.2020 vyšla druhá studiová deska těchto australských stoner doom melody space rockerů. Jejich předchozí eponymní album z května 2018 byl jeden z nejlepších stonerových počinů daného roku, často se k němu vracím. Takže jsem se těšil, zopakoval jsem tuto chybu, jako již mnohokráte. Hudba nezklamala, to jistě ne. I na novince se nachází excelentní flower psychedelic stoner, který má velmi zvláštní hřejivou a omamnou atmosféru s bohatými melodiemi a vokálními aranžemi. Přitom nejde o žádnou natahovanou nudu, hudba neztratila nic z kompaktní rockové úderné písničkovitosti.
Ovšem velikánský problém představuje zvuk. Ani neměřím DR, protože uši říkají – fujtajbl. Prostě v tohle si želva může s panterem podat tlapku. Každá razantnější pasáž se rozsype, zahltí, rozchrchle. Zkreslená rytmika zní, jako když do mixéru upadne kávová lžička. Hudba excelentní, zvuk zraňující. Posluchačské schizma 21. století.
Bandcamp
hudba ****
zvuk *
ATON FIVE – Childhood's End (2020) DR8 65:11

Výborný ruský band. Fuzzy space psychedelic instrumentálky. S pořádnou porcí sedmdesátkového sentimentu (Hammondy!) a art rockovou vystavěností kompozičních struktur. Při tom všem instrumentálním sólování se nezapomíná na pevný základ, který všechno drží pohromadě. Každá skladba má sílu balvanu, co si razí cestu kamkoli. První čtyři jsou studiové z období 2014-2015, nyní nově remasterované. Obzvláště Woods Made Of Stone a They Have Fallen And Thou Have Fallen předvádějí, jak lze přirozeně sloučit lehkou hravost s těžkotonážním fundamentem. Jako by se desert stoner teleportoval někam na Sibiř. Instrumentálních kapel jsou tisíce, ale takhle hraje málokterá. Barevné a doslova mozek leptající skladby, které tě drží v pozoru. Poslední tři dlouhé live stopy z roku 2018 jsou spíše jamy a mohou už trochu být obtížnější na soustředění.
Připomíná jenom mně basová linka Vagabond's Worries skladbu Orion (METALLICA) ?
Bandcamp
****
TIA CARRERA – Tried And True (2020) DR8 37:04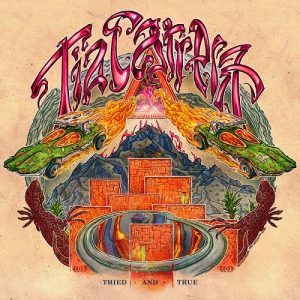 Banda z Austinu, Texas, USA. Naprosto masakrózní stonero fuzzy heavy bahno.
Nemám, co bych dodal. To musíte slyšet.
Bandcamp
****
DEMONS & WIZARDS – III (2020) DR7 64:49

Menu: Připálený, rozvařený a přepepřený guláš. Zn. Opravdu to není o chuti.
CD má DR7, přeprodukovaná muzika na hranici poslouchatelnosti, jak zvukové, tak hudební.
Vinyl má DR13. Muzika sice pořád ve stylu "čím víc pruhů, tím víc Adidas", ale aspoň neteče krev z uší.
Metal mám rád. Ale ne takovou natupírovanou přeplácanou pózu. Pár rutinních efektních machrovin opakovaných pořád dokola, pořád naplno. Jedna tlustá vrstva makeupu, a pod ní nic. Navoněné a načančané, únavné a klišovité, syntetické a vykalkulované nic.
Je to příšerně dlouhé a únavné. Teď si představte, že vyšla i Deluxe Edition, kde jsou všechny skladby 2x. Jednou se zpěvem, podruhé bez. Sisyfos se při pohledu na takovou nekonečnou blábolovitost zasměje a láskyplně objímá svůj balvan.
**
SHAMAN ELEPHANT – Wide Awake But Still Asleep (2020) DR7 40:18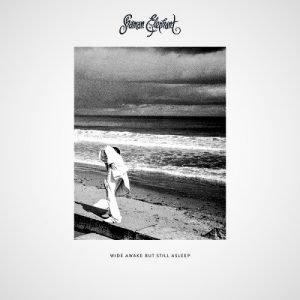 Zase skvělý retro rock, zase z Norska. U Norů je libovolná rocková kapela skoro vždycky sázka na jistotu, mají to zmáknuté. Osvědčený recept: vezmi fuzzy kytary, práskni do nich vibrující Hammondy, nastrouhej tam dřevní bicí a basu, pak ještě zašlehej všechno psychedelickou pěnou. Zpěváka nechej, jak mu huba narostla, hlavně žádný trendy filtry, ať je hlas co nejvíc hippie přírodní. S kompresí opatrně, jak je mjůzyk troubou připečený, není k žrádlu. Jen tak pěkně do křupava, a nakonec hotové dílo ozdob space oblohou. Podávej horké a hlasité, se špetkou distorzního koření.
40 minut tak akorát fajn muziky, která většinu své doby dovede nadchnout, a po ten zbytek je prostě bigbítově dobrá. Obsahuje několik skvostných pasáží. Nabité emocemi, spolehlivě nasytí i velmi hladového posluchače. Mňam..
Bandcamp
****
PS – nepřehlédnutelný je obal. Jako z italského filmu 60. let. Nádhera, úplnej Dolce Vita. Marcello…!
HOWLING GIANT – The Space Between Worlds (2019) DR7 48:16

První plnohodnotné album tohoto nashvillského souboru přichází v září 2019 po třech EP, které měly vzrůstající hudební kvalitu. Dlouho tyto melodické stoneristy sleduji, dlouho si je užívám, často je poslouchám. Když vloni vydali remasterované vydání debutního EP, překvapili zlepšeným zvukem. Měl jsem k němu výhrady, ale opravdu se udál jeden z mála historických případů, kdy remastering něco napravil.
Dlouhohrající počin je na tom zvukově zase hůř, a tak se člověk musí k jejich muzice prokousávat houštím deformovaných zvuků, kde se každý tón rozpíjí do okolí a bicí pumpují všemi nástroji i hlasem zpěváka, jako by ho u mikrofonu někdo mlátil do zad.
Nicméně muzika je to vynikající a tortura bídným zvukem nakonec zkrvavenýma ušima přinese i zážitek. Sice poněkud sebemrskačský, ale stonerově opojný až rozkladný. Nahrávka tě skopne do jámy hrobu, aby tě z ní pomocí ostnatých drátů tahala ven. Excelentní jsou tu tři skladby. První a dvě poslední, zejména The Orb stojí za poslech. I ostatní jsou poslechuhodné, vyhýbají se stylovým klišé, a když odhlédnu od zkomoleného zvuku, jsou super. Jenže až tak úplně se odhlédnout nedá, poněvadž poslech způsobuje šrámy.
Dávám čtyři zjizvené hvězdy a doporučuji poslech dvou předchozích EP, která jsou balzámem na aurální utrpení.
Bandcamp
****
Jo, chlapci chystají na srpen kooperační experiment s názvem Masamune & Muramasa, tak jsem zvědav.
IO EARTH – Aura (2020) DR10 63:56

Je mojí nemilou povinností se podělit o zjištění, že poslední album skupiny IO EARTH je mizérie. Dříve hráli nápaditou hudbu s rockovými až místy metalovými parametry. Hudbu obohacenou o složku symfonična a patetického tajemna. Dneska zbylo jen rozpatlané ezoterično. Ještě u první skladby si říkám, že je to dobré intro. Po deseti minutách, pořád to samé intro, už poněkud zamlžené. Mlha se postupně promění v nevábnou zatuchlost a vleče se úplně stejně až do neslavného konce. Posledních 18 minut má název The Rain, ale správně by bylo The Smelly Mud. Je to stejná zábava, jako hodinu sledovat plazícího se slimáka. Nafouklá huspenina líně a tlustě funících melodií, umělohmotných hlásků protlačených přes elektronické filtry, kde jsou použity všechny laciné a banální manýry, aby výsledek působil sladkobolně. Newage/ambient/nemohoucnost. Album se táhne jako rozbředlá nestravitelná kolomaz. Pár hudebních nápadů je rozředěných cukrkandlovou limonádou, z níž můžeš mít tak leda břichabol. Unylé zvukoplochy, bez života, jako pouštní horko. Zkusil jsem CD asi pětkrát, ale je to pokus o překonání Sahary bosou nohou, bez kapky vody. Marná snaha, tento blábol nestojí za nic.
*