Čím viac času uplynie, tým sú spomienky hmlistejšie. Preto som sa rozhodol, že zachytím do poznámok to, čo si ešte pamätám zo svojich detských i dospelých čias, z koncertov zahraničných hviezd, ktoré som mal možnosť vidieť.
Ako dieťa som si prešiel niekoľkými fázami poslucháčskych preferencií, od Triangla k punku a popri tom som vnímal to, čo nám hralo doma. Čo sa týkalo koncertov, z otcovho rozprávania som evidoval dve veľké akcie zo socializmu – Santana v Maďarsku (rok si už nepamätám), a John Mayall na bratislavskom amfiteátri v roku 1985. Asi nikoho neprekvapí, že predkapelou mu bola mimoriadne nešťastne zvolená formácia Midi. Povedzme si úprimne, v tých časoch oficiálna československá scéna nemala veľmi koho ponúknuť.
Po páde Železnej opony sa mi naskytla prvá príležitosť vidieť naživo svetovú veličinu. Dňa 3.5.1991 vystúpila na Gotvalďáku skupina Ten Years After s Alvinom Leem v čele. Zadarmo, len tak! Otec najprv neveril, keď videl plagáty, že je to naozaj pravda. Bola. V podstate to bol festival, zahralo viacero predkapiel a jedna po-kapela. Lucie. Neviem, prečo pristala na túto šialenú myšlienku. Dav ľudí so všetkými známymi čakal na hlavnú hviezdu večera. A po konci jej vystúpenia drvivá väčšina ľudí námestie opustila. Lucie zaujímala málokoho a ten pocit musel byť dosť zlý. Zažil som ho aj v mojej amatérskej kariére, takže viem.
V júni 1993 sa na Devíne predviedol Chuck Berry. To som si užil, rokenrol a povestný kačací krok bola úžasná kombinácia. Parkovisko pod hradným vrchom bolo natrieskané, azda si to užil aj Chuck.
V auguste 1994 sa k nám zázračne dostali lístky na vystúpenie Pink Floyd vo Viedni. Niekto nemohol ísť a posunul ich k nám. To som už pomaly vnímal aj ja, pätnásťročný tínedžer, videoklip k High Hopes v televízii. Toto je dodnes môj absolútne najsilnejší koncertný zážitok. Dňa 19.8. sme sa vypravili do Viedne, odparkovali v bezpečnej vzdialenosti a na letisko sa zviezli električkou. Bolo to gargantuovské. Šli sme hádam hodinu pomedzi plné parkovisko, aby sme sa dostali na letisko, kde sa koncert odohrával. Kým sme sa prešmykli dnu, šou začala. K pódiu sme sa ani len nepriblížili, to nešlo. Všetko však bolo snímané na obrazovkách, zvuk z reproduktorov bol absolútne úžasný. Nikdy som nepočul lepšie nazvučený koncert. A vďaka odstupu od pódia som videl jednak premietanie poza chrbty hráčov z pódia, ale predovšetkým laserovú šou, ktorá osvetľovala celú oblohu. Poviem vám, toto bolo niečo!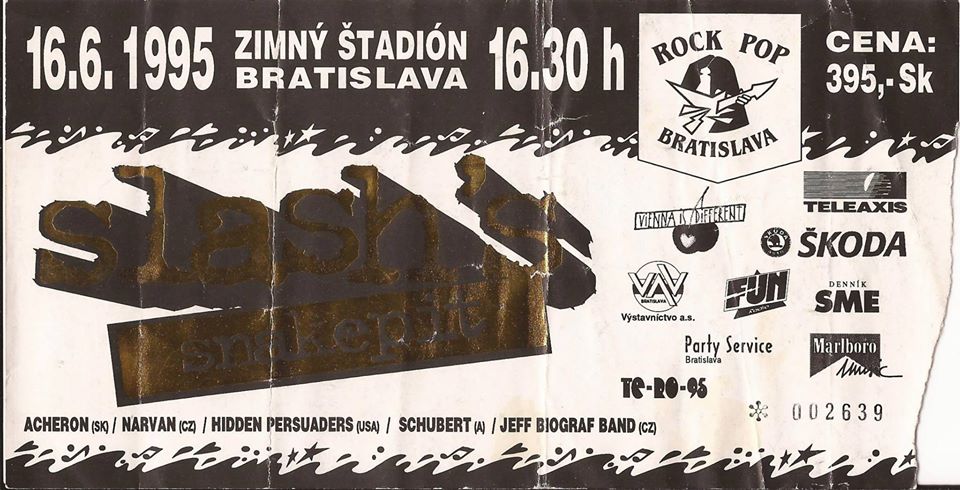 V tej dobe som zažíval hudobnú renesanciu, otec spolupracoval s Dorian Gray, ja som sa vrátil k hudbe, ktorú som dovtedy vytesnil. A síce k rocku prelomu 60./70. rokov. Ešte, že mal otec toľko kaziet! Debut Wishbone Ash, Benefit od Jethro Tull, The Road Goes Ever On od Mountain… Do toho stovky hodín koncertov a klipov na VHS, skrátka. Rozhodol som sa, že začnem hrať na bicie. Netrvalo dlho, založili sme s Tiborom Earpick a začal som spoznávať bratislavské amatérske hudobné podhubie. Fičali v ňom veci ako Nirvana, Guns N' Roses… A práve z druhej menovanej si do Bratislavy odskočil Slash s formáciou Snakepit. Bolo to 16.6.1995 a hoci som vôbec nepoznal jeho tvorbu, koncert na Zimáku bol fajn. Bubeník vyhadzoval paličky až do oblakov, to jediné vidím pred sebou ešte dnes.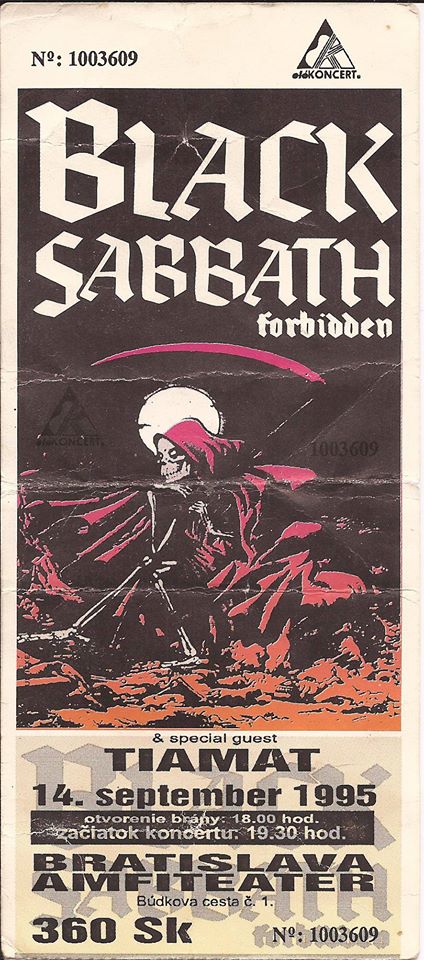 To 14.9.1995 som bol v úplne inej pozícii. Black Sabbath s Ozzym som mal v malíčku odmalička, nevyhli sa mi ani ďalšie etapy existencie skupiny, a preto som sa na koncert z turné k Forbidden na bratislavskom Amfiteátri pri Horskom Parku tešil. Zábavné boli aj dobové tanečky kardinála Sokola, ktorému prišlo vhod zviditeľniť svoje meno s kampaňou proti, predstavte si, satanizmu. Na strednej škole som mal jednu pani profesorku, hlboko oddanú viere, ktorá počas vyučovania pocítila potrebu varovať nás, pubertálne nevinné duše, pred touto hrozbou. Čoby prakticky bohorovný jedinec, som samozrejme tiež cítil potrebu reagovať, že sa nielen, že nebojím, ale rovno idem na túto prekliatu akciu. Nikdy v živote sa na mňa nikto nepozrel s väčšou hrôzou v očiach… V ten večer parádne lialo, predkapela (vtedy ešte pomerne neznáma, ale malo sa to zmeniť) Tiamat to preto mala ťažké. Postupne prestalo pršať, a preto Black Sabbath dostali, ako sa vraví, publikum do varu. Čiže obschlo. Spieval Tony Martin, bubnoval Bobby Rondinelli, ale to naj bola dvojica Butler-Iommi. A, samozrejme, zazneli najväčšie hity kapely (Paranoid…).
Potom som si dal od veľkých mien pauzu, zlákala ma až srdcovka Jethro Tull. Do Banskej Bystrice. Dňa 17.6.1997 mala vystúpiť na amfiteátri, ale pre nepriazeň počasia bol koncert presunutý do interiéru. Odniesol si to zvuk, ktorý nebol práve najlepší. Predkapelou boli starí známi z Dorian Gray a hádam mi to nebudú mať za zlé, keď poviem, že neboli úplne najlepšou voľbou. Slovensko malo (a má) vôbec problém s tým, zvoliť hudobne príbuzné kapely k rockovým velikánom. Z populárnej hudby nikto, z rozhrania amatérsko-profesionálneho rockového portfólia by sa možno aj niečo našlo, ale tých do povedomia komerčná klika nepustí.
Krátko na to, 4.7.1997, vystúpili v PKO Colosseum. Colosseum! Reunionové video z Nemecka som hltal, Hisemanovo bubenícke sólo s tromi paličkami som sa zúfalo snažil naučiť a zrazu som to mal vidieť naživo! Pravda, kvôli rozmerom pódia mal Hiseman namiesto sústavy gongov k dispozícii iba jeden, ale to je fuk! Toto je ďalší koncert, ktorý si radím do kategórie životných a som rád, že mi neušiel.
V roku 1997 som sa vypravil aj do športovej haly Pasienky, kde zavítal John Mayall a jeho The Bluesbreakers. Turné podporilo album Blues For The Lost Days, ktorý som rýchlo napočúval (má to výhodu, mať za strýka najväčšieho Mayallovho fanúšika v Strednej Európe, ktorý mal všetky CD k dispozícii hneď po vydaní) a dodnes naň nedám dopustiť. Predkapelou bol skvelý Electric Blues Band s Bobošom, takže azda prvý raz som videl dôstojnú voľbu reprezentujúcu Slovensko pred svetovým menom. Otec mohol porovnať dojmy s vystúpením za komunizmu a nostalgia zohrala svoje. Ja som však koncert zožral aj s chlpmi. Bol parádny.
Krátko na to (15.3.1998) nasledoval Mayalla jeden z jeho dvorných gitaristov, a síce Mick Taylor. So skupinou All Stars Blues Band vystúpil v PKO. Reklama hlásala veľkými písmenami, že ex-Rolling Stones, menšími, že ex-Mayall, to prvé ma veľmi nezaujímalo, keďže k Jaggerovi a spol. mám značne rezervovaný vzťah a vtedy som bol podstatne radikálnejší ako dnes. Ale koncert som absolvoval a bol príjemný.
Preskočím Robbena Forda, ktorého netradičnú fúziu džezu a blues mám rád a ktorý vystúpil na Bratislavských džezových dňoch 23.5.2002 a pristavím sa pri Jethro Tull. Bratislavský koncert 23.5.2004 v Inchebe považujem za lepší ako ten v Bystrici. Aj predkapela bola skvelá, Fermata, čo dodať.

Dňa 29.5.2005 som bol so svojou skupinou Žalman Brothers Band na skusoch v Poľsku, konkrétne v Rawe Mazowieckej. Každoročne sa tam uskutočňuje výborný bluesový festival Noc Bluesowa, ktorého súčasťou je menšia súťaž bluesových skupín. Program vyzerá nasledovne: súťažné skupiny odohrajú asi 20 minútové vystúpenia (je ich vždy celkom dosť) a po nich hrajú hlavné hviezdy večera. Toho dňa nimi boli René Lacko a Ten Years After. Davy ľudí, ktoré sa v areáli menšieho zámku zišli na blues, boli neuveriteľné, čo napomohlo k skvelým hudobným výkonom večera (hoci na nás bolo ľudí málo, lebo sme si vylosovali zahájenie pódiových prezentácií, čo bolo poobede a ľudia sa začali schádzať až k večeru). René Lacko bol skvelý ako vždy, avšak, ako to už býva, Ten Years After mali o triedu lepší zvuk a skupina pôsobila neskutočne nadupane. Keďže prišla propagovať svoje nové CD Now, zahrala aj veci z neho a zneli dobre. Joe Gooch je skvelý gitarista. Šou skončila niečo po polnoci a ja som si priamo na mieste za ťažké zloté kúpil zmienený album. Dodnes ho rád počúvam.
Doteraz boli všetky moje zážitky dobré, ale každé pravidlo má svoju výnimku. Tou mojou je vystúpenie Joe Zawinul & The Zawinul Syndicate v Babylone dňa 27.9.2005. Priznávam, že Weather Report nepočúvam často, ale bol som zvedavý, s čím Zawinul príde. Prišiel s neskutočne iritujúcim gitaristom, ktorému by som nezveril ani playback na koncerte Elánu, nieto rolu v takejto skupine. Pokazil mi celý koncert, čo na tom, že ostatní sa snažili. Nechcem sa zbytočne rozčuľovať, a preto obráťme list.
Dňa 4.10.2006 zavítala do Incheby legenda menom Deep Purple. Steve Morse a Don Airey doplnili osvedčenú trojicu Gillan-Paice-Glover, hralo im to jedna radosť a ja nemám, čo by som vytkol. Splnený sen!
O dva roky neskôr, 26.9.2008, som sa len tak, z pasie, šiel pozrieť na Nazareth na Pasienky. Ako som nič nečakal, tak som bol spokojný. McCafferty spieval ako zamladi, zaujímavý kiks sa vyskytol počas skladby Razamanaz, kedy bubeník prekopol blanu na kopáku a musel ju vymeniť.
Preskočím legendy južanského rocku (Lynyrd Skynyrd, Blackfoot, Molly Hatchett), o ktorých som napísal veľké reporty a postupne sa objavia aj na Rockovici, a spomeniem dátum 14.10.2009, kedy do bratislavskej tenisovej Sibamac arény prikvitli fúzatí ZZ Top. Nie, že by som ich muziku nejako extra počúval, ale bližšie ako desať minút od bydliska už asi hrať nikdy nebudú, takže som nezaváhal. Šou to bola fajnová.
Múzeum obchodu je kuriózny stánok živej muziky. Dňa 10.11.2010 som bol na Ericovi Sardinasovi a jeho kapele Big Motor. Lepšieho bluesmana som naživo zatiaľ nevidel, je to zviera! Ak budete mať niekedy možnosť, neváhajte. Normálne som chápal, čo vedie ľudí seknúť s tým, čo robia. Každá skladba mala desaťminútové intro – dlhočizné sólo a desaťminútové outro. Pripomienka Roryho Gallaghera, od ktorého Sardinas prvý raz počul klasiku As The Crows Fly, Roadhouse Blues, zapájanie publika do refrénov (skladba Whiskey), razancia prejavu, bravúrnosť hrania, cit, dynamika a neviem, čo všetko ešte… Som spokojný.

Ďalší životný zážitok a splnený sen sa mi splnil 4.3.2011, kedy do MMC Clubu (bývalý Babylon, skrátka, Ymca) prišli moje hudobné idoly, kapela Wishbone Ash. Bola skvelá! Síce hrala o niečo viac novších skladieb, než by som uvítal, ale aj tie sa počúvali príjemne. Že vytiahne skladbu ako F.U.B.B., to som veru nečakal! Predkapela bola slabá, ešte aj na Slovensku sú o tri triedy lepší interpreti blues-boogie (napr. René Lacko). Wishbone Ash mala mladého bubeníka, ktorého výkon bol veľmi sympatický. Na  úvod dala Blowin' Free (trošku ešte dolaďovala zvuk), neskôr prišiel rad na Warrior a Throw Down The Sword, The King Will Come, Front Page News, You See Red a posledná skladba, neskutočný Phoenix. Prídavky boli skvelé, najprv Persephone a následne Jailbait. Z tých nových vecí som identifikoval akurát The Power a In Crisis.

A tým by som hádam aj skončil. Viacero koncertov som vynechal a dnes už s tým nič nespravím (Motörhead, Gary Moore, King Crimson), napriek tomu som rád za každý jeden realizovaný koncertný zážitok. O tých novších sa snažím pravidelne informovať na svojom blogu i na Rockovici. O tých starších, kde detaily blednú, ale pocity ostávajú, som sa rád podelil teraz. Azda vám to dobre padlo. Ako mne. Ďakujem.