Dnešný deň som si k práci nachystal ostrú počúvaciu nálož, nuž aspoň krátko:
Josefus – Dead Man/Get Off My Case (1970/1969)
CD Sundazed Music, 1999
Hard-psych rock z USA, povinnosť pre zberateľov vykopávok. Skupina Josefus vznikla v Houstone v Texase v roku 1969 odchodom niektorých členov z lokálnej skupiny United Gas. Pôvodné zloženie bolo Pete Bailey (spev), Dave Mitchell (gitara), Doug Tull (bicie) a Ray Turner (basa). Veľmi rýchlo sa stali miláčikmi tamojšej scény a otvárali koncerty takým kapelám, ako ZZ Top a Grand Funk Railroad. Zaujali aj istého Boba Gatelyho, ktorý ich odporučil starému kamošovi Jimovi Musilovi (žeby české korene?). Manažér Terry Knight ich síce chcel zobrať pod svoje krídla, ale bubeník Tull túto ponuku zmietol zo stola s odôvodnením, že nechce podpisovať kontrakt s texaskou spoločnosťou International Artist. A tak sa stal manažérom skupiny Musil, ktorý  zabezpečil (za 1 500 $) štúdio a vznikla nahrávka, ktorá sa neskôr nazývala Get Off My Case. Nanešťastie sa výsledný produkt nepodarilo predať, takže o pár mesiacov neskôr to skupina skúsila znovu, tentoraz za 3 000 $ požičaných od rodičov. To už boli v Phoenixe, kde Musil, pôsobil, a veselo (bez peňazí) užívali života. Absurdne znie, že kontrakt nakoniec podpísali pod menom Come. Išlo o to, že chceli nahrávať na Zappovej Straight Label a znelo by to úderne – Come On Straight Label. Nič z toho nebolo. Názov Josefus pochádza z toho, ako babička volala svojho vnuka – bubeníka Douglasa Jacka Tulla. Nakoniec v marci 1970 vychádza singel Crazy Man/Country Boy. Skupina sa vrátila do Houstonu, opäť nanovo nahrala celý album. Ten konečne vyšiel pod názvom Dead Man.
Skupina úspešne koncertovala, ale na nátlak vydavateľa musela vydať nový album s novým materiálom. V roku 1970 teda vyšiel druhý album Josefus, o ktorom sa skupina vyjadrila, že bol hrozný. Toto sklamanie spôsobilo, že sa v decembri 1970 kapela rozpadla. Pete Bailey a Ray Turner následne založili skupinu Stone Axe a v roku 1978 obnovili Josefus, spolu s Jerrym Ontiberozom (bicie). Vydali dva single a v roku 1979 ukončili činnosť. Skupina sporadicky účinkovala na festivaloch aj koncom 80. rokov, v 90. rokoch a aj v novom miléniu, dokonca vyšli aj nejaké nahrávky z týchto udalostí, ale na poriadny comeback už asi nedôjde.
Humble Pie – Live In Concert (6.5.1973, Winterland Theater, San Francisco)
CD XYZ Music, 2010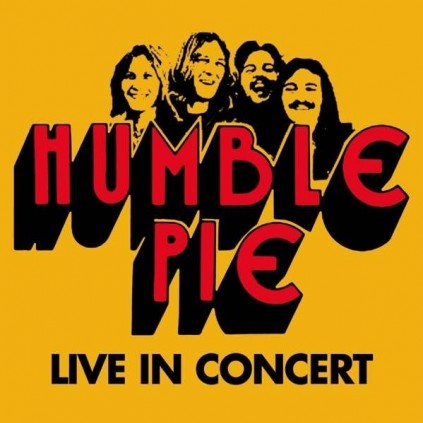 Zoficiálnený bootleg zachytávajúci hardrockovú úderku Humble Pie na vystúpení dňa 6. mája 1973 v San Franciscu je počinom hodným vďaky. Nabudený koncert vo veľmi surovom a pritom kvalitnom zvuku od skupiny, ktorá naživo patrila k najlepším, to som nemohol obísť! Playlist zahŕňa prierez hitmi, pár skladieb je z albumu Eat It, niečo zo Smokin', nechýba väčšina setu z Performance Rockin' The Fillmore, takže sú tu vražedné pecky I Don't Need No Doctor, 4 Day Creep alebo Hallelujah (I Love Her So). Koncert nemá slabé miesto, Marriot je neskutočný, skupina v tej dobe mohla zabrániť akejkoľvek energetickej kríze, toľko jej produkovala.
Jeronimo – Jeronimo (1971)
CD Jeronimo Music, 2002
Nech žije drsný hard rock bez príkras! Také niečo si povedal bubeník Ringo Funk, keď v roku 1969 založil s gitaristom Rainerom Marzom a basákom Gunnarom Schäferom skupinu Jeronimo, pomenovanú po jednej indiánskej celebrite. Aby im nebolo ľúto, o spev sa delili všetci. Na albumoch využívali aj klavír (vyvoleným bol Walter Ortel). V roku 1970 vyšla debutová doska Cosmic Blues, ktorá sa dá nazvať všelijako, iba nie uhladená. Uspeli aj s hitmi He Ya a Na Na Hey Hey, pričom tú druhú pozná každý, kto sa zaujíma o šport alebo bol niekedy na štadióne. Spolu so Steppenwolf absolvovali úspešné turné po Nemecku. Zavítali aj na prestížne festivaly a v roku 1971 hrali v Lausanne pre UNICEF, čo bola udalosť vysielaná televíziou do celého sveta. Ešte v roku 1970 spolu so skupinou Credence Clearwater Revival prezentovali album Spirit Orgazmus, ktorý bol (vraj) úspešný v celej Európe. Na druhom albume, s názvom Jeronimo (1971) vystriedal Marza gitarista a spevák Michael Koch, čím sa zlepšil zvuk a aj skladby. Svoju púť ukončili albumom Time Ride (1972).
Čo sa týka albumu Jeronimo, po neuhladenom debute sa skupina nadýchla a vytvorila skvost. Drsný hard rock v lepšom zvuku a so silnými melodickými momentami môžem v akomkoľvek množstve. Minivsuvka Reminiscenses patrí k nemnohým miestam, kde má počúvajúci subjekt šancu na chvíľu vydýchnuť. Inak je mliaždený ako v mažiari. Vrcholom je bubenícke sólo Hugudila, nie, že by bolo ťažké, ale je efektné.
Grand Funk Railroad – E Pluribus Funk (1971)
CD Universal, 2002
Americkí velikáni Grand Funk Railroad nekompromisne valcujú všetko, čo im stojí v ceste. Album E Pluribus Funk je posledným pred skrátením názvu a tiež posledným, kde kapela vystupovala ako trio. Výsledkom je klasika s monumentálnou záverečnou skladbou Loneliness v talóne. Zaujímavosťou bol pôvodný obal platne, ktorý bol okrúhly ako minca a na zadnej strane bol vyobrazený Shea Stadium, čoby pripomienka toho, ako kapela porazila Beatles v rýchlosti vypredania vstupeniek na koncert v tomto stánku (dokázali to za 72 hodín).