Dovoľte mi krátko pripomenúť niekoľko čerstvých akvizícií z džezových a fusion oblastí. Miles Davis, The Eleventh House a Stanley Clarke si to zaslúžia.
Jeseň je tu a chytá ma sychravá džezová nálada. Keď sa k tomu priráta výpredaj v lacných cédečkach, nemožno sa mi čudovať, že som sa nechal zlákať niekoľkými klasikami žánru. Poďme podľa abecedy:
Stanley  Clarke – Stanley Clarke, 1974 (Music On CD, 2019)
Stanleyho Clarkea som spoznal z vysielania našej verejnoprávnej televízie. V roku 1986 hral na džezákoch (Bratislavské jazzové dni) a nielen pre generáciu môjho otca to bol zážitok. Záverečný "džem" s našimi basgitaristami mi z pamäti nezmizne. Samozrejme, evidoval som jeho meno v súvislosti s Return To Forever, Romantic Warrior sa mi doma slní už odnepamäti.
Druhý sólový album nazvaný prosto Stanley Clarke má všetko, čo zdobilo fusion v polovici 70. rokov. Dokonca pridal dychy, sláky, výrazné osobnosti ako napríklad Jan Hammer (klávesy), Tony Williams (bicie) alebo hoci Bill Connors (gitara, hral aj v Return To Forever). V jednej skladbe (Life Suite) zahosťoval slávny perkusionista Airto Moreira. Úžasná muzika.
Miles Davis – Kind Of Blue, 1959 (Sony Music Entertainment, 2009)
Legendárna nahrávka, kdesi som sa dočítal, že nikto ju nepovažuje za najobľúbenejšiu Milesovu nahrávku všetkých čias, lebo každý z jeho tvorby obľubuje niečo iné, ale všetci sa zhodujú, že toto je jedna z najlepších džezových nahrávok celej histórie tohto žánru. Povinnosť pre každého poslucháča, ktorý má rád džez a/alebo chce poznať najvýznamnejšie diela populárnej hudby 20. storočia. Zostava je, ako je u Milesa zvykom, svetová. Julian "Cannonball" Adderley a John Coltrane na saxofónoch, Bil Evans (a Wynton Kelly) na piane, Paul Chambers na base a za bicími sedí Jimmy Cobb. Plusom je prívetivá tvár muziky, dá sa počúvať kulisovo i hedonisticky.
Miles Davis – We Want Miles, 1982 (Columbia, 1995)
Návrat Milesa na scénu v 80. rokoch priniesol aj tento koncertný dvojalbum. Nahrávky boli zaznamenané v roku 1981 v Bostone, New Yorku a v Tokiu. Zostava je, tradične, nabitá osobnosťami. Marcus Miller (basa) a Mike Stern (gitara) sú stávkou na istotu, ale ani Al Foster (bicie), Bill Evans (saxofón) alebo Mino Cinelu (perkusie) nezaostávajú. Niektorí považujú tento album za posledný dobrý album maestra, napokon, čerstvo sa vrátil k muzike po dlhšej pauze a štúdiový album The Man With The Horn (1981) vo všeobecnosti nenaplnil očakávania fanúšikov. Na nasledujúcom turné sa však rozohral a toto je dôkaz.
Miles Davis Quintet – LIVE in Europe 1967 – Best of bootleg vol. 1 (Sony Music Entertainment, 2011)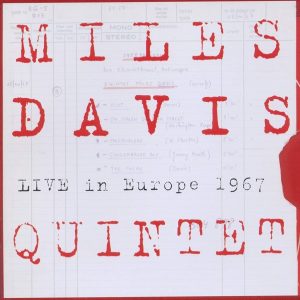 Rešpektovaná séria bootlegových boxov (celkovo ich bolo šesť) ma neprekvapivo minula, ale prvý disk prvého volume sa ku mne zatúlal. Zostava je tradične špičková, Wayne Shorter (saxofón), Herbie Hancock (piano), Ron Carter (basa) a Tony Williams (bicie), čo meno, to pojem.
The Eleventh House – Introducing The Eleventh House with Larry Coryell, 1973 (Vanguard Records, 1990)
Larry Coryell je zverský gitarista. Formácia The Eleventh House však núka aj ďalšie svetoznáme mená. Randy Brecker (trubka) či Alphonse Mouzon (bicie) sú už dnes legendami. Ale ani Mike Mandel (klávesy) alebo Danny Trifan (basa) sa veru nestratili. Muzika je to prísne inštrumentálna a "fjúžnuje" o dušu. Mám túto formáciu rád, azda najviac zo všetkých džezrockových kapiel tej doby.
A to by na dnes hádam stačilo. Pokiaľ máte náladu na trochu toho džezu, prípadne fusion, azda som vás inšpiroval.