Toto je moja osobná spomienka na koncert, ktorým som debutoval na pódiách. Písal sa 15. jún 1996.
Pomaly sa dostávam do veku, kedy mi moje spomienky na pubertu začína prekrývať hustá vrstva nostalgie. Úplnou náhodou som naďabil na to, že už je to dvadsaťpäť rokov, čo som v kultúrnom dome v Dúbravke (mestská časť Bratislavy) prvýkrát sadol za bicie na pódiu.
Kapelu Earpick sme založili s Tiborom Príklerom najmä preto, že sme sa obaja učili od členov kultovej bratislavskej kapely Dorian Gray. Tibora mal pod palcom Vadim Bušovský a mňa Boris Brna. Netrvalo dlho a mali sme vlastnú skupinu. Názov vymyslel môj otec, ktorý takúto formáciu údajne sám realizoval, koncom 60. rokov. Ale poďme do súčasnosti. Vzink Earpicku sa datuje v júni 1995. Áno, presne tak. Rok nám trvalo, kým sme našli basáka (Alexa Škorvánka), nacvičili cca šesť vlastných skladieb plus za priehrštie coverov (od Nirvany a AC/DC, cez Lennyho Kravitza a Guns N' Roses až po Deep Purple, Black Sabbath a pod.), ktoré sme však málokedy dotiahli do konca. Nič to, pomaličky sme mohli začať pomýšľať na to, čo je pre muzikanta najpodstatnejšie – kontakt s publikom.
V DK Dúbravka nám dali možnosť, ale varovali nás, že aj na hviezdneho Roba Grigorova prišlo len pár ľudí, tak nech nemáme veľké oči. My sme však mali plán. Skúšali sme v garáži pod Prístavným mostom, vedľa nás hrávalo punkové Ine Kafe, pridala sa skupina Face a ešte jedna metalová záležitosť, na ktorej názov si už nespomeniem. Večerný program minifestu bol hotový. Dňa 15.6.1996 sa sála zaplnila asi päťstovkou nadšených mlaďasov, pretože, čo si budeme hovoriť, metalisti a punkáči síce nechodili na Grigorova, ale na akúkoľvek amatérsku muziku sa vybrali radi. Mal som sedemnásť a pred sebou najväčšiu výzvu môjho života.
S Earpickom sme hrali po Face a pred Ine Kafe. A teda tuším tretí. Nervozita bola na mieste spolu s nami. Napriek tomu sme sa v šatni usmievali.
Neviem, k čomu mám prirovnať ten pocit, keď je vám jasné, že o chvíľku sa prvýkrát postavíte pred plný kotol a musíte zo seba vydať všetko. Každopádne sme si pripravili sedem skladieb a vôbec sme netušili, že to nebude stačiť. Šesť vlastných skladieb doplnila motorkárska hymna (v 90. rokoch bol u nás Harley Davidson veľmi populárna motorka) Born To Be Wild od Steppenwolf. Za seba môžem povedať, že nervozita zo mňa opadla hneď s prvou skladbou Stop Washing Your Brain, pri I Need My Space som si to už iba užíval. Nakoľko som poskytol svoje bicie, Pearl Session Series, ktoré mám dodnes, aspoň som sa nemusel prispôsobovať inej súprave. Dnes mi je to jedno, zahrám na čomkoľvek, ale vtedy mohla každá zmena skončiť katastrofou. Po slaďáku Long Blond Hair prišla prvá kríza. Poplietol som rytmus v intre ku Go To Hell. Našťastie, reťaz nepadla. Nasledovalo inštrumentálne Blues a na záver sme to rozpálili so zmieneným Steppenwolfom. Davy boli spokojné a vydupali si prídavok. Ibaže, nič ďalšie sme si hrať netrúfli, lebo sme to nemali poriadne nacvičené! Urobili sme teda to, čo by sa nikdy robiť nemalo a zahrali sme ešte raz Go To Hell. A hádajte čo! V úvode som spravil tú istú chybu a obrátil som doby! Keďže nás aj tak nikto nepoznal, nikto si nič nevšimol. Publikum nás vyprevadilo potleskom i výkrikmi, skrátka, bolo to super. A ja som vedel, že toto bude môj život.
Prekvapilo ma, keď som v publiku po koncerte stretol viacero spolužiakov z vedľajšej triedy zo strednej školy. Ani som netušil, že tam bolo toľko rockerov. Aj o tom je život, muzika o nás všeličo prezradí, navedie nás k ľuďom, s ktorými by sme sa inak minuli.
V 90. rokoch, po páde Železnej opony, sa hudobný život v Bratislave (a isto aj inde) neuveriteľne rozbehol. Podniky boli natrieskané, rockové koncerty lákali davy. Dnes už je všetko inak, ľudia na hudbu nechodia, podniky nemajú nie, že stálu, ale prakticky žiadnu trvalú klientelu. Koncerty v kulturákoch nenápadne miznú. Festivaly vyškrtla korona, a preto mi moju nostalgiu odpustite. Hudba je súčasťou živej kultúry, a preto verím, že sa to opäť rozbehne a ľudia pochopia, že internet nie je všetko. Koniec naivnej vsuvky. Dvadsaťpäť rokov hrávam naživo, je to úžasné. Vidíme sa pri päťdesiatke!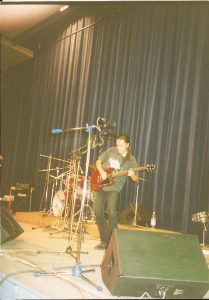 P.S. Okolité fotky sú naskenované z letitých rozpitých fotografií, záznam z ručnej kamery vyhotovil môj otec a prešlo dobrých devätnásť rokov, kým ho z VHS digitálne prepísal Peťo Csordáš, za čo mu ďakujem. Iste, záznam je nekvalitný, zvuková stopa dostala zabrať. Ja v nej počujem, čo sme hrali, ktovie, či aj niekto iný, ale to je jedno. Iný dokument poruke nemám. Nahrali nám síce aj z mixu na kazetu celý koncert, o tú som však už dávno kdesi prišiel.