Krátko po revolúcii s poznávacím číslom 89 sa v Bratislave roztrhlo vrece s miestami, kde sa mohla konečne voľne hrať rocková muzika. Z garáží spod Prístavného mosta, z Ostriedkov, z Lamača, Dúbravky, zovšadiaľ sa vyrojili mladíci túžiaci "vyhuliť" kombo štýlom "volume doprava" a rozoznieť vtedy ešte socialistickým realizmom poznačenú Krásavicu na Dunaji. Kto nezažil Propeler, KGB alebo Zbrojnoša, akoby nebol. A to isté platilo pre podnik v centre Bratislavy zvaný Aligátor.
Azda nikde som nestrávil viac času počúvaním živej rockovej muziky, ako tam. Neskôr som sa tam viackrát dostal aj ako hráč a malo to svoje čaro. Posúďte sami:
Ani neviem, kedy, zrazu však podnik zatvorili a po hroziacej katastrofe zvanej "Y2K" sa jedna vec zmenila. Živá rocková hudba v Bratislave pomaličky ustupovala. Ťažko povedať, či to bolo preto, že sa vyplatilo platiť výpalné "Sozákom" za rádiovú a diskotékovú produkciu alebo mladá generácia rockerov jednoducho vymrela (čítaj – zostarla). Každopádne pozvoľný pokles návštevnosti živej muziky napokon za posledných pár rokov nabral pomerne obludné rozmery a miest, kde sa do toho vôbec usporiadatelia púšťali, ostalo na porátanie na prstoch jednej ruky, aj to z pesničky "Keď som išiel do lesa na drevo".
Našťastie, stále ešte je kde hrať a počúvať, navyše, v apríli tohto roku sa zrazu na Špitálskej ulici č. 37 na rohu Mariánskej zjavil obnovený Aligator Crystal Rock Pub. Pamätníci si to miesto určite pamätajú ako Crystal bar. Vyzerá to tam takto:
Zrazu sa obnovila tradícia živých koncertných večerov zameraných na rock, čo v Bratislave prakticky vymizlo. Opäť sa na scénu vrátili nezlomné stálice miestnej podzemnej scény a nechýbajú ani tradičné rockové diskotéky. Keď si človek pozrie vystupujúcich, neubráni sa miestami návalu eufórie: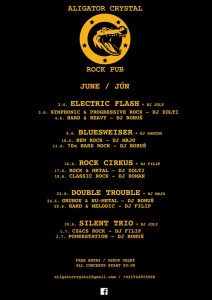 Ostáva mi už len jediné, zaželať si, aby neskrachoval a udržal si rockový ksicht. Každopádne dnes už nemôže nikto vyhlásiť, že Bratislava nemá riadny rockový podnik. Aligator Crystal Rock Pub môžem iba odporučiť. Minimálne sa kuknite na ich "fejsbúkovú" stránku.