O tom, že nadviazať na slávu potom, čo kapelu opustí dominantný líder a skladateľská osobnosť v jednom, nie je ľahké, svedčí nekonečný zástup príkladov. Aj James Gang si touto nevďačnou fázou existencie prešli (dokonca niekoľkokrát), nuž sa pozrime na album Straight Shooter (1972).
Joe Walsh sa v kapele cítil zviazaný a chcel si vyskúšať neviazanú sólovú kariéru. Paradoxne, aj keď si užíval status hviezdy, jeho kapela Barnstorm i sólové albumy mu však dlho nevydržali a napokon skončil u Eagles. Každopádne však bol tvárou James Gang, hlavným skladateľom i frontmanom. Ako niekoho takého nahradiť?  Fox a Peters sa rozhodli osloviť dvojicu Kanaďanov. Spevák Roy Kenner a gitarista Domenic Troiano spolu hrali v skupinách Mandala a Bush a napokon sa stretli aj tu. Kenner má príjemný hlas a k hudbe James Gang sa mimoriadne hodí. Domenic Troiano dopadol horšie. Walsh bol jedinečný skladateľ i interpret, a to je niečo, čo je do vienka dané málokomu. Napriek tomu by nebolo fér ho odpísať. Zložil takmer všetko, čo sa na albume nachádza. Hrá síce pomerne minimalisticky, ale s prehľadom.
Kapela v novom zložení premiérovo vystúpila v Carnegie Hall a publikum bolo spokojné, rovnako ako hudobní kritici. Žiaľ, nasledujúce vystúpenia už také úspešné neboli. Kapela hrala nové skladby, ktoré chystala na album a publikum chcelo staré hity. Aj preto počas vystúpenia v Santa Monice vo februári 1972 na pódium lietali mince, vajíčka i rajčiny. Album Straight Shooter si skupina produkovala sama a vyšiel v máji 1972 a v rebríčku Billboardu sa umiestnil na 58. pozícii, čo vôbec nebolo zlé, keď uvážime všetky okolnosti. A ako znie?
Kapela sa pokúsila nadviazať na kombináciu funkovej rytmizácie a hardrockovej údernosti (Madness, Kick Back Man) a tiež sa snažila pretkať album akustickými baladami, nezriedka obsypanými orchestráciou, aby to vyzeralo, že stavia na svojej identite. Oboje sa nie celkom vydarilo. Kým na albume Rides Again bola tá klávesovo-gitarová baladická zložka jedinečne skomponovaná a atmosféricky zahratá, tu sú skladby skôr len jednoducho vybrnkávané (Get Her Back Again, Let Me Come Home) a sláky sú v nich vlepené, len aby sa nepovedalo (Getting Old). Náznaky, že kapela sa postupne zbratala s country, ponúka kúsok Hairy Hypochondriac. Niektoré skladby sa predsa len dokázali vymaniť z priemeru. Hardrocková smršť Looking For My Lady sa vydarila. Rovnako príjemne odsýpa I'll Tell You Why, ktorá predznamenáva, akým smerom sa táto zostava vyberie na ďalšom albume. Plus je tu akoby "santanovské" sólo pod perkusiami. Do tretice, záverečná hutná funkovo zrytmizovaná skladba My Door Is Open má v sebe niečo ostré, čo so mnou súznie.
Celkovo je album Straight Shooter jedným z najslabších albumov, čo kapela nahrala. Nie, že by sa nedal vypočuť, ale nič nevyniká, je to taký troška nevýrazný kúsok, ktorému neprospelo, že sa snažil dostáť minulosti. Horší je už len rozlúčkový album Jesse Come Home. Napriek tomu si ho občas vypočujem a neľutujem, že ho mám.
Skladby:
Madness 3:14
Kick Back Man 4:56
Get Her Back Again 2:46
Looking For My Lady 2:55
Getting Old 3:48
I'll Tell You Why 3:55
Hairy Hypochondriac 2:58
Let Me Come Home 5:05
My Door Is Open 6:01
Zostava:
Roy Kenner: spev, perkusie
Domenic Troiano: gitara, vokály, spev (5)
Dale Peters: basa, vokály
Jim Fox: bicie
a
Glen Spreen: sláčikový aranžmán (5)
Shelly Kurland: husle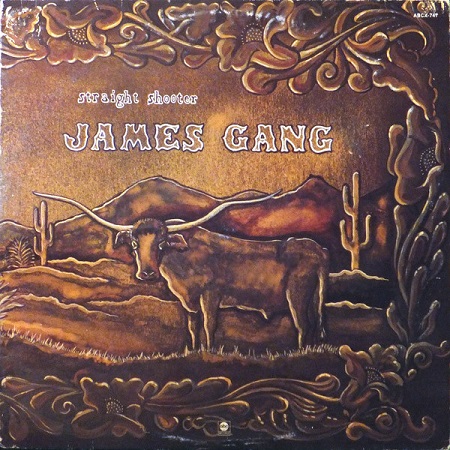 Straight Shooter
James Gang
hard rock
ABC Records
1972
CD (BGO, 2004)
9