Nové Anglicko sa rozprestieralo na severe USA a šlo o oblasť, ktorú pôvodne osídľovali Britskí utečenci. Vďaka nim poznáme nielen Deň vďakyvzdania, ale aj samostatné Spojené štáty americké. Do hudobných dejín sa zapísalo aj v 20. storočí, kedy sa vďaka úteku britských kapiel pred nehoráznymi daňami, stalo domovom viacerých z nich. Wishbone Ash si jeho názov, New England, zvolilo v roku 1976 ako titul v poradí siedmeho štúdiového albumu (a ôsmeho celkom).
S väčšinou skladieb som sa zoznámil vďaka nemeckej stanici WDR, ktorá vysielala záznamy z Rockpalastov. Dialo sa tak v nočných hodinách a my (t.j,. otec) sme si mohli užiť benefitov modernej techniky. Volalo sa to videorekordér, ktorý mohol na VHS kazetu nahrať niečo z televízie. Otec bol v noci hore, lebo počet videokaziet bol obmedzený, nuž pozeral, čo budú dávať. Viete, vtedy nebol internet, programy vychádzali v časopiseckom formáte a boli ste radi, že zahrnuli WDR a oznámili aspoň, že bude Rockpalast (čo presne, to nikto netušil). Spomínam to síce, akoby to malo súvis s týmto albumom, ale nemá. Na Wishbone Ash sme šťastie nemali. Našťastie, takto postihnutých jedincov bolo viacero. Keď niekto niečo nahral, požičal kazetu, niekedy aj videorekordér (aby sa dalo nahrávať z kazety na kazetu), pretože mať dva, to by v 90. rokoch hraničilo s milionárskou daňou. A týmto spôsobom sa k nám dostal záznam koncertu Wishbone Ash v Kolíne nad Rýnom zo dňa 12.1.1976. Dovtedy som poznal len prvé štyri albumy kapely a bol som jej muzikou beznádejne opantaný. Zmienený koncert ma nadchol a ja som si do plánov na minutie vreckového zaradil aj ďalšie albumy.
Polovicu New England som preto poznal skôr, ako som ho počul. Nakoľko ma oslovila zručná inštrumentálka Outward Bound a aj ten zvyšok bol fajn,  bol som voči nemu pozitívne zaujatý. A to mi ostalo. Deväť skladieb obsahuje očakávaný nápor krásnych melodických skladieb s dvomi sólovými gitarami v popredí. Nekorunovaní králi rockových balád sa vytasili nielen s Persephone, ale aj s When You Know Love. Tvrdšie skladby zastupuje napríklad Runaway, no a to ostatné? Krátke inštrumentálne medzihry Prelude a Candlelight pripomenú album Pilgrimage. Ani zvyšok albumu neopúšťa klasický "wishboneashovský" prejav, čo je super. Predsa len sa po predchádzajúcom omyle Locked In dalo už len rásť.
Kto má rád melodický rock, citlivé a srdcervúce rockové balady a súhru dvoch gitár, aká nemá páru, ten o Wishbone Ash určite zavadil. A ak nie, pokojne sa započúvajte do jej hudby. Hoci na albume New England. Kedysi dávno som sa tváril nesmierne objektívne a dal som na progboarde albumu tri hviezdičky za dobrý album. Dnes mám na objektivitu iný názor a pokojne mu udelím štyri. Mám tento album rád.
Skladby:
Mother Of Pearl 4:31
(In All Of My Dreams) You'll Rescue Me 6:13
Runaway 3:18
Lorelie 5:26
Outward Bound 4:51
Prelude 1:13
When You Know Love 5:46
Lonely Island 4:29
Candlelight 1:50
Zostava:
Martin Turner: basa, spev
Andy Powell: gitara, mandolína, vokály
Laurie Wisefield: gitara, vokály
Steve Upton: bicie
a
Nelson "Falco" Padron: perkusie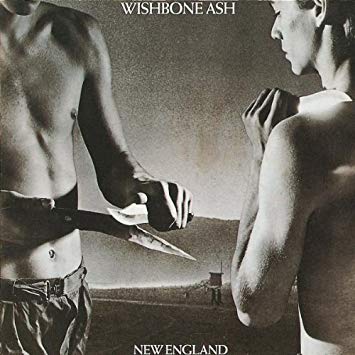 New England
Wishbone Ash
hard rock
MCA
1976
LP, CD
9