Frank Zappa v šedesátých a sedmdesátých letech experimentoval ve fúzích rocku s jazzem. První deskou tohoto typu byla LP Hot Rats; album, jehož jádrem byla spolupráce Franka Zappy s multiinstrumentalistou Ianem Underwoodem a několika přizvanými hosty.
Takových nahrávek vzniklo v té době více, a s jinými hudebníky, hlavně s pianistou Gerge Dukem a hráčkou na marimbu Ruth Underwood. Část toho vyšla o tři roky později na albu Waka/Jawaka-Hot Rats, některé nahrávky zůstaly na páscích. Frank Zappa měl smlouvu na určitý počet desek se společností Discreet a chtěl od firmy odejít. Tehdy se dohodl na vydání desek na odchodnou a vyšla tři alba – Studio Tan, Orchestral Favourites a Sleep Dirt. Album Sleep Dirt je přesně ve stylu předchozích desek Hot Rats a Waka/Jawaka-Hot Rats a mohlo by se nazývat "Hot Rats 3".
Deska Sleep Dirt vyšla v roce 1979 a obsahovala sedm instrumentálních skladeb. Ve skladbách Filthy Habits a The Ocean Is The Ultimate Solution hraje Frank Zappa s bubeníkem Terry Bozziem a baskytaristou Dave Parlatou, ve Flambay, Spider Of Destiny, Regyptian Strut a Time Is Money jsou hlavními spolupracovníky George Duke a Ruth Underwood. V Regyptian Strut hraje skvěle na dechové nástroje Bruce Fowler. Titulní akustickou instrumentálku nahrál Frank Zappa s kytaristou James "Bird Legs" Youmanem. Celá deska je v duchu předchůdkyň a mně se líbila ze všech tří tehdy vydaných LP nejvíce a byla nejpřijatelnější i pro tehdejší posluchače.
Největší šok pro mě i pro další nastal prvním CD vydáním, kde Frank Zappa přidal do skladeb Flambay, Spider Of Destiny a Time Is Money vokál Thany Harris, zpěvačky, která zpívala na albu kytaristy Steva Vaie Flexable pod jménemUrsula Rayen. Vokálem získalo album trochu jiný rozměr, který ale není na škodu. V roce 2012 vydala Gail Zappa album na CD v původním provedení.
Mně se líbí obě varianty a nemůžu říct, která více. Kdybych měl hodnotit, tak stejně jako Hot Rats za plný počet pěti hvězdiček.
SKLADBY:
1. Filthy Habits (7:33)
2. Flambay (5:02)
3. Spider Of Destiny (2:54)
4. Regyptian Strut (4:15)
5. Time Is Money (2:52)
6. Sleep Dirt (3:20)
7. The Ocean Is The Ultimate Solution (13:20)
SESTAVA:
Frank Zappa – electric & acoustic (6) guitars, keyboards (1), synth (7), percussion (4)
Vinyl & 2012 Universal CD editions
George Duke / keyboards (2-5)
Bruce Fowler / brass (4)
Dave Parlato / bass (1)
James "Bird Legs" Youman / bass (4), acoustic guitar (6)
Patrick O'Hearn / bass (7), double bass (2,3)
Terry Bozzio / drums (1,7)
Chester Thompson / drums (2-5)
Ruth Underwood / percussion (2-5)
1980s & 1990s CD 'remixed' editions
Thana Harris / vocals (2,3,5)
Chad Wackerman / drum overdubs (2,3,5)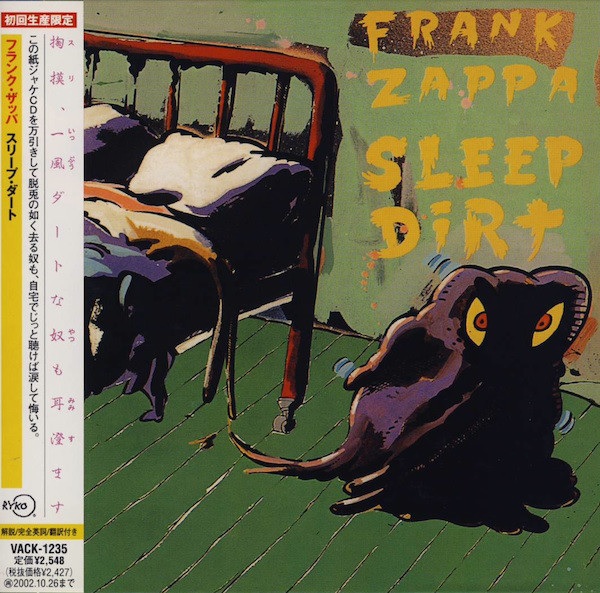 Sleep Dirt
Frank Zappa
Jazz Rock, Prog Rock
Discreet
1979
LP
7
CD Rykodisc VACK-1235 /2002, Japan/