Pred niekoľkými rokmi som začal písať hudobné recenzie a časom som sa dopracoval k číslu 100. Pre moje jubileum som vtedy vybral dielo, ktoré si to zaslúži. Tales From Topographic Oceans považujem za jeden z nejlepších albumov všetkých čias. Možno je to aj tým, že som ho spoznal už v roku jeho vydania. V skutočnosti sa Yes podarilo vytvoriť niečo magické a mimozemské. Nie je veľa albumov, ktoré ma tak zaujali.
The Revealing Science Of God ponúka viac variácií a zmien tempa, ako dokáže naordinovať väčšina iných kapiel počas celej svojej kariéry. Interakcia medzi Howeom a Wakemanom je úžasná, Squire je na basu suverénny a Jon Anderson v impozantnej forme. Alan White, nováčik za bicími, nemusí byť po chuti každému, ale na Tales From Topographic Oceans hrá lepšie a keatívnejšie ako v neskorších rokoch. V každom prípade sa Yes podarilo zladiť melódie do veľmi komplexnej podoby.
The Remembering placho rozvíja mágiu za pomoci gitary a vokálov, ktorú poháňa Wakemanova hra a osolí ju Howe. A keď máte pocit, že sa všetko zastaví, s krehkým Andersonovým hlasom Vám naskočí husia koža. Wakemanovo sólo je nádherné a sférické. Pieseň je prístupnejšia a menej komplexná, ale stále ďaleko od komerčného myslenia.

Tomu, kto naozaj miluje náročnejšiu hudbu, je určená The Ancient. Skladba ponúka zložitú prácu gitary a perkusií. Stačí zatvoriť oči a čakať na Wakemanove plávajúce klávesy. A posledné minúty s akustickou gitarou, jemne hrajúcimi syntetizátormi v pozadí a predovšetkým hlasom Andersona, radím do kategórie "To si musíte vypočuť!".
Ritual je úplne iný. Začiatok plný eufórie a životnej iskry. Kým kapela "oddychuje" v pokojnejších vodách, gitara a klávesy prebehnú cez Vaše uši. "Nous sommes du Soleil". Aké vyhlásenie!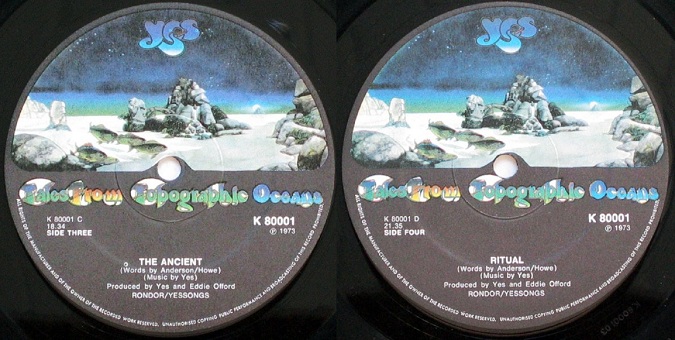 Tales From Topographic Oceans vyvolal zmiešaný pohľad kritiky, fanúšikmi však bol prijatý celkom kladne. Radím ho k tomu najlepšiemu, čo na poli art rocku vzniklo. Aj napriek svojej dĺžke mi hrá veľmi často a ucelene. Chcem ešte dodať, že hoci CD prináša a ponúka určité pohodlie, album počúvam výhradne prostredníctvom LP. 4 dlhé skladby, 4 strany, jeden veľký obal s grandióznym obrazom Rogera Deana. Dokonalosť!
(Recenzia pôvodne publikovaná na nemeckej stránke Babyblaue. So súhlasom autora upravená a  preložená do slovenského jazyka.)
SKLADBY:
1. The Revealing Science Of God – Dance Of The Dawn (20:27)
2. The Remembering – High The Memory (20:38)
3. The Ancient – Giants Under The Sun (18:34)
4. Ritual – Nous Sommes Du Soleil (21:35)
ZOSTAVA:
Jon Anderson – lead vocals, harp, cymbals, percussion
Steve Howe – electric 6- & 12-strings, steel and acoustic guitars, electric sitar, backing vocals
Rick Wakeman – grand piano, RMI Electra-Piano, MiniMoog, Mellotrons, Hammond C3, pipe organ
Chris Squire – acoustic & electric basses, timpani, backing vocals
Alan White – drums, piano (4), vibes, MiniMoog, Moog drum, tubular bells, assorted percussions
Tales From Topographic Oceans
Yes
Art Rock
Atlantic
1973
LP
4