Z mikroskopického objemu rockových kapiel začínajúcich na X som si dlho nevedel predstaviť žiadnu, čo by som chcel mať v zbierke. Buď sú tam nejaké novodobé "neoprogy" alebo "uletenosti" rôzneho druhu (porovnať sa to dá napríklad na progarchives). Zo stariniek som evidoval predovšetkým Xhol Caravan (tiež Xhol), nemeckú undergroundovú krautrockovicu. Dlho som sa jej vyhýbal, pretože mi roky nestála za opakované počúvanie, ale naveľa som svoju zbierku predsa len zbavil traumy absentujúceho krížiku. Album Electrip z roku 1969 vyšiel v roku 2000 na legendárnej značke Garden Of Delights a ponúkol aj jediný singel skupiny. Čo ponúka?
Rovno si povedzme, že sa pohybujeme na území neistej konzistencie vymedzenej bahnistými prepadliskami psychedélie a ostrovčekmi džezrockovej dýchavičnej hmly. Päť prevažne inštrumentálnych meditatívnych skladieb nemá problém vytasiť aj vyše štvrťhodinové plochy s vlastnosťami zbíjačky aplikovanej v mozgovej chirurgii.
Album začína  sa zostra. Ťažkotonážny džezrock založený na roztrúsenej rytmike, klávesových ruchoch a najmä saxofónových pizúkaniach ovláda Electric Fun Fair, pričom to vôbec nie je zlé a má to blízko k "tradičnému" muzicírovaniu. Pop Games začína akýmsi "detským" džavotom, ale inak je to príjemná pokojnejšia džezová skladba, opäť sólujú predovšetkým dychy, ale vyžije sa aj bubeník, ktorému sekundujú priam freedžezové noty pretavené do zvukovej podoby. Vykročenie v ústrety bezodnému pažeráku psycho-koláži sa udeje v rámci skladby All Green. Iste, spočiatku je to len ďalšia "obyčajná" nadžezlá meditácia v príjemnom rockovom tempe, ale časom má človek pocit, že prepúšťacie papiere z psychiatrickej kliniky nikdy nedostane. Bezmála osemnásťminútová skladba Raise Up High navodzuje spočiatku šok! Nielen, že je takmer rocková, ale sa v nej aj spieva. Síce škrekľavo, ale aj tak! Isto tušíte, že jej to nevydrží a postupne sa dostavia ako dychové džezové cvičenia, tak psychedelické pasáže, kedy o hudbe blúzni iba naozaj nepoškvrnená myseľ. Záver diela patrí krátkej inštrumentálke Walla Marshalla, ktorá zjemňuje celkové vyznenie albumu.
Ak mal album pomôcť skupine etablovať sa medzi dobovými velikánmi, povedzme si otvorene, bola to zbytočná snaha. Toto nie je muzika, ktorú by niekto pri zmysloch púšťal do éteru s úmyslom presláviť sa a popri tom zarobiť nejaké tie nechutné peňažné objemy.
Bonusové singlovky Planet Earth a So Down sa snažia vteperiť štýl kapely do rádiových trojminútoviek. Napriek tomu je najmä prvá menovaná skladba veľmi dobrou ukážkou spievaného tvrdého rocku s dychovou sekciou. A druhá je zasa priam krehkým bluesovatým slaďákom s chutným gitarovým sólom. Kto počul singel a následne si kúpil album, tak ho s najväčšou pravdepodobnosťou muselo vystrieť.
Keď mám náladu na džezovejšie polohy korenené psychedelickými ruchmi (a to nie je práve často), je tento album rozhodne uspokojivou voľbou. Ide o výborné dielo, len treba byť "postihnutý" podobnými žánrami, inak hrozí útek.
Skladby:
Electric Fun Fair 6:25
Pop Games 6:51
All Green 7:33
Rise Up High 17:42
Walla Mashalla 3:26
Zostava:
Tim Belbe: tenor saxophone, vocals
Hansi Fisher: flute, soprano saxophone, alt sax piano
Öcki: organ, piano, tuba, plastic noise, vocals
Klaus Briest: bass
Skip: drums, vocals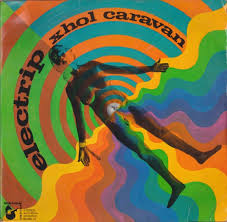 Electrip
Xhol Caravan
Psychedelic Jazz Rock
Hansa
1969
LP
5