Neviem, čím to je, ale na prelome 70. a 80. rokov sa darilo rockovým koncertným albumom. Akoby fanúšikovia rockovej muziky ešte nostalgicky spomínali na časy, kedy rock znel naozaj rockovo. Jedným z týchto vynikajúcich (načo to tajiť) albumov bol aj Live… In The Heart Of The City od kapely Whitesnake.
Na dvojalbume sa nachádzajú dva koncertné záznamy, oba z Hammersmith Odeon, delí ich cca rok a pol. Inými slovami, obsahujú zmesku mne známych skladieb, čo vždy poteší. To, že sa tu nachádzajú aj dve skladby z albumu Burn od Deep Purple, určite nikoho neprekvapí. Zaujímavé je, že ako bonus zaradili na prvý disk skladbu Ain't No Love In The Heart Of The City, a tak si môžem túto pecku vychutnať opakovane, keďže je prítomná na druhom disku (a neprekvapivo sa dostala aj na singel). Tých pätnásť skladieb však dokazuje jednu zdanlivo banálnu, ale predsa len nekompromisnú pravdu. Rocková kapela je najpôsobivejšia na pódiu, to, čo sa uškrtí v rámci vyhladzovacej štúdiovej produkcie, znie naživo nespútane a pre mňa oveľa uveriteľnejšie. Napríklad skladba Love Hunter z rovnomenného albumu má konečne gule a nekrčím pri nej čelo. Osobne mi o (mikroskopický) kúštik viac sedí druhý disk, pretože Párpli a najmä, obsahuje zmes skladieb zo Snakebite a z Trouble, čo sú najlepšie diela, aké som od Whitesnake počul. Je až zábavné, že prvýkrát sa nahrávky z roka 1978 objavili ako EP iba na japonskom trhu pod názvom Live At Hammersmith. Manažment nakecal Coverdaleovi, že Japonci kapelu pustia k nim na turné iba, keď si vypočujú koncertný záznam, aby vedeli, či na to kapela má. Mala.
Keďže fanúšikov živej muziky je našťastie nadostač v každej dobe, album sa v Británii umiestnil na peknom 5. mieste rebríčka. Šlo o najlepšie umiestnený počin v dovtedajšej histórii kapely, Ready An' Willing bol "až" šiesty.
Pre mňa osobne je to vlastne nová muzika. Whitesnake som dlho obchádzal, následne som sa uspokojil s prvými tromi albumami, no a tento rok si dopĺňam nejaké veci do zbierky, najmä koncertné albumy z druhej polovice 70. rokov. Nuž, prišlo aj na toto dielo a musím nekriticky povedať, že sa mi veľmi páči. Až tak, že nemám, čo by som vytkol. Nie, že by som chcel. Parádna záležitosť, stále ju vstrebávam.
Skladby:
CD 1 (Live In The Heart Of The City: 23rd/24th June 1980):
Come On 3:38
Sweet Talker 4:16
Walking In The Shadow Of The Blues 5:00
Love Hunter 10:41
Ain't No Love In The Heart Of The City (bonus) 7:21
Fool For Your Loving 4:58
Ain't Gonna Cry No More 6:21
Ready An' Willing 4:46
Take Me With You 6:28
CD2 (Live At Hammersmith, 23rd November 1978):
Come On 3:22
Might Just Take Your Life 5:35
Lie Down 4:41
Ain't No Love In The Heart Of The City 6:03
Trouble 4:51
Mistreated 10:49
Zostava:
David Coverdale: spev
Micky Moody: gitara, vokály
Bernie Marsden: gitara, vokály
Neil Murray: basa
Jon Lord: klávesy
Ian Paice: bicie (CD 1)
Dave "Duck" Dowle: bicie (CD 2)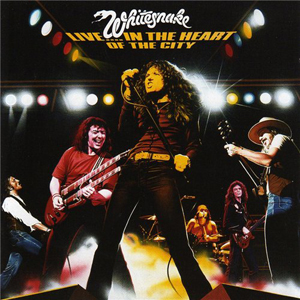 Live... In The Heart Of The City
Whitesnake
hard rock
Liberty/EMI
1980
CD (Parlophone, 2007)
14+1