Jsou tituly, co recenzi přímo vyžadují. Z různých důvodů se jejich důkladnému hodnocení nelze vyhnout. Může to být pro jejich vysoké kvality, pro (ne)očekávanost vydání, pro jejich důležitost, pro zásadní stylotvorný status interpreta. Pro výjimečné potěšení, i zklamání. Rozsáhlejší písemný traktát nelze napsat zdaleka ke každému vydanému dílu, i jednověté nástřely jsou často nad plán. Jenže čas od času přicházejí nevídané a neslýchané věci, které si pozornost mezi ostatními doslova vynutí. Z některých se připo-píp blahem, a opakovaně se přesvědčuji o jejich dokonalosti, jiné zase neodbytně prudí, až se z toho musím vypsat. Umělec má právo vrhnout svůj produkt mezi natěšený lid, posluchač má právo mu jej patřičně omlátit o hlavu.
Davida COVERDALEa mám rád od samého počátku jeho kariéry. Třaskavé charisma jeho vokálu se od prvního zaječení v Burn vpaluje do mysli každého vyznavače hard rocku a existuje asi málo případů, kdy se nástupce rockového zpěváka dokázal takto vyrovnat kalibru svého ikonického předchůdce. Coverdale ryl svoje party žhavou notou do pergamenu dějin, a velmi rychle se stal uznávanou legendou. Mám ho rád v DEEP PURPLE stejně jako ve WHITESNAKE, nebo i v projektech, kde je na titulu uveden prostě jako COVERDALE. Vždycky se mu nejen dařilo ohromovat vrozenou barvou hlasu a dispozicí, vždy také udivoval schopností pracovat s náladou, být výrazově barevný, plastický, uměl hladit, konejšit i sršet síru v gejzírech. Fascinoval mne jeho způsob podání, kdy jsem byl jen málo rušen zbytečnými efekty, hlavní roli hrála vždy přirozená, pevná a sebejistá živočišnost. David byl zaručenou sázkou na prožitý zpěv, jež jsem prožíval s ním. V písňových příbězích, na nichž se podílel, byl králem, o jehož autoritě nemohlo být pochyb.
WHITESNAKE byli v samých začátcích až nesměle bluesoví, tak trochu uzavření, jako by si po odchodu z DEEP PURPLE Coverdale netroufal létat v hard rockové mašině, tak ji přizemnil. To mu seklo, je v té poloze působivý, skladby jdou k posluchači blízko, mizí hvězdná bariéra, Coverdale není vzdálená hvězda, je to kumpán, co slezl z pódia, aby si zazpíval s kámoši. Po té, co zaslouženě nabral na popularitě i s WHITESNAKE, začaly se dít věci. Super úspěšné desky i hity, a přitom pořád nádherná muzika, i když z trochu jiných ingrediencí. Stejně tam byl pořád ten srdcový rukopis, hard blues rock se zlatým prachem v hlasu. Další odbočky, pauza, opětovný start, pořád mne jeho způsob projevu fascinoval. Pořád byl tou sázkou na jistotu. I přes narůstající věk, nezklamal. Nikdy. Furt ta samá klasa.
Až přišel první záškobrt. Když roku 2008 vydal po jedenáctileté pauze opět album pod hlavičkou WHITESNAKE, nebylo to ono. Pečeť se začala na mnoha místech drobit. Během těch jedenácti let mohl odejít hlas, nevadí, jsou tací, jimž to svědčí. V případě Davida byl hlas spíše poodejit. Způsob produkce rockové muziky se však dramaticky změnil k horšímu, kdo na to nezareagoval, byl semlet na jednodruhovou kaši bez chutě a zápachu, kterou byly ládovány masy. Coverdaleovy nahrávky patří mezi ty, které utrpěly nejvíc, z celé široké plejády hard rockových interpretů, se jim dostalo nejhorších služeb. A to jak reeditovaná stará tvorba, zcela zničená brutální dynamickou kompresí, tak nová tvorba, nemilosrdně znásilněna bezcitnými zvukovými inženýry. Nalomený hlas s tím bojuje, ale trojice alb Good To Be Bad (2008), Forevermore (2011) a The Purple Album (2015), má asi tolik života, jako nabarvená vosková figurína, co se roztéká horkem ze svíček, které se ji snaží efektně nasvětlit. Jak pomalu vyprchává umělecká invence, jak chřadne hlas, tím víc je Bílý had drancován a presován hudebním průmyslem. Už je jen bezmocnou nálepkou na neposlouchatelných kotoučích.
Od novinky jsem nečekal nic než utrpení, a nic než utrpení jsem také dostal. Vlastně víc, než utrpení. Dostavil se i bezbřehý smutek nad nenávratně vyhynulým druhem vzácného tvora, co mne provázel téměř celou dobu, co poslouchám muziku. Na placku přejetý parním válcem showbyznysu neprojevuje Bílý had na albu Flesh & Blood ani známku života, je už rozšmelcován rovnou do kafilérie. Ale nikomu to nevadí, řvoucí divadlo s jeho jménem jede čím dál hlasitěji dál, dav hluchých fanoušků vesele křepčí, jsou nakrmeni klamem. Schnoucí šupinaté mrtvoly v koutě si nikdo nevšímá, je skrytá za barevnými kulisami. Ten Hlas, ten, co býval kovově pevný, zhadrovatěl. Zní, jako dveře vysazené z pantů. Ztratil všechno, i vědomí sebe. V prázdných a unavených válech ze štěrku, drtě a pilin se rachotivě a trhaně převaluje, zní jako motor bez oleje, v jehož chrchlavém řinčení slyšíš neodvratnou zkázu.
Poslech této desky mi způsobuje mučivou trýzeň. Z CD i z LP je zvuk strašlivě odporný, zpěv umrlčí, skladby mrtvé. Rozdrcené zvuky všech nástrojů jsou smíchány do šedohnědé smradlavé břečky, kterou se zdráhám nazývat hudbou. Občas vykoukne fragment zajímavé kytary, či moment, co nese náznak nápadu, ale k čemu to, na Charónově bárce si nikdo nezpívá. Mumifikátor odvedl skvělou práci, mauzoleum Bílýho hada zdobí vycpaná zdechlina, na kterou se stojí dlouhé fronty, jako v Kremlu. Nic se s tím dělat už nedá. Jen hlídat masařky, aby nepoškodily to zlaté tele ve vitrině.
Abych obrátil tok trudných myšlenek, pouštím si poslední desku, co stála za poslech. Kouzlo se vrací, WHITESNAKE plní života od prvního tónu opět rozradostňují mysl a rozjařují ducha. Restless Heart (1997), které jsem svého času nedoceňoval, mi je dnes rajskou hudbou. Cokoli vzniklo později, ztrácí smysl, tohle muzeum duchů ponechávám pro druhé, mne strašidla nezajímají a na pohřby zásadně nechodím.
Odpočívej v pokoji, Bílý hade. Oi!
01. Good To See You Again – 03:43
02. Gonna Be Alright – 03:51
03. Shut Up And Kiss Me – 03:38
04. Hey You (You Make Me Rock) – 05:30
05. Always & Forever – 03:53
06. When I Think Of You (Color Me Blue) – 03:53
07. Trouble Is Your Middle Name – 04:19
08. Flesh & Blood – 05:18
09. Well I Never – 04:02
10. Heart Of Stone – 06:44
11. Get Up – 04:48
12. After All – 03:46
13. Sands Of Time – 06:12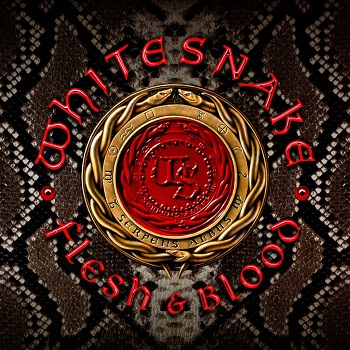 Flesh & Blood
FR LP 950
Whitesnake
Hard rock
Frontiers Music SRL
2019
2 LP
13