Ďalší najlepší koncertný záznam…
Týmto štýlom zvykneme začínať chválospevy na live albumy. Áno, niet sa čo čudovať. Máme svojich favoritov, milujeme ich hudbu a zvykneme byť nekritickí. Tak to bolo, je i bude. Kto však pozná a sleduje Whitesnake, určite mi dá za pravdu, že na tomto titule niet čo odpúšťať.  
"Are you ready???!!!"
Blues hard rock najvyššej akosti. Od úvodného rozjazdu Come On, až po záver prvej časti s Take Me With You. A potom opäť, počnúc Might Just Take Your Life a párplovským Mistreated končiac. Jedna skladba krajšia od druhej. Nebudem vyzdvihovať žiadnu z nich. Pre mňa je to šperk vyrobený 7 klenotníkmi z 13 rovnocenných drahokamov počas troch londýnskych večerov. Samozrejme, záleží, aký produkt vlastníte. Toto je Whitesnake, aký mám rád. Tu sa v plnej sile ukazuje krása tejto hudby. Spomeniete si na rozhovory, kritiky, názory fanúšikov i samotných hudobníkov? Často lamentujú, že štúdiovým nahrávkam niečo chýba. Tejto kolekcii nechýba nič. Duch kapely, oduševnenie, melodickosť, nasadenie, razancia, rytmika, sila, tvrdosť, viera vo vlastné schopnosti, zápal – to všetko je tu zastúpené mierou vrchovatou. A nadšené publikum to cíti rovnako – baví sa, spieva, tlieska, aplauduje. Pre tieto atribúty zbožňujem živé záznamy. Všetci zvyknú rozoberať skladbu za skladbou, akordy, riffy, sóla. Ja spravím výnimku, "rozoberiem" hudobníkov:
Micky Moody a Bernie Marsden – Gitarové dvojičky. Čo môžem napísať k ich hre? Ak to trošku odľahčím, ani neviem, koľko má ten ich nástroj strún. Zatiaľ počujem veľmi dobre, takže maximálna spokojnosť. Pri všetkej úcte k ostatným veľmajstrom svojho remesla, ktorí sa v tejto skupine angažovali, toto sú pre mňa jediné a pravé "biele háďatká".
Neil Murray – Pri ňom viem, že hrá na štyri struny. Ak začnem menovať spolky, kde zanechal svoj rukopis, tak ten zoznam ukončím na Silvestra. Hraje mu to parádne.
Jon Lord – Ťuká do klávesových nástrojov. A fantasticky. Dokonca sa miešal do remesla aj skladateľom vážnej hudby. Jon, vďaka za všetko!
Dave Dowle a Ian Paice – Tu som vedľa ešte viac ako pri gitare. Načo toľko bubnov, činelov a dve paličky? Vraj to tak má byť. Robia svoju robotu a asi vedia. Keby nevedeli, neboli by na platni. Alebo na nahrávkach nájdeme aj takých, ktorí nevedia? Mám originál z roku 1991. Obraciam tú útlu knižku spredu dozadu a opačne, sprava doľava a naspäť, hore a dolu, ale nikde nevidím meno Dave Dowle. Mrzí ma to, ale za takú chybičku krásy body nestrhnem. Za to asi nemôže kapela a jej hudba. To iba veľká mama EMI odflákla svoju prácu. Presnejšie, jej dcéra v Holandsku. Sopľaňa, mala by sa viac venovať zalievaniu tulipánov a menej húliť.
David Coverdale – Obsluhuje mikrofón. Dosť často ho má na koncertoch aj medzi nohami, ale tomu ja nerozumiem, som ešte mladý. Ani netuším, čo v Amerike značí slangový výraz "white snake". Dačo sa šušká o nejakom úde. A jeho hlas, prejav, výkon? Jedni tvrdia, že to nevie, iní ho zbožňujú. Niektorí si myslia, že s Glennom Hughesom pochovali Deep Purple, daktorí to považujú za najlepšie obdobie tejto žijúcej legendy. Vraj má problémy s hlasivkami a pomáha si technikou. Neviem. No, priznajme si, kto z nás nemá zdravotné problémy? Ja napríklad s chrbticou, niekto …ehm… no, skrátka, nepomôže mu ani Pamela Anderson v najlepších rokoch, prípadne si tam dosaďte svoju "missku". Davidov spev mojim ušiam lahodí.
Výber z troch koncertov na jednom CD, roky 1980 a 1978. Na mojej strane maximálna spokojnosť. Bavím sa, spievam, tlieskam, aplaudujem spolu s kapelou a divákmi. V kútiku srdca závidím, že v tých krásnych časoch sme to nemohli zažiť aj my. Áno, som si toho vedomý, Vy máte svoje najlepšie živé dosky, ja mám jednu zo svojich – Live… In The Heart Of The City od Whitesnake.
Skladby:
Live In The Heart Of The City (23rd/24th June 1980)
01. Come On (Coverdale/Marsden) 3:38
02. Sweet Talker (Coverdale/Marsden) 4:16
03. Walking In The Shadow Of The Blues (Coverdale/Marsden)5:00
04. Love Hunter (Coverdale/Moody/Marsden) 10:41
05. Fool For Your Loving (Coverdale/Moody/Marsden) 4:58
06. Ain't Gonna Cry No More (Coverdale/Moody) 6:21
07. Ready An' Willing (Coverdale/Moody/Murray/Lord/Paice) 4:46
08. Take Me With You (Coverdale/Moody) 6:28
Live At Hammersmith (23rd November 1978)
09. Might Just Take Your Life
      (Coverdale/Blackmore/Lord/Paice) 5:35
10. Lie Down (Coverdale/Moody) 4:41
11. Ain't No Love In The Heart Of The City (M. Price/D. Walsh) 6:03
12. Trouble (Coverdale/Marsden) 4:51
13. Mistreated (Coverdale/Blackmore) 10:49
Zostava:
David Coverdale – vocals
Micky Moody – guitar
Bernie Marsden – guitar
Jon Lord – keyboards
Neil Murray – bass guitar
Ian Paice – drums (1-8)
Dave Dowle – drums (9-13)
Ďalšie informácie o albume na Discogs.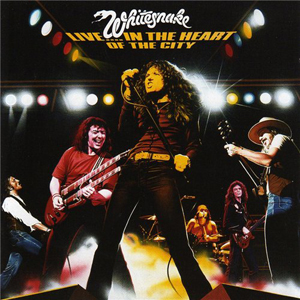 Live... In The Heart Of The City
Whitesnake
hard rock
Sunburst Records
1980
13
CD - EMI, 1991