V Čechách je Južanom hej. Southern Rock je tam podporovaný malou, ale o to zanietenejšou komunitou hráčov, priaznivcov, fanúšikov, nadšencov a, skromnosť bokom, osobností. Už krátko po revolúcii vznikli dve kompilácie československého južanského rocku, Whiskey & Fazole (1991) a Whiskey & Buráky (1994). Oboje si dnes možno bezplatne stiahnuť i vypočuť na Bandzone.  Osobne ma teší, že sa tam zjavila aspoň jedna slovenská formácia, a síce Hartus. Prešlo dlhých dvadsaťjeden rokov, kým sa na tieto záslužné počiny podarilo nadviazať. Whiskey & Poslední rebel s podtitulom Encyklopedie českého southern rocku začátku nového tisíciletí mapuje celých devätnásť skupín, ktoré, až na dve výnimky, spievajú v češtine. Samozrejme, podmienkou na zaradenie bolo, aby kapely hrali vlastnú tvorbu. Toto bolo úmyselne obídené iba pri troch počeštených coveroch, ku ktorým sa ešte dostaneme. V Čechách existuje Radio Dixie, stránka Herald Dixie, organizuje sa niekoľko festivalov "južariny", ktoré sú neuveriteľne pohodové a stoja za návštevu, skrátka, žije to tam. Nie ako u nás. Cédečko v digipaku obsahuje pekný booklet, v ktorom sa dozviete ako genézu vzniku nosiča, tak krátke "bio" o každej zastúpenej kapele.
Dosť bolo suchých rečí, poďme sa započúvať do samotnej muziky.
Disk otvára Žlutý Pes, legendárna južanská formácia okolo Ondřeja Hejmu. Paradoxne vybalí cover od Lynyrd Skynyrd – Workin' for MCA premenovaný na PKS. Počeštenie sa vydarilo, inak je to vzácne verná kópia originálnej skladby. Americký nádych si udržuje intro k skladbe Masařka od ďalšej stálice českej scény reagujúcej na oslovenie Pumpa. Inak ide o posadenú tvrďárňu, aká nikdy neomrzí. Prehliadky starých Kozákov završuje General Lee so skladbou Znáš mě líp. Refrén je to chytľavý, hudba mi pripomína taký ten typický český bigbít. Nastupuje môj favorit – Stetson. Staříček a mlaďasi hrajú vtipne a osobitne, je to asi najrozpoznateľnejšia kapela, čo do "vlastného ksichtu" spomedzi celej predstavovanej scény. Veselá boogie nádielka Šohaj z pod Radhošťa sa počúva sama, i keď by som zvolil niektorú z podstatne veselších textoviek, majú ich "Stetsoni" v zásobe hromadu. Petr Bultes Band baladuje v skladbe Žádná změna, južanský "fíling" sa mieša s českou tvárou rockovej muziky, toto by som si vedel predstaviť i v mainstreamových rádiách. Z rovnakého súdka je aj skladba Velká voda od Blackies. Z južanských balád na disku je táto najlepšia, obsahuje aj "freebirdovské" zrýchlené gitarové orgie, mňam. Nástup metalovej skladby Redneck boogie od Firedog mi, odpusťte, pripomína Kabát. To progamové "vidláctvo" ma osobne míňa. 1202 Station sa vracia k baladám, skladba Tak mi dej má správne poameričtenú atmosféru, to mám rád. Prvú polovicu kompilácie uzatvára Sweet Pain s typickou svižnejšou boogie "južarinou" Looking for This Train. Bystrejší uhádli, je to v angličtine, jemný český prízvuk neprekáža. Osobne musím vyzdvihnúť ženské vokály, existuje azda lepšia "južarina" bez tejto "skynyrdovskej" črty?
El Camino je klasická rocková trojka, skladba Boogie prezrádza všetko podstatné už z názvu. Je to svižné, má to taký ten český bigbítový šmrnc. Neměním směr od Bluesquare je fajnová záležitosť. "Slajd"? Konečne! Nechýba ani harmonika. Ďalšia "kabátovka", a teda tvrdá metalová bigbítovina nesie názov Bluesable a za všetko vraví už názov skladby – Motyka. Troška toho blues v odľahčenej nálade zahrá kapela Big Water a otŕčaná krásavica sa volá Želví boogie. Takmer ako pokus o napodobenie intra z Thunderstruck od AC/DC pripomenie úvod (a záver) skladby Give me an Answer, čo je inak vcelku melodický rock od asi najúspešnejšej českej južanskej kapely poslednej dekády The Cell. Šokovalo by ma, keby chýbala. Bluesrock s harmonikou I'm Sorry Mama od Na Starý Kolena Band sa počúva dobre a názov klame, je to po česky. Kúštik "lynyrdovskej" atmosféry vnáša do deja Full House so skladbou Nejsi ztracenej. Jack Daniel núka cover Roberta Lee "Bob" McDilla s českým textom Poslední lov. Je to taká balada na podvečerné okukovanie západu slnka v prérii s éterickou devou po boku. Svižná rockovica Osud Stanley Martimora od Bandoleros je opäť záležitosť z kategórie "Kabát", nedá sa jej uprieť priam hypnoticky nákazlivá chuť mykať hlavou do rytmu. A je tu záver. The Last Rebel je jedna z najlepších skladieb od Lynyrd Skynyrd, kapela Blue Rocket sa podujala na takmer otrocky vernú verziu s českým textom, a teda je tu titulná vec Poslední rebel. Znie viac ako dobre. A to mi je počešťovanie skladieb pomerne nesympatické,  ale tu sa veru trafili do pôvodnej nálady priam ukážkovo. Lepšiu bodku za kompiláciou by nik nevymyslel.
Azda mi protagonisti odpustia, že si dovolím zopár kritickejších slov, nemyslím to v zlom. Ťažko súdiť z jednej skladby, ale vo všeobecnosti je predstavovaná kôpka skupín pomerne jednotvárna. Až na pár výnimiek by sa nepozornejší poslucháč mohol domnievať, že počúva album jednej kapely. Možno je to tým, že českí rockoví speváci sú, akoby ich jedna mater mala. Na druhú stranu je to pozoruhodne konzistentná kompilácia. Z čisto osobných preferencií by som ocenil aj menej "metalových" zvukov. Ale to je skôr o mojom staromilskom vkuse, než nejaká chyba tejto "moderny".
Vo výsledku môžeme my, Slováci, v dobrom závidieť, akú rozsiahlu majú bratia Česi južanskú scénu. Ojedinelý počin Whiskey & Poslední rebel si zaslúži oceniť. Osobne prihadzujem jednu hviezdu do hodnotenia už len za to, že southern rock žeriem. Azda nebudeme musieť čakať ďalšie dve dekády na pokračovanie.
Skladby:
Žlutý Pes – PKS (Ed King/O. Hejma) 4:36
Pumpa – Masařka (M. Němeček/M. Němeček) 6:34
General Lee – Znáš mě líp (V. Havlíček/D. Wallenfels) 4:37
Stetson – Šohaj z pod Radhošťa (P. Goláň/P. Goláň) 3:30
Petr Bultas Band – Žádná změna (P. Bultas/P. Bultas) 5:21
Blackies – Velká voda (L. Kosina/L. Kosina) 5:20
Firedog – Redneck boogie (Firedog/Z. Milata) 2:51
1202 Station – Tak mi dej (M. Renč/M. Renč) 5:06
Sweet Pain – Looking for This Train (M. Zvoníček/M. Zvoníček) 4:16
El Camino – Boogie (M.- Mužík/M. Mužík) 2:44
Bluesquare – Neměním směr (Š. Gruchala/Š. Gruchala) 3:50
BlueSable – Motyka (BlueSable/BlueSable) 4:08
Big Water – Želví boogie (J. Machač/J. Machač) 3:35
The Cell – Give Me an Answer (M. Beneš/D. Gore) 3:14
Na Starý Kolena Band – I'm Sorry Mama (T. Kotora/T. Kotora) 3:56
Full House – Nejsi ztracenej (Full House/Full House) 3:53
Jack Daniel – Poslední lov (R. Mc Dill, Robert Lee/V. Stuchl) 3:56
Bandoleros – Osud Stanley Martimora (M. SemančíkV. Malík/ L. Rejnart) 3:47
Blue Rocket – Poslední rebel (G. Rossington, J. Van Zant/D. Lepší) 4:35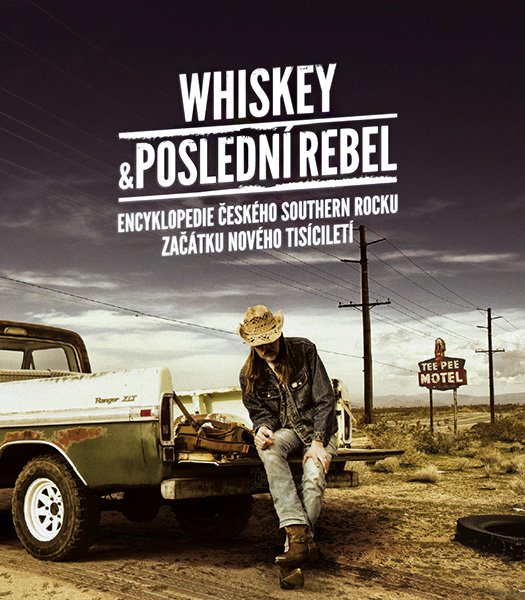 Whiskey & Poslední Rebel
southern rock
Warner Music Czech Republic
2015
CD
19