Sedemdesiate roky minulého storočia priniesli do (hard)rockovej muziky niekoľko superskupín. Jednou z nich bola aj West, Bruce & Laing. Nevydržala dlho, a preto po dvoch štúdiových albumoch zanikla. Krátko po jej "smrti" vyšiel koncertný album Live 'n' Kickin' (1974) a ten si dnes pripomenieme.
V 70. rokoch už boli hardrockoví velikáni na oboch stranách Atlantiku natoľko etablovaní, že logicky dochádzalo k fúzii hráčov zo Severnej Ameriky i Veľkej Británie. Prekvapivé je, že sa tieto projekty často končili rozpačito. Nie, že by boli zlé, ale niečo im chýbalo, respektíve nedosiahli geniality svojich prvotných veľdiel. Napadajú mi dva konkrétne príklady, na ktorých sa tento neduh dá demonštrovať. Jeff Beck, Tim Bogert a Carmine Appice, britský gitarový borec a americká "najlepšia" rocková rytmika na svete, to predsa musela byť stávka na istotu! No a nebola… Štúdiový album Beck, Bogert & Appice nie je zlý, ale ani nijako zvlášť výnimočný. Rovnako oba albumy West, Bruce & Laing zaostali za očakávaniami.
Čo však obidvom kapelám šlo, bola pódiová prezentácia muziky. Toľko energie, hráčskeho majstrovstva a emócií, koľko sa vteperilo do japonského dvojalbumu Live od Beck, Bogert & Appice alebo do Live 'n' Kickin' od West, Bruce & Laing, to sa len tak nepočuje (a dnes už vôbec nie, čím nenarážam na koronovú uzáveru koncertov). A preto sa netreba vždy spoliehať na štúdiovú rutinu, ale hľadať nefalšovanú rockovú muziku tam, kde jej to svedčí najviac – na pódiách.
Aj preto som sa na album Live 'n' Kickin' tešil. Samozrejme, Jack Bruce je pre mňa jedným z najvýznamnejších rockových skladateľov a hudobníkov 20. storočia, Westov a Laingov Mountain zasa bezbreho milujem. Aj keď štúdiové albumy Why Dontcha (1972) a Whatever Turns You On (1973) radím až za tvorbu Cream a Mountain, mám ich rád. Koncertný album som preto vítal s otvorenou náručou. Čo som objal?
Štyri parádne skladby. Zo stounovskej coververzie  Play With Fire je ťažkotonážny kúsok, vybúria sa všetci traja inštrumentalisti. The Doctor, skladba z debutu, je živelná, ale v podstate sa drží štúdiovej podoby (i trvania). Hitová creamovka Politician je ku Jackovi Bruceovi prilepená pevnejšie než manželský zväzok posvätený v kostole, nuž nečudo, že znie úžasne. Záverečná improvizovaná skladba Powerhouse Sod ukazuje, ako sa má hrať na basgitare. Pokiaľ by to ešte niekomu nebolo jasné, kráľom albumu je Jack Bruce. Jeho hra na basgitaru predbehla všetkých majstrov tohto nástroja o svetelné roky, je to jedno nápadité kontinuálne sólo. A ja by som ho vydržal počúvať večne.
Jediná chyba tohto albumu je, že je taký krátky. Okamžite by som uvítal dvojalbum. Alebo mať možnosť vidieť túto trojicu naživo. Keďže to už nikdy nebude možné (Bruce i West už vyhrávajú v rockovom Nebi), neostáva mi iné, iba sa kochať záznamom nazvaným Live 'n' Kickin'. A že je to výborná skúsenosť!  
Skladby:
Play With Fire 13:27
The Doctor 7:37
Politician 5:41
Powerhouse Sod 10:39
Zostava:
Leslie West: gitara, spev (1, 2)
Jack Bruce: basa, harmonika, syntetizátor, spev (3, 4)
Corky Laing: bicie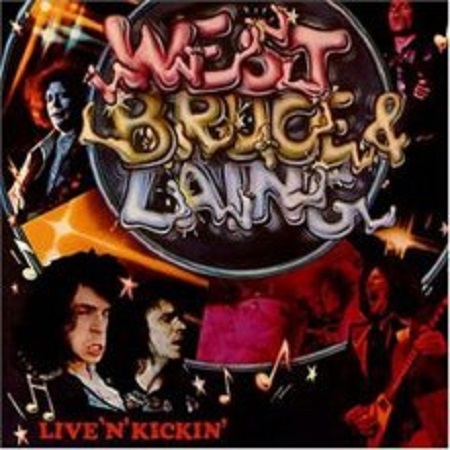 Live 'n' Kickin'
West, Bruce & Laing
hard rock
Columbia
1974
CD (Sony, Music Entertainment, 2004)
4