Prakticky každá kapela raz vytvorí zostavu, ktorá jej sadne natoľko, že sa stane "tou pravou". V momente, kedy nastanú personálne nezhody a zmeny, prichádza fáza postupného upadania. A hoci sa stáva aj to, že v iných inkarnáciách dosiahne iné vrcholy, zväčša to už nie je "ono". Existujú však aj výnimky a Free je jednou z nich. Hoci sa kapela prakticky rozpadla, dokázala v obmenenej zostave nahrať posledný a (spolu s debutom) najlepší štúdiový album svojej kariéry. Dámy a páni – Heartbreaker!
Paul Kossoff bol síce nedostižný originálny gitarista, ale zároveň bol drogovo závislý tak, že predčil nejedného historického dobyvateľa s túžbou po dávke pocitu, že ovládne svet. Keď sa kapela rozpadla prvýkrát, dal dohromady formáciu Kossoff, Kirke, Tetsu & Rabbit, po ktorej ostal jeden príjemný, ale ničím výnimočný album. Reunion v roku 1972 vrátil kapelu do povedomia, ale personálne to šlo z kopca. Fraser sa zbalil a odišiel uprostred turné, Kossoff dosiahol nové dno, nuž, aby turné neskončilo fiaskom, gitaru prevzal Rodgers, pričom na basu zaskočil Tetsu Yamauchi a klávesovú výpomoc dodal John "Rabbit" Bundrick. Aj keď to nikto neplánoval, kapela Free prvýkrát zmenila svoju zostavu. Kossoff sa ako-tak pozviechal, a preto sa začalo s nahrávaním nového materiálu, so singlom Wishing Well v čele. Lenže jeho schopnosť hrať a najmä odolávať závislosti bola zhruba na úrovni politika, ktorý nechce zavádzať. Netrvalo dlho a do štúdia bol pozvaný profesionálny gitarista Snuffy Walden z USA. Kossoffa to naštvalo a bolo jasné, že je koniec. Album Heartbreaker napokon vyšiel tak, že Kossoff ani nie je uvádzaný ako člen skupiny.
Až na výnimky bola skladateľská robota zvalená na bedrá Paula Rodgersa a ten urobil to, čo mu šlo najlepšie. Vytvoril množstvo krehkých balád, miestami pozitívne pokojných, inokedy znepokojivo clivých, smutných, melancholických. Krásne sa ukázalo, aký veľký prínos na jedinečných hardrockových skladbách kapely mal Fraser. Ale nebojte sa, obe tvrdé skladby albumu, Wishing Well a Heartbreaker, sú majstrovské. Prvá je notoricky známa a netreba ju ospevovať. Titulná pecka je posadená na ťažký zadok, nekompromisne mliaždi všetko, čo jej stojí v ceste a právom po nej pomenovali album. Kedysi som si robil malý prieskum a vyšlo mi z neho, že keď sa v zlatej ére hardrocku zjavila skladba Heartbreaker, bola to bomba. Však si skúste vypočuť hoci Led Zeppelin alebo Grand Funk Railroad. Pokiaľ by som mal rozlišovať medzi jednotlivými skladbami (čo sa mi nechce, nakoľko album má kúzelnú atmosféru od začiatku do konca), povedal by som, že prvá strana platne je lepšia (však sú tam obe zmienené hardrockové pecky). Druhá polovica albumu je pokojnejšia, aj tu však moje rockové vnútro rozochvievajú hutné momenty, ako napríklad v skvelej pochmúrnej balade Common Mortal Man alebo v záverečnej hrmavici Seven Angels, ktorá balansuje na pomedzí balady a hardrockového vypaľováku. A na trúchlenie niet lepšej skladby ako Easy On My Soul.
Odísť na vrchole, vrátiť sa naň a pred odchodom na ňom zanechať podpis, aby každý vedel, komu patrí, to nedokáže hocikto. Free je práve takouto veličinou. Album Heartbreaker si radím na popredné miesto v mojich srdcových preferenciách a nikdy sa mi neopočúva!
P. S. Zalieča sa mi aj ten negatívny spevák na bielom pozadí na obale.
Skladby:
1. Wishing Well 3:39
2. Come Together In The Morning 4:38
3. Travellin' In Style 4:01
4. Heartbreaker 6:12
5. Muddy Water 4:14
6. Common Mortal Man 4:07
7. Easy On My Soul 3:45
8. Seven Angels 5:02
Zostava:
Paul Rodgers: spev, sólová gitara (5, 7), gitara (1-4), piano (7)
John "Rabbit" Bundrick: organ, piano (1-6, 8), vokály
Tetsu Yamauchi: basa, perkusie (5)
Simon Kirke: bicie, perkusie, gitara (5), vokály
a
"Snuffy" Walden: gitara (6-8)
Rebop Kwaku Baah: perkusie (1)
Paul Kossoff: gitara (1-4, 6, 8)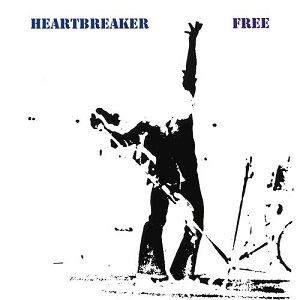 Heartbreaker
Free
hard rock
Island Records
1973
LP, CD
8