Budgie patrí medzi tie kapely, ktoré mám zo 70. rokov zaradené na samom vrchole hard rocku. Prvých šesť albumov milujem a ani potom nehrala vyslovene "zlú" muziku. A hoci je už definitívne súčasťou histórie, jej posledný štúdiový počin You're All Living In Cuckooland (2006) som si nemohol nechať ujsť.
Dvadsaťštyri rokov uplynulo od vydania posledného štúdiového albumu Deliver Us From Evil. Od roka 1988, kedy sa skupina definitívne rozpadla, sa jej podarilo niekoľkokrát obnoviť činnosť, pričom k stabilnej dvojici Shelley-Williams sa pridávali vždy iní gitaristi. V polovici 90. rokov to bol Robert "Congo" Johns, v novom miléniu John Thomas, Andy Hart a od roka 2003 aj Simon Lees. Vydržal štyri roky, a teda hrá aj na tomto albume.
Aby bolo jasné, album som počul dávno potom, čo vyšiel, v zbierke ho mám pár mesiacov. Vo večnom poradovníku vysnívaných akvizícií do zbierky ho vždy predbehli iní favoriti. Kto čaká, ten sa dočká, hlása náborový slogan Ligy pre spoločenské uznanie štikútky, platí to aj pre mňa. Čoby hrdý majiteľ cédečka sa s vami podelím o pár dojmov. Aké je?
Kým v prvej polovici 70. rokov bola muzika Budgie zásadnou pre hard rock, na prelome 80. rokov stála v čele heavy metalu. Obe polohy v sebe miesi prezentovaných desať skladieb. Na pílu sa netlačí. Všetko je vzdušné, umravnené, možno až štipku sterilné. Už prvá skladba Justice má natoľko "preklávesovaný" sound, až sa človek čuduje, že na albume je gitarista. Hard & heavy sa nezaprie. Z podobného súdka je aj tvrdá Dead Men Don't Talk, akurát tu už človek nie je na pochybách, že v kapele je gitara. Metalická, svižná, rýchloprstá. Titulná skladba stavila na baladickú istotu. A sluší jej to! V podstate sa iného na albume nedočkáte. Najesenciálnejšie rockové trio (gitara-basa-bicie) hrá rock, ktorý nenudí a ani náznakom sa nesnaží komplikovať šichtu žánrovým pohraničníkom. Predstava, že Budgie zuteká za oponu, je sama o sebe úsmevná, nestalo by sa tak, ani keby v hudbe fungoval Schengen (ako, že funguje). Tá štipka funky nálady (Falling), povinné akustické minihry (Love Is Enough, Captain) prípadne záľuba v dlhých názvoch (I'm Compressing The Comb On A Cockerel's Head) ku skupine patrí od počiatku, čiže sa nevzrušujte. Zväčša však dostanete dávku poslucháčsky univerzálnych (nechcem povedať populárnych, hoci v dobrom zmysle slova tomu tak je) skladieb typu I Don't Want To Throw You.
Pokiaľ by som mal vybrať "hit", zvolil by som slohovo krehkú, refrénovú pompéznu skladbu Tell Me Tell Me. Nepochybujem, že producenti by siahli po "aerosmithovskej" (Don't Want To) Find That Girl. Naopak, najmenej mi sedí otravne diskorytmová I'm Compressing The Comb On A Cockerel's Head, v ktorej opäť gitara pripomína synťáky. Napokon, pomedzi tento text je porozhadzovaných niekoľko ukážok, pre predstavu hádam stačia, nuž mi dovoľte krátke konštatovanie na záver:
You're All Living In Cuckooland je príjemný rockový album, ktorému je bližšia osemdesiatková košeľa ako sedemdesiatkový kabát. Ide o obstojnú rozlúčku so svetovou veličinou, ktorá, a o tom nepochybujem, sa raz stane rockovou legendou.
Skladby:
Justice 4:31
Dead Men Don't Talk 6:08
We're All Living In Cuckooland 6:04
Falling 5:22
Love Is Enough 2:25
Tell Me Tell Me 4:47
(Don't Want To) Find That Girl 6:28
Captain 3:43
I Don't Want To Throw You 5:31
I'm Compressing The Comb On A Cockerel's Head 8:17
Zostava:
Burke Shelley: spev, basa
Simon Lees: gitara
Steve Williams: bicie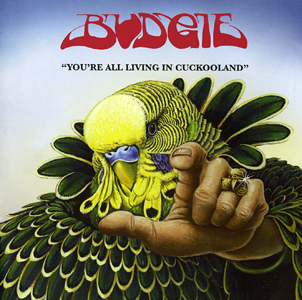 You're All Living In Cuckooland
Budgie
hard rock, heavy metal
Noteworthy Productions
2006
LP, CD
10