Ani sa mi veriť nechce, že už prešlo desať rokov, odkedy sa na trhu zjavila jedna z najlepších bluersrockových nahrávok nového milénia – Voodoo Moon od Savoy Brown.
Gitarista a občasný spevák Kim Simmonds je podľa mňa neprávom opomínaným gitarovým majstrom. Spomedzi tých bluesmanov, ktorí sa na Britských ostrovoch v 60. rokoch etablovali, patrí rozhodne k tým lepším. Vydal množstvo albumov (i keď nie toľko, čo workoholik John Mayall) a Voodoo Moon patrí k najlepším. Album som si kúpil v roku 2012 na základe recenzie v niektorom z čísel elektronického časopisu Rock Plus. Digipak je odvtedy ošúchaný na nepoznanie, nakoľko toto dielo počúvam často a opakovane.
Úvodná skladba Shockwaves fičí, sťa by sa na albume prezentovala skupina Double Trouble so S. R. Vaughanom v čele. Okamžite zaujme osobitý a plný zvuk s kúzelne sfarbenou sólovou gitarou, ktorá znie živelne, a predsa nie ostro. Zadumanejší kúsok Natural Man má síce neprepočuteľné bluesové stavebné kamene, ale zároveň ich rozkolíše istou rockovou esenciou. Je to skrátka pekná snivá skladba vhodná pre obete bezsenných nocí. Too Much Money asi nemá nikto, ale Savoy Brown má aspoň túto skladbu, čo je super. Rozkolísaná veselica, za ktorou nasleduje ešte zábavnejší rokec She's Got The Heat. Slide gitara suverénne kraľuje, čo dodať. V tomto momente sa album láme, každá ďalšia skladba premočí predchádzajúcu, na štartovacej čiare je temná "tenyearsafterovka" Look At The Sun. Perfektné na celom diele je, že hoci je spevák aj saxofonista, využíva dýchavičný nástroj výhradne ako sprievodný, t.j. seká rify. Takto sa to robí! Inštrumentálka 24/7 je dravá, svižná a vôbec! Riečky na východe Slovenska by sa od nej mohli učiť, ako sa spúšťa smrtiaca povodeň. Kim Simmonds hrá tak neuveriteľne ľahko, až sa mi zdá, že si robí srandu z celej tej plejády bluesových gitaristov, ktorí sa v posledných pár rokoch snažia ako diví, ale nepomôže im ani technika a ani využívanie moderných aparátov (pozdravujem Bonamassu).
A je tu Dire Straits. Teda, skladba Round And Round má perfektný potemnený motív, spieva ju Simmonds a podobnosť s Knopflerom je pre mňa viac ako náhodná. Absolútny vrchol albumu, ktorý prekonávajú už iba dva absolútnejšie vrcholy, ktoré nasledujú. Titulná skladba Voodoo Moon je úžasne južanská, temný nástup, sloha, refrén, sólo, pád dynamiky a ide sa odznova, pričom v závere sa refrény opakujú a gitarové sólo šplhá kamsi nad Olymp. Plus pribudne vokálna vsuvka "hej-hej-hej", nikdy by som nepovedal, že je možné takýto "glamový" výstrelok podať vážne a ešte to aj skvelo znie! Klobúk dolu. Zatiaľ som to nezmienil, ale jednoduchá rytmika už dávno neznela tak presvedčivo. Free má dôstojného nástupcu. Tak, a je tu záver. Vrchol všetkých vrcholov, ktorý ostatné vrcholy vykresľuje ako krtince v maďarskej puste, sa volá Meet The Blues Head On. Kto by čakal pomalú dvanástku, ten sa nedočká. Rázny blues rock s priam metalovým podmazom (a perfektne zafarbený hlas Joea Whitinga mu zdatne sekunduje) má iba jednu chybu, na konci sa namiesto desaťminútových sólových orgií takmer okamžite zavelí – fade out – a je ticho. Nevadí, dám si repete!
Výhodou albumu Voodoo Moon je jeho perfektná choreografia. Skladby postupne gradujú. Dobrá strieda lepšiu, lepšia výbornú, tá dokonalú, tú zasa nahradí božská a za ňou nasleduje taká, čo ešte ani v ľudskej reči nemá vymyslené pomenovanie. Čitateľný a rozpoznateľný zvuk, muzikantský nadhľad, neuveriteľná ľahkosť, s akou sa hráči maznajú s každým, aj tým najjednoduchším motívom, je mi záhadou, ako to dedkovia robia. Po Mayallovi a jeho Tough prišiel ďalší album, ktorý ma totálne odrovnal. Žeby sa súčasnosť konečne začala spamätávať z desaťročí nudy? Album som počul hádam tisíckrát a stále sa mi neopočúval. Nič lepšie som od nášho zoznámenia neprecítil a mám pocit, že sa to v blízkej dobe nezmení. Pre bluesovo orientovaného poslucháča je to POVINNOSŤ a ospravedlnenky sa neprijímajú!
(upravené, pôvodne zverejnené na progboarde)
Skladby:
Shockwaves 5:20
Natural Man 6:00
Too Much Money 4:12
She's Got The Heat 3:52
Look At The Sun 5:05
24/7 4:30
Round And Round 4:46
Voodoo Moon 6:55
Meet The Blues Head On 4:57
Zostava:
Kim Simmonds: gitara, spev (5, 7)
Joe Whiting: spev (1, 2, 3, 4, 8, 9), saxofón
Pat De Salvo: basa
Garnett Grimm: bicie
a
Andy Rudy: klávesy
Ron Keck: perkusie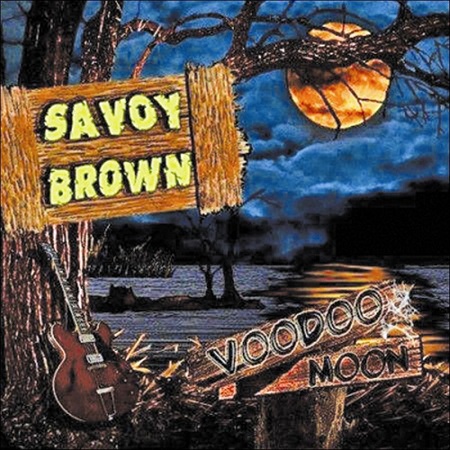 Voodoo Moon
Savoy Brown
blues rock
Ruf Records
2011
CD (Ruf Records, 2011)
9