Spomedzi bohatého množstva nemeckých rockových kapiel, ktoré sa súhrnne označujú termínom krautrock, vyčnieva niekoľko veličín. Eloy je jedna z nich. Kým sa stala variáciou na Pink Floyd, stihla vydať tri experimentálne albumy. Inside (1973) je druhým z nich.
K Eloy som si hľadal cestu dlhšie. Poznal som niekoľko skladieb, ale albumom som sa vyhýbal, nakoľko nie som veľkým fanúšikom Floydov. Páčil sa mi akurát hardrockový debut a od kamaráta som mal napálený tretí album Floating, ktorý predstavuje vrchol ich hard-space-psychedelického obdobia. Kým debut sa mi na cédečku nepodarilo zohnať dodnes (aspoň, že sú z neho dve skladby na kompilácii Krautrock: Music For Your Brain, vol. 2), Inside a Floating som si zadovážil už dávno. A po čase som vzal na milosť aj pár ďalších albumov z "pinkfloyďáckeho" obdobia, pričom najviac sa mi páčia diela Power And The Passion a Dawn.
Samotný album Inside bol nahrávaný v septembri 1972 v hamburskom štúdiu Windrose (vyšiel až v roku 1973) a predstavuje typický príklad tranzitného diela. Kapela hľadala svoju tvár a nakoľko naokolo zúrila space a elektronická revolúcia mixovaná avantgardnými psychedelickými formáciami typu Can, Guru Guru, Faust, Amon Düül II, Nektar a pod., neváhala. Svoj tvrdý rock okorenila podobnými ingredienciami. Na platni boli iba štyri skladby, pričom tá úvodná, Land Of No Body, okupovala celú jednu stranu. Priznávam sa bez mučenia, mám slabosť pre tvrdú muziku, ktorá sa tvári ako soundtrack k hororu a prezentovaných sedemnásť a pol minúty bezuzdného koktejlu hard-psych-space rockového jašenia ma napĺňa mierou prekypujúcou z parného hrnca. Aj keď klávesov je tu ako maku, sú len jednou z prirodzene znejúcich zložiek muziky. Napokon, pod palcom ich mal borec Manfred Wieczorke, ktorý Eloy o pár rokov neskôr opustil, aby pomohol v kariére inej nemeckej veličine, a síce Jane. A tú mám rád viac ako veľmi! Inak, v polovici skladby príde samozrejme aj na takú tú zvukovo-hlukovú mätež, z ktorej odporcovia melódií pokojne vyrobia novú modlu, dá sa to však pretrpieť.
Druhá strana platne núka skvelú pomalú hardrockovú baladu Inside, v ktorej sa počas sóla gitarista pozabudne a prinúti rytmiku zvýšiť tempo niekam na úroveň pretekov formuly jedna. Zvláštny, ale funkčný, mix temnej atmosféry s karnevalovou veselicou Future City obsahuje šťavnaté gitarové sólo, no a záverečná meditácia Up And Down prevetrá vesmírne hlbiny space rocku.
Na CD z roka 2000 sa nachádza aj bonusový singel Daybreak/On The Road. Nahrali ho v auguste 1973 v hamburskom štúdiu Maschen a v tom istom roku aj vyšiel. Hardrockovo uháňa a nekompromisne gniavi každý pokus o vymäknutie. Skrátka, ide o dve chutné skladby.
Album som už dobrých pár rokov nepočul a aj som zabudol, aký je skvelý! Tento typ drsnej a pritom melodickej muziky môžem v akomkoľvek množstve. Inside je bomba, ktorá mi vždy, keď ju spustím, vybuchne do ksichtu. Áno, čo sa týka muziky, som masochista… A čo vy? Nemáte chuť na poriadnu rockovú apokalypsu?
 Skladby:
Land Of No Body 17:20
Inside 6:35
Future City 5:35
Up And Down 8:25
Zostava:
Frank Bornemann: gitara, spev, perkusie
Fritz Randow: bicie, ak. gitara, vokály, perkusie
Wolfgang Stöcker: basa
Manfred Wieczorke: organ, gitara, vokály, perkusie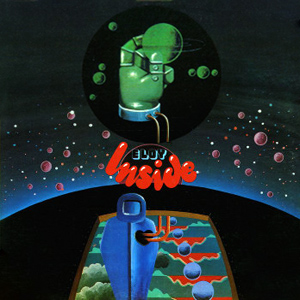 Inside
Eloy
hard rock, psychedelic rock, space rock
Harvest
1973
LP, CD
4