Bubeníci, ktorí skončili za mikrofónom, sú v populárnej hudbe prítomní odnepamäti. Všetci poznajú Phila Collinsa, ktorý si spočítal, že speváci zarábajú viac. Robert Wyatt zasa nemal na výber. Na jednom večierku vypadol z okna a ochrnul. No a potom je tu Jim Capaldi, bubeník Traffic, ktorý si prešiel od nevšedného rocku cez všetky populárne štýly vrátane diska a späť. S jeho sólovou tvorbou som sa zoznámil prostredníctvom jeho druhého albumu Whale Meat Again (1974).
K albumu som sa dostal náhodou koncom 90. rokov, kedy mi ho požičal jeden kamarát a ja som si ho napálil. Dnes vlastním CD od Esoteric Recordings s jedným bonusom. Dielo má pre mňa zvláštnu atmosféru. Nie je okázalo nabúchané, skôr je to vejár obyčajných skladieb, ktoré sa veľmi dobre počúvajú a ich sila je v nenápadnosti. Capaldi na ňom použil zmes štúdiových hráčov, ktorí mu zväčša  hrali už na debute Oh How We Danced, čím dosiahol zdanie, že má stabilnú skupinu. Samozrejme, vypomáha mu plejáda kamarátov, či už z Traffic alebo z Free. Skrátka, muzikanti, ktorí sa nachádzajú na nahrávkach spoločnosti Island.
Kým sa pustím do jednotlivých skladieb, poznamenám ešte, že sa mi páči tá fonetická viacrozmernosť názvu albumu. Z opätovného veľrybieho mäsa je možné variovať kadečo, we'll meet again (opäť sa stretneme), well meet again (dobre, stretneme sa), well meat again (dobre, opäť mäso) atď.
Album začína pokojne. It's Alright má nevtieravú, ale pritom chytľavú náladu, v rádiách by sa vynímala. Titulná skladba Whale Meat Again ukazuje, že Capaldi vie enviromentálne odkazy obaliť do riadne hutného bluesrockového posolstva. To Yellow Sun sa túla americkými prériami s gustom človeka, ktorý sa nikam nenáhli a nostalgicky si užíva doby, kedy sa nemuselo všade ponáhľať. I've Got So Much Lovin' je taká obyčajná skladba v rýchlejšom tempe, vokalistky jej dodávajú zdanie naliehavosti a počas saxofónového sóla je to už neskrývane pozitívna záležitosť. Skvelá vec je soulovo precítená skladba Low Rider, ešte aj ten funky clavinet sa do nej hodí. Predovšetkým však pritvrdila, čo mi vyhovuje. My Brother je už tradične melodicky vďačná pesnička, pekne graduje. Záverečný slaďák Summer Is Fading sa obíde bez dychovej sekcie, zato perkusie počuť odvšadial. Je to vynikajúca skladba, ktorá sa v pravú chvíľu (c)hutne rozbehne a zakončuje ju krátka coda We'll Meet Again, na platni pôvodne nepriznaná. Na mojom CD je jeden bonus, singlová skladba Tricky Dicky Rides Again, ktorá je veselá, skočná a na gitaru na nej hrá Paul Kossoff.
Z nejakého dôvodu, ktorý neviem presne pomenovať, mi tento album nesmierne sedí. Keď si chcem oddýchnuť od hektického dennodenného kolobehu života, dáva mi všetko, čo k relaxovaniu potrebujem. Na to, že by sa dal celý prehrať v rádiu, je pozoruhodne neprvoplánový. Výborné dielo, odporúčam najmä tým, ktorých priveľmi ostrá muzika odradzuje.
Skladby:
It's Alright
Whale Meat Again
Yellow Sun
I've Got So Much Lovin'
Low Rider
My Brother
Summer Is Fading
We'll Meet Again
Tricky Dicky Rides Again (bonus, a-side)
Zostava:
Jim Capaldi – spev
Pete Carr: gitara
Jimmy Johnson: gitara
Barry Beckett: piano, steel drum
David Hood: basa
Roger Hawkins: bicie
Muscle Shoals Horns: dychy
Rabbit Bundrick: klávesy (2)
Chris Stainton: organ (3)
Jean Roussel: basa (3), clavinet (5)
Chris Stewart: fuzz basa (6)
Remi Kabaka: perkusie (5)
Steve Winwood: organ (1, 7), basa (7)
Anthony "Bubs" White: gitara (7)
Gaspar Lawal: bicie (7)
Derek Quinn: cabasa (7)
Rebop Kwaku Baah: kongá (7)
Potato Smith: vokály
Laurence Peabody: vokály
Harry Robinson: sláčikové aranžmány (3, 5)
Paul Kossoff: gitara (9)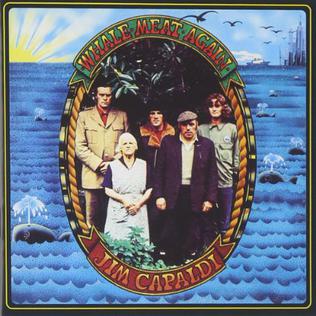 Whale Meat Again
Jim Capaldi
Rock
Island
1974
CD (Esoteric Recordings, 2012)
8+1