Děti, náš pan hrabě podřimuje, tak Jeho Velkodušnost nevyrušte. Dlouho trvalo, než zabral, snad se již zklidňuje, pro jednou. Zdá se mu něco o kolotočích a koních, soudě dle neklidného dechu, však toho má dosti za sebou. Nyní zaslouženě odpočívá, aniž by musel bojovat a bít se s přízraky, jako dlouhá léta předtím. Nechť mu sen pranic nepřeruší a nabere ve spánku sil. U hlavy mu bzučí a srší taková divná věc, kéž mu to dělá dobře.
V rychlém sledu vydaná deska Still Life (Zátiší), šlape z chronologického hlediska těsně v patách svému předchůdci. Však některé frekvence byly nahrávány současně, jen byl posléze proveden výběr, která skladba kam bude zařazena. Neboť takový byl tvůrčí záměr, které barvy palety nanést na různá plátna. A vskutku, tady je naplněn smysl názvu díla až hmatatelně pečlivě. Rozjímavý duch se prolíná jednotlivými písněmi jako pohádkový dech, o to více kouzelný, jak se nám ho dříve nedostávalo. Album je jinak poskládané, zahrané, nahrané, i působivé. Charakteristické atributy si ponechává, má je však zahaleny v oparu leckdy až něžné vlídnosti. Umím si docela dobře představit, že pokud k němu někdo přilne, obzvláště, uslyší-li je jako první od této skupiny, může mít pak s dřívější tvorbou poněkud obtíž. A naopak, kdo přivyknul na předchozí drásání a sebezáchovně okoral, zde nemusí nacházet to, co trochu sebetrýznivě žádá. Proniknout do krásy této jemné desky může být tak paradoxně složitější, než u předchozích kakofonicky řeřavých opusů.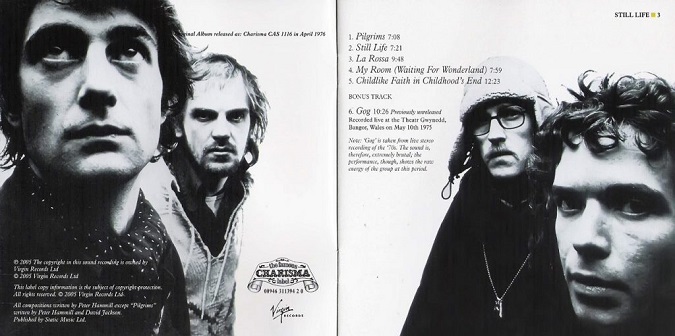 Na ploše pěti skladeb se nám zde rozvíjí hudební podobenství příběhů v různých tématech. Hned první Pilgrims je veledílo. Klidné a tklivé, téměř bez hořkých podtónů, spíše zádumčivé. Ony nebezpečné ocelové nože se změnily v jemný řezbářský nástroj, co filigránské výšivky do podkladu ornamentózně zaznamenává a po kapkách jim žahavé kyseliny přidává, aby získaly místy temnější odstín. Hammillovi jsou tato toulavá témata blízká, ať dobrovolných hledačů, tak vyděděnců z donucení. A pak je tu duo Hammill & Hammond! To je syntéza, splynutí a prolnutí, jehož výsledkem je kromobyčejná splývavost a mihotavost motivů. Asi se nad tím budu rozplývat v tomto textu vícekrát. Still Life přináší nejedno překvapení, nejedno udivující prozření, až zajíknutí. Vypráví o vážných tématech, ale nedělá z nich tragédii, která svým hořem strhává do hlubokých jam se špičatými kůly na dně. Prostě jen vypráví, občas zdůrazní dramatický akcent, ale většinou nechá plynout, a jen krášlí prostor výšivkami jednotlivých nástrojů.
Still Life je dialog naslouchající mysli a Hammillova hlasu, jenž se nese odkudsi z nitra. Hammond Organ dokresluje zamyšlenému toku zamlžené melodie za sporého přispění rytmiky. Opiátová relaxační zadumanost. Neobyčejný song, jako ozvěna z druhého břehu. Takovou uvolněnost a prostor neslýchám v hudbě často. Současně musím vyzdvihnout, a to platí pro celé album, tu oblažující průzračnost, čitelnost a nezkreslenost zvuku. Do nahrávky bylo zasahováno tak málo efekty, že je mi zde vše bezprostředně blízké a přirozené. Opravdovost a nelíčená upřímnost z celé desky doslova dýchá. Tento teplý van ještě rozdmýchne následující La Rossa, kde se objeví trošku žhavých uhlíků, aby zahořely v pozadí a nechaly nás v jejich rudém přísvitu, a v konejšivém houpání melodických saxofonů. Zde Jackson ukazuje, jak dokáže hrát čisté nosné melodie, nebo jen sporadicky přizvukovat, a přitom se umí vyhýbat všem saxofonovým rockovým klišé. Mistrem saxofonů vždycky byl, ale zde to zpečeťuje doslova karmínově. Až by se jeden bál, že růže s ulámanými trny přestává býti růží, neb něco očekávaného jí chybí, avšak i ty ostny vystrčí, když se na ni naroubují zase ty Hammondy. Pak tu máme hlavně pěknou pohádku o Šípkové Růžence, k níž je nutno bodláčím se prosekat. Pozvolný růst až ve dlouhou gradaci v závěru kompozice je další ukázkou skladatelské vyspělosti.
Co jsem psal o romantických saxofonech posune na další úroveň skladba My Room (Waiting For Wonderland). Nikdy nebyli VAN DER GRAAF GENERATOR láskyplnější. Hammill zpívá zase jinak, jeho hlas má polohu tisící prvou, a zase nesmírně přesvědčivou, omamnou, každá slabika přináší nápěvy a záchvěvy, které v rockové muzice jinak neuslyšíš. Opět čarují Bantonovy Hammondy, jako divotvorné meče. Keře pohádkové zahrady se rozestupují a dají vyniknout čisté nádheře, svěží kráse, modrým nebesům bez kazu. Hudba pro potěchu i zušlechtění ducha. Tohle bych ještě před pár měsíci do kapely neřekl. Až se člověk obává, jestli do toho pro kontrast neskočí nějaká tortúra, nebo alespoň malá tortúrka, ale mistři hrají jako očarovaní dobrou vílou. Až je to znepokojivé, neboť v každém melodickém oblouku, v každém motivu a záchvěvu tónu je až pohltivé množství brilatního uměleckého opojení. Proplétání nástrojů dává každou chvilku vykouknout tu jednomu, tam druhému, třetímu i onomu, nikdo nehraje prim, a všechny jsou tu přítomny, jak je architekt precizně navrhnul. Basa se na závěr také pěkně rozdrnká a rozbublá, a vlastně skladbu vyprovodí k jejímu závěru.
Poslední píseň je nejnáročnější. Nejen Hammill, ale všichni se tu zapojují jinak. To, co na předchozích deskách jen v některých okamžicích naznačili, zde zdokonalili a překonali. Na tomhle albu není nikde ta stará acidická sžíravost, která by tě nemilosrdně rafla, ono jen zdvořile zve ducha otevřeného, připraveného, lačného po skrytých zážitcích, kterých se mu jinde nemůže dostat. Dostává je po kapkách, zato bez přerušení. Tak jsou nejúčinnější. Poslední skladba dá nejvíc práce, ano stále se posluchač nadře, ale taky tě nejvíc dostane do kolen, aniž by sis toho byl vědom. Deska má tu vlastnost, že přivede posluchače v úžas každou svojí částí, až se vyčerpán domnívá, že to nejlepší právě uslyšel, aby se hned vzápětí přesvědčil, že nejlepší je vlastně ta, která zrovna hraje. Zde opravdu není myslitelné nějaké přečkávání pasáže, vzpomínání na předchozí, dožadování se budoucího. Neúhybná síla probíhajícího okamžiku je tak veliká, že se tě hravě zmocní a provádí tě ve svém území, drží, dokud nedojdeš až na jeho samotný kraj. Až pak se můžeš divit, vzpomínat a těšit zároveň, abys běžel zpět na začátek. To album je jako zaříkávání nemocného, aby se uzdravil. V něm se VAN DER GRAAF GENERATOR dokázali dotknout absolutní Hudby. Jsem jim nesmírně vděčen za to.
Still Life je ve srovnání s minulými prazvláštní deska. Hudba je tu tak přítulná a decentní, až to bolí. Méně živočišnosti, méně atavismů, rozervanosti a syrovosti. Radost, smířlivost, občasný posmutnělý sten. Zkrotlá a delikátní hudební krása ve své přitlumenosti brnká na úplně jiné struny v lidské duši, než-li dříve. Dává odpočinout vzteku, naštvanosti i strachům, a dává procitnout lyrickým tónům, dříve téměř neslýchaným. Po svém, samozřejmě. Nějak takhle si představuji kolébavky ve stylu VAN DER GRAAF GENERATOR. Téměř hladivou rukou ztěžkle a hebce konejší kdysi zuřivé noční můry. Ty se dnes jen mžouravě na denním světle potácejí a motají, přičemž jejich trhavé pohyby lze prohlásiti za tanec. Elegance skomírajících děsů. Gute Nacht, Herr Graaf.
01. Pilgrims – 07:13
02. Still Life – 07:24
03. La Rossa – 09:52
04. My Room (Waiting For Wonderland) – 08:02
05. Childlike Faith In Childhood's End – 12:25
Total 44:56
Dynamic range – DR12
Bonus na CD od roku 2005:
06. Gog (Live / Ex-Bootleg) – 10:30
Skladba je z live bootlegu "Theatr Gwynedd, Bangor, Wales, May 10th 1975"
Still Life
CAROL 1641-2
Van Der Graaf Generator
Art rock
Caroline Blue Plate (US 1992)
1976
CD
5