Popri osvedčenej muzike, ktorá, nech už je akéhokoľvek žánrovyznania, oslovuje masy, sa občas zjaví aj niečo, čo sa vymyká. Nechajme bokom avantgardu pre avantgardu a pozrime sa na jednu naozaj originálnu kapelu, ktorá neskrývala nedostatok estetického cítenia za hluk, ale produkovala muziku, aká nemala obdobu. Muziku, nie hlušinu! Dámy a páni, Van Der Graaf Generator uvádza album H to He Who am the Only One! 
Nebudem vám klamať. Nie je to ľahká poslucháčska korisť. Kapela okolo speváka, básnika a príležitostného hudobníka Petra Hammilla, robila všetko pre to, aby ste o jej priazeň museli bojovať. Presne tak! Nie hudba si získava masy, to jednotlivci sa musia pokúsiť pokoriť ju! Pokiaľ sa vyhýbate negatívnej energii, prípadne trpíte depresiami, oblúkom sa jej vyhnite! Estetika škaredosti, vyzdvihovanie beznádeje, oslava straty príčetnosti, to je v skratke prezentácia kapely Van Der Graaf Generator. Nie je hanbou, ak ju necháte napospas osudu. Pokiaľ však v umení vyhľadávate dekadenciu, dajte jej šancu. Atmosféra zmaru nebola nikde inde zhudobnená lepšie. A pod tou vrstvou pekelných múk sa nachádza čistá duša naplnená vznešenými ideálmi a citlivými nádejami. Ťažko sa to opisuje.
Mohol by som sa tu do nemoty rozplývať nad úvodnou skladbou Killer. Zaujímavý text o samote je naskrutkovaný do absolútnej esencie dokonalého rockového muzicírovania. Hudba Van Der Graaf Generator je tvrdá, nekompromisná, ťaživá, ostrá a neopakovateľná. Čo na tom, že gitara v nej hrá rolu komparzistu v počítačom generovanej scéne v americkom veľkofilme! Máme tu nezlomnú rytmiku, všetky možné klávesové exemplárne príklady stvárnenia šialenstva prostredníctvom zvuku, do toho saxofón, ktorý by mohol rezať sklo a, aby toho nebolo málo, spev. No, spev… Prednes ústavného činiteľa, resp. chovanca blázinca (vychádza to narovnako), ktorý zabudol užiť svoju dennú dávku liekov by neznel inak. Odbočil som, chcel som písať o skladbe Killer. Nuž, vlastne sa stalo! V protiklade s ťaživou atmosférou ponúka Hammill melancholické krehké výdychy, ako napríklad House With No Door. Kdesi medzi týmito dvomi polohami sa odohráva intímna chvíľka v cisárskom budoári zvaná The Emperor In His War Room. V melancholických pasážach si človek pripadá, akoby stratil milovanú osobu. Vo vypätých sa pristihne, že by menil s Čingischánom a rozsekal na cucky voľajakých Číňanov alebo Peržanov. Psychedelický rock s džezovým "fílingom" nikdy neznel presvedčivejšie!
Keby chcel niekto zhudobniť Voľný pád, film, v ktorom Michael Douglas stratí všetky zábrany a pomstí sa všetkým, čo ho štvú, mohol by si ušetriť námahu. Hudobníci z Van Der Graaf Generator to urobili za neho v skladbe Lost. A v nastúpenom trende aj celý album ukončia. Pioneers Over C má takmer dvanásť a pol minúty, dlhšie sa hrá s jemnými, o to depresívnejšími polohami, ale nechýbajú aj riadne dravé pasáže a miestami si prídu na svoje i džezmeni s visačkou "free". Pokiaľ si myslíte, že temnotu najlepšie reprezentuje black metal, tak ste ešte nepočuli naozajstnú muziku v hustote i farbe smoly. Neodporúčam realizovať samovraždu popri tejto skladbe, je takmer isté, že vás nebudú ratovať na pohotovosti. Nepodarený pokus je vylúčený!
Neviem, ako vy, ale ja mám v tvorbe Van Der Graaf Generator jasného favorita – H To He Who Am The Only One! Nie je to ľahké počúvanie (i keď kapela, o Hammilovej sólovej tvorbe nevraviac, má na konte aj bezútešnejšie diela). Na nejaké pozitívne emócie zabudnite, silné melódie tu síce sú, narúša ich toľko deštruktívnych vnemov, že popri nich tlačovky slovenských politikov počas šou zvanej "vládna kríza" vyzerajú ako náborové videá pozitívne ladených kresťanských siekt. Pokiaľ si však túto muziku pustíte k telu, očakávajte sado-maso orgazmus.
Skladby:
1. Killer 8:07
2. House With No Door 6:03
3. The Emperor In His War Room 9:04
4. Lost 11:13
5. Pioneers Over C 12:25
Zostava:
Hugh Banton: organ, piano, oscilátor, vokály, basa (2, 5)
Guy Evans: biciem perkusie
Peter Hammill: spev, ak. gitara, piano (2)
David Jackson: saxofóny, flauta, vokály
a
Nic Potter: basa (1, 3, 4)
Robert Fripp: gitara (3)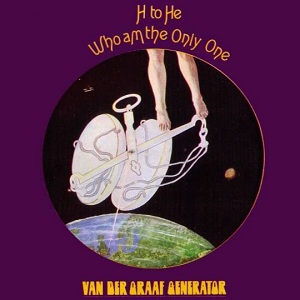 H To He Who Am The Only One
Van Der Graaf Generator
progressive rock
Charisma
1970
LP, CD
5