Van Der Graaf Generator. Skupina, ktorá v mojich očiach dokázala spojiť temnotu osadenstva psychiatrickej kliniky a melodiku serafínov. V jej čele stál Peter Hammill, jeden z najgeniálnejších  rockových básnikov, pesničkárov, skladateľov a hudobníkov. V roku 1972 zanikla, aby vstala z popola v roku 1975. Prvým albumom reunionu bol Godbluff.
Ono, reunion zažila skôr značka ako muzikanti. Hammill sa venoval sólovej tvorbe a všetci spoluhráči mu pomáhali, akoby sa nič nestalo. Preto ma neprekvapuje, že sa Van  Der Graaf Generator vrátil vo forme. Akoby nikdy neodišiel.
Godbluff obsahuje štyri skladby, jednu podmanivejšiu ako druhú. Materiál vznikal za chodu popri koncertovaní, nuž nečudo, že sa dobrúsil na pódiu a do štúdia sa šlo bez zbytočného stresu. Napokon, niekoľko skladieb ostalo v zásuvke, na ďalší album. Niekde som sa dočítal, že skupina nechcela kotviť v minulosti, takže nechcela ani ďalšie Pawn Hearts. Prezentované skladby sú preto podstatne jednoduchšie, rytmus sa drží v jednotnej línii, zmien tempa a motívov ubudlo.
The Undercover Man je pomalá melodická krása v priamom prenose. Postupne graduje, ale žiadna psycho pasáž a ani náročné rytmizovanie sa nekonajú. Keby mala tak tri minúty, je to dokonca hit. Scorched Earth je podstatne tvrdšia a zlovestnejšia skladba. Opäť sa však drží niekoľkých málo motívov a priveľmi neexperimentuje, hoci pár mierne chaotických náznakov sa tu predsa len nachádza. A záver skladby je správne hrozivý. Rytmicky náročnejší úvod s džezovým saxofónom naznačí, že v skladbe Arrow sa toho ešte udeje. A naozaj! Nastupuje pokojné tempo, ťahané tóny a tušenie krásnej melódie sa napokon naplní. Ten saxofónový motív (tá-tata tá-tatatata-tá), ktorý dopĺňa spev, je jednoducho geniálny. Gradácia je samozrejmosťou. Pre mňa je to najlepšia skladba na albume! Perfektný motív odštartuje aj záverečnú skladbu The Sleepwalkers. Po nasadení spevu dostáva zvláštny nádych, tak typický pre Hammillov rukopis. Nedá sa presne opísať, musí sa počuť. Plus je v strede skladby mierne kabaretná vsuvka, v sóle skladba vygraduje a je vynikajúcou bodkou za albumom.
Vydanie od EMI/Virgin z roka 2005 obsahuje dva bonusy, ide o záznamy živých skladieb, ktoré skupina používala ako doplnok k repertoáru. Pôvodne sa jedná o sólovú Hammillovu tvorbu z albumu The Silent Corner And The Empty Stage. Konkrétne ide o skladby Forsaken Gardens a A Louse is Not a Home. Nie sú zlé, ale zvuk je mizerný, takže je to skôr dokumentárna perlička. Odporúčam počúvať zvlášť, nekorešponduje mi to s albumom.
Album vnímam tak, že skladby vznikli a boli dolaďované na koncertoch. Udržujú si tak vnútornú konzistenciu. Súdržnejší album skupina nenahrala. (Nielen) preto a patrí k vrcholu celej jej tvorby.
(upravené, pôvodne zverejnené na progboarde)
Skladby:
1. Undercover Man 7:32
2. Scorched Earth 9:43
3. Arrow 9:48
4. The Sleepwalkers 10:41
Zostava:
Peter Hammill: spev, piana, gitary
Hugh Banton: organ, basa
David Jackson: saxofóny, flauta
Guy Evans: bicie, perkusie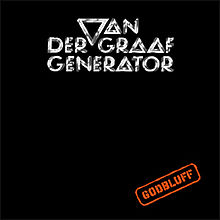 Godbluff
Van Der Graaf Generator
progressive rock, art rock
Charisma
1975
LP, CD
4