Čtvrté řadové album Vládi Mišíka a Etc… přijímám s velkými rozpaky. Nepíše se mi to snadno, protože Vláďa je můj "domácí bigbítový kůň" a Etc… je výtečná skupina, které se podařilo za celou dobu její existence vytvořit vlastní tvář, což se na naší hudební scéně hned tak někomu nepovedlo.
Nicméně, tahle LP znamená velké šlápnutí vedle (podobně šlápli vedle i Progres 2 na albu Změna). Častokrát jsem si kladl otázku, proč se kapela k takovému dílu propracovala. Vláďa v dané době prohlásil, že vedle svých prověřených oblíbenců s blues, jazzu a rocku občas poslouchá i něco současného a mě dost zarazilo jeho prohlášení, že se mu tehdy líbili Frankie Goes To Hollywood. Teprve pak jsem si desku koupil a slyšel, ale tohle prohlášení se mi nějakým zvláštním způsobem s albem spojilo.
Etc… měli od svého začátku štěstí na výtečné bubeníky. Dvakrát ale šlápli možná trochu mimo mísu (Tomáš Krček nestačil za bicími dozrát), ale tady hraje Pavel Skala a to podle mého názoru nebyla nejlepší volba. Vzpomenu-li na Jaroslava Vondráka, Anatoli Kohouta, Jana Nohu, Pavla Frištenského, Jřího Šusteru a Ivana Kadaňku – tak to byli na naše poměry opravdu vynikající hráči (současný člen Jiří Zelenka v téhle tradici pokračuje). Ovšem nahrát na celé album elektrické bicí pady – to byla fatální chyba. To je pro mě nepřekročitelný problém a nový trendový zvuk osmdesátých let se prohryzal i na album klasika českého bigbítu Vláďu Mišíka.
NEZAPOMEŇ – Zní to jako taneční hudba osmdesátých let. Kulhánkova baskytara výtečně přede svoji basovou linku, Skoumalovy synthesizery dotvářejí v ozvěnách patřičné tajemno a Vláďův zpěv zní jaksi udýchaně, aby se vešel do frázovaného zpěvu a tlačí na pilu. Text jeho ženy je odrazem zrychleného stresovaného každodenního života zaměstnaného člověka městského typu, který neví co dřív, co se svými pocity a problémy. Žádná velká poezie, ale drsná realita vekslácké doby. Neslyším kytary, zvláštně modifikovaný zvuk houslí, ale strojový rytmus. Etc… osmdesátých let řešily otázku hrát pro svoje tradiční publikum anebo přitáhnout novou generaci?
MOŽNÁ – Výtečný fretless Fender Jazz Bass "Gumy" Kulhánka propojovaný v několika taktech s Kubešovou elektrickou kytarou, ale i s Hrubého houslemi. Neuvěřitelně odporně mlátící automat a já si musím zvyknout na to, že bude mlátit až do závěru. Kubeš zahraje krátkou kytarovou mezihru, ale jinak skladba stojí na strojově se opakujícím schématu. Hrubého houslová mezihra má svůj rukopis, ale je příliš úsporná a bojácná. Kubešovo kytarové sólo má sice jasný tón, ale nemá svou jasnou pozici uprostřed, ale přichází tlumeně zezadu. Bloudivé bzučení Skoumalových kláves. Rozpaky, rozpaky.
 NÁVŠTĚVNÍ DEN – Na textaře Jiřího Dědečka je třeba si zvyknout. Tento text se mu ale opravdu povedl. Zaujal mě víc než samotná skladba. Z textu jde na mě smutek a nostalgie životní reality, které rozumím. Opakování schematického hudebního motivu mě zneklidňuje. Minimalismus až příliš vypointovaný. V mezihře sice vnímám prostor pro Kubešovu kytaru a Hrubého housle – ty mají svoje kouzlo, ale bohužel skladbu to v mých očích nezachraňuje. Pokus hrát jinak a propojovat Nejezchlebovo violoncello a Hrubého housle je zajímavý. Ale chybí mi větší přesvědčivost a větší odevzdanost. Docela se teším, až skladba skončí. To se mi u Vládi ještě nestalo.
PES, FRANTA A KANT – Etc… a funk. Baskytara je samozřejmě výtečná. "Guma" je nedostižný ve svém oboru. Ale melodické nápady a harmonie skladby je hodně pod laťkou. Tady ovšem Dědečkův text vnímám jako přeintelektualizovaný pokus. A to zatracené mlácení elektrických bicích mě dělá vodu na zubech. Standa Kubeš si do skladby vymyslel kytarové sólo, ve kterém nám ukáže, že má techniku i výraz, ale ani tato skladba mě nepřesvědčuje jako nějaký zásadní přínos pro album.
POCHOD ADOLESCENTŮ – Kytarové intro rozkládá akordy a Hrubého housle hrají svoji linku. Velmi úsporně a nevýbojně, jakoby ho to neinspirovalo a hraje spíše do počtu. To mi k Honzovi opravdu nesedí. Skladba má svou melodickou linku, protože Petr Skoumal je známý svými zajímavými nápady. Nevím, jestli se tato skladba úplně trefila do Vláďova naturelu. Hříčka v aranžmá a hříčka v textu.
KDYŽ SE ZEŠEŘÍ – Cinkání půlitrů (jsme v hospodě) a pořád, pořád, pořád nás pronásleduje mlácení elektrických bubnů. Uvnitř skladby se ale dějí zajímavé věci (jako u Weather Report). "Gumovy" baskytarové sjezdy s mlácením zezadu doprovází tlumený akordeon a slyšíme hospodské klima. Takto poetický název skladby by ve mně měl vyvolat úplně jiný hudební doprovod. Divná skladba. Myslím, že ji Etc… také na koncertech často nehráli. Kdyby ji nazpíval Vláďa za doprovodu klavíru nebo jenom akustické kytary a houslí, mělo by to úplně jinou dimenzi. Nijak se tady nezpívá, spíš deklamuje a navozuje hluboká nostalgie.
DOTEKY – Klávesové intro za doprovodu houslí je zásvitem na lepší časy. Tady Etc… slyším zcela zřetelně. Zase je ve hrě ten odporný bicí automat. Skladbu narušuje jako pneumatické kladivo. Dědečkův text je vtipný a má v sobě erotický náboj. Vláďovi se dobře zpívá a také mezihra elektrické kytary, houslí, violoncella se příjemně poslouchá. I zde se opakuje dané schéma. Je ale nosné a melodickou linku vnímám jako příjemné zjištění. Skladba měla na koncertech větší šťávů a odpich, když ji hrál jiný bubeník. Honza Hrubý si zahrál možná nejhezčí houslové sólo na albu.
NOČNÍ MŮRA – Výtečná baskytara a zase ten až moc stručný minimalismus. Žádná sóla, žádné téma, žádné průraznější nápady. Pohrávání si s detaily zde vnímám, ale nějak mi to ke komplexnímu přijetí nestačí. Také Vláďa zpívá dost těžko zapamatovatelnou melodii. Kytarové sólo sice v pár taktech ukáže svoje zuby, ale jinak skladbu vnímám především přes "Gumovu" funkovou baskytaru a úsporné Skoumalovy klávesy. Mlácení Skalových elektrických bicích mě hodně vytáčí.
Co dodat? Nebudu zastírat zklamání. Na formát takové kapely jako jsou Etc… je to propad dolů. Ostatně Honza Hrubý tohle album nemá vůbec rád, po jeho vydání došlo k nějakému pnutí v kapele a on na základě kanadského žertíku práskl dveřmi a odešel (k Prokopovi). Přiznám se, že tuhle desku si pouštím výrazně méně než ostatní (mám doma celý Vláďův komplet), asi vím proč. U Etc… jsem zvyklý na bohatější, členitější aranžmá a větší instrumentální zapojení do hry. Honza Hrubý, Standa Kubeš, "Olin" Nejezchleba zde hrají jaksi při zdi.. Při vší úctě k Vláďovi a k Etc… dávám jenom tři hvězdičky.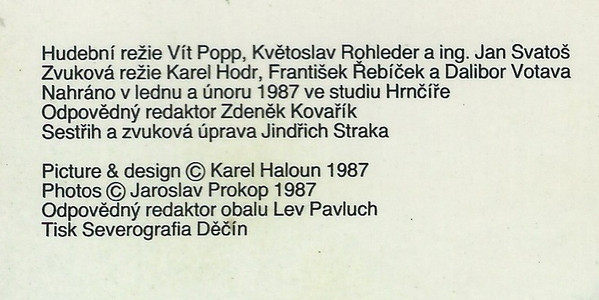 SKLADBY: 
1. Nezapomeň! (Kulhánek/Mišík/E.Rudyšarová)
2. Možná (Mišík/J.Šimon)
3. Návštěvní den (Skoumal/J.Dědeček)
4. Pes, Franta a Kant (Kubeš/J.Dědeček)
5. Pochod adolescentů (Skoumal/J.Dědeček)
6. Když se zešeří (Mišík/J.Burian)
7. Doteky (Skoumal/J.Dědeček)
8. Noční můra (Hrubý/J.Dědeček)

SESTAVA: 
Vladimír Mišík – zpěv
Jan Hrubý – housle
Jaroslav Nejezchleba – violoncello, mandola, zpěv
Petr Skoumal – klávesové nástroje
Stanislav Kubeš – kytara
Vladimír Kulhánek – baskytara
Pavel Skala – bicí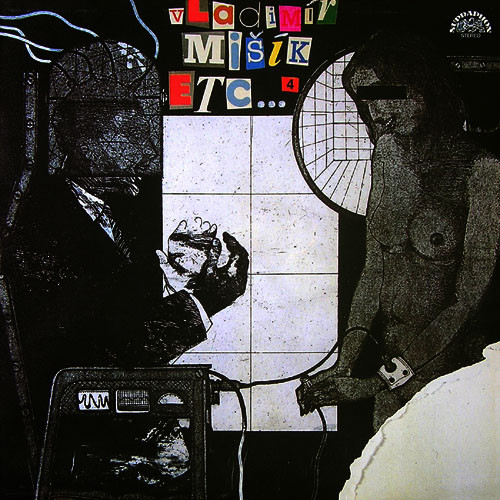 4
Vladimír Mišík & Etc…
Rock
Supraphon
1987
LP
8