Skupinu Vanilla Fudge jsem poznal na začátku sedmdesátých let prostřednictvím třetí desky Renaissance. Tehdy jsem objevoval začínající hardrockové kapely a hudba na téhle LP jim byla podobná a přece jiná, pro mě mnohem zajímavější. Ke kapele odkazoval bubeník Zdeněk Kluka v sleevenote alba Barnodaj jeho skupiny Progress Organization.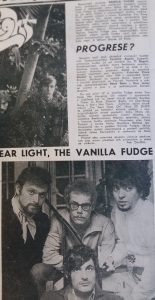 Trochu později jsem si o Vanilla Fudge přečetl v Pop Music Expresu, v článku "Psychedelické ozvěny", kde Petr Dorůžka oceňoval jejich přístup ke coverům na debutovém albu. O druhém The Beat Goes On napsal, že tady se jejich hudba stává uměním.
Konec šedesátých let byla doba experimentů, a mě experimenty zajímaly. Celkem logicky jsem chtěl The Beat Goes On slyšet, ale v té době to nebylo tak snadné. Desku jsem si po delší době nahrál, ale první poslech nepřinesl to, co jsem očekával. To, co na ní bylo nahrané, mě vůbec nebavilo.
Hudba je postavená na melodiích písně The Beat Goes On od Sonnyho Bona, do kterých jsou zakomponovány různé hudební i nehudební záležitosti. Začínáme předehrou od Mozarta, pokračujeme historií hudby od osmnáctého století přes swing, Elvise Presleyho po Beatles. Blok motivů od Beatles končí Hello Goodbye. Zvláštní blok je věnován největšímu skladateli Ludwigu Van Beethovenovi, tu zazní úryvek For Elis z Měsíční serenády. Zajímavá je verze písně The Beat Goes On, jejich provedení coverů je prostě legendární. Jeden blok je věnován úryvkům projevů politiků dvacátého století, počínaje Chamberleinem přes Churchila, Eisenhowera po Kennedyho. Do motivu s Chamberleinem je vložen i nacistický pozdrav. Deska končí motivem ze skladby The Beat Goes On.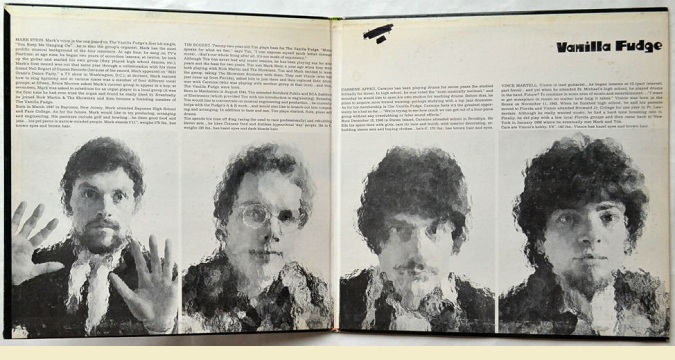 Před skoro padesáti lety mě tahle LP nebavila, ale když ji poslouchám nyní, tak oceňuji snahu vytvořit něco originálního. To se Vanilla Fudge, podle mě s odstupem, povedlo. Když mám The Beat Goes On hodnotit, tak musím zmínit i nádherný obal, zvláště americké vydání a provedení gatefold, které vlastním. Albu nedávám plný počet, ale myslím, že čtyři hvězdy si zaslouží.
SKLADBY:
1. Sketch (3:01)
– Phase 1:
2. Intro: The Beat Goes On (1:59)
3. Variations On A Theme By Mozart (6:59):
a) Divertimento No. 13 IN F Major
b) Old Black Joe (Traditional)
c) Don't Fence Me In
d) 12th Street Rag
e) In The Mood
f) Hound Dog
g) I Want To Hold Your Hand
h) I Feel Fine
i) Day Tripper
j) She Loves You
– Phase 2:
4. The Beat Goes On (1:38)
5. Beethoven: Fur Elise/Moonlight Sonata (6:37)
6. The Beat Goes On (1:07)
7. The Beast Goes On (1:03)
– Phase 3:
8. Voices In Time – Neville Chamberlain, Winston Churchill, Franklin Delano Roosevelt, Harry S. Truman, John F. Kennedy And Other Voices (8:17)
– Phase 4:
9. The Beat Goes On (1:05)
10. Merchant (9:52):
a) The Game Is Over: Vince
b) The Game Is Over: Tim
c) The Game Is Over: Carmine
d) The Game Is Over: Mark
11. The Beat Goes On (2:23)
SESTAVA:
Vince Martell – guitar
Mark Stein – organ, vocals
Tim Bogert – bass
Carmine Appice – drums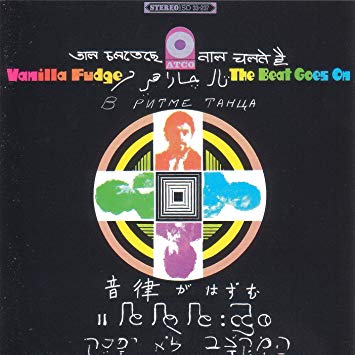 The Beat Goes On
Vanilla Fudge
Psychedelic Rock
ATCO
1968
LP
11