East Of Eden bola jedna z tých zaujímavejších britských progresívnych rockových kapiel, vedľajším efektom však je, že nemusí sadnúť každému. Už na debutovom albume Mercator Projected predviedla také žánrové rozpätie, že by jej Van Damme zamladi slepo závidel, akýže to špagát vystrúhala!
Je tu azda všetko. Hard rock (Northern Hemisphere), psychedélia ťažšia než olovo (Bathers), world music orientálneho strihu (Waterways), psycho bluesrocková smršť (Centaur Woman), melodické chuťovky (Isadora), všetko dokopy (Communion, In The Stable Of The Sphinx)… Do toho si zarátajte výskyt rôznych zvláštnych nástrojov typu gajdy alebo indické ústne piano, pridajte dychy, ktoré evokujú džezové frivoľné muzicírovanie, a je vymaľované. Skrátka, je to haluz. Každá z ôsmich skladieb má na obale krátku charakteristiku, ktorá je rovnako praštená ako muzika. Napríklad pri dramatickej skladbe Moth je uvedené – Dievča je ako topiaci sa hmyz.
Na kapelu som narazil kedysi veľmi dávno, zaujalo ma, že mala v zostave huslistu. Kebyže mám vybrať vrcholy albumu, logicky mi srdce tiahne k tvrďáckej Northern Hemisphere a basovým sólom okorenenej víchrici Centaur Woman. Ale nezastavil by som sa len u nich.
Nepočúvam tento album často, ale keď ma opantá túžba vyraziť na pestrú poznávaciu jazdu okolo sveta, Mercator Projected mi uvedený pocit naplní mierou vrchovatou. Takto namixovaná dávka psychedelického orientálneho džezu s drsným rockovým soundom sa len tak nepočuje! Vyžaduje si však dávku odhodlania a sebaovládania, kým si človek zvykne.
Mám ho zvláštnym spôsobom rád.
Skladby:
Northern Hemispehe 5:02
Isadora 4:32
Waterways 6:49
Centaur Woman 7:09
Bathers 4:57
Communion 4:03
Moth 3:54
In The Stable Of The Sphinx 8:30
Zostava:
Dave Arbus: husle, flauta, saxofóny, gajdy, rekordéry
Ron Caines: saxofóny, organ, spev (4)
Geoff Nicholson: gitara, spev
Steve York: basa, harmonika, indické ústne piano
Dave Dufont: bicie, perkusie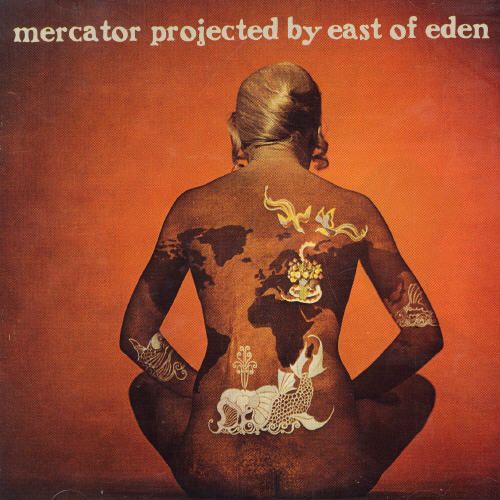 Mercator Projected
East Of Eden
psychedelic jazz rock
Deram
1969
LP, CD
8