Dnes si niečo povieme o albume, ktorý vlastne nie je zarátaný do oficiálnej diskografie jazzrockovej legendy Colosseum – The Grass Is Greener (1970).
Dovoľte mi najprv vypovedať príbeh vydávania platní v Británii a v USA. Každý vie, že v Amerike vychádzali britské albumy v rôznych úpravách. Mali iné obaly, poprehadzované poradie skladieb a často obsahovali aj nové skladby. Skrátka, pre zberateľov nachystali viac roboty a pre bežného poslucháča ponechávali výdatný priestor pre zmätok. Colosseum doviedli tieto praktiky do dokonalosti. Už debutový album Those Who Are About To Die Salute You spôsobil v USA zmätok. Kým britský debut vyšiel v marci 1969, v Amerike sa na trh dostal až v júli. Samozrejme, poradie skladieb sa zmenilo, ale najzaujímavejšie je, že na album doplnili dve nové veci. The Kettle a najmä The Valentyne Suite. Čítate dobre. V USA vyšla jedna z najslávnejších artrockových kompozícií skôr ako v Británii! Zato zmizla trojica Mandarin, The Road She Walked Before a Backwater Blues. Ale ešte sa vrátim k The Valentyne Suite. Ide o originálnu verziu, tretia časť skladby sa volá The Ides Of March (obsahuje citácie z Bacha), pôvodne totiž vznikla ako súčasť tejto kompozície, avšak na britskom vydaní debutu sa nachádza ako samostatná skladba. Aj preto  britský album Valentyne Suite z novembra 1969 obsahuje novú tretiu časť nazvanú The Grass Is Always Greener. Isto tušíte, že v Amerike sa s týmto malým detailom vysporiadali svojsky. Keďže dve veci, vrátane titulnej suity, dostali poslucháči už na debute, požiadala firma Dunhill kapelu, aby dodala nejaký nový materiál na druhý americký titul. Keďže v decembri 1969 nahrala štyri nové skladby s gitaristom Clempsonom, tak to nebol problém. Ba čo viac, "zvyšok" britského albumu pre istotu Clempson prehral a prespieval. Napokon sa na albume The Grass Is Greener ocitla jediná(!!!) skladba z britskej verzie Valentyne Suite – Elegy. Vo výsledku tak vznikla úplne samostatná doska, ktorá sa vlastne nepočíta do oficiálnej diskografie, lebo je to akože americká verzia druhého albumu. Neuveriteľné! Samozrejme, obal je síce ten istý ako britský, ale predsa len mu aspoň zmenili farby, a preto pôsobí temnejšie.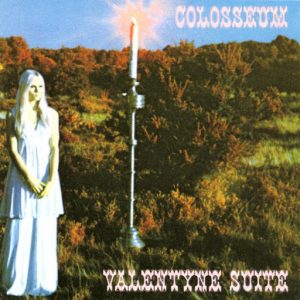 Inak, v roku 1971 vyšla výberovka Collectors, ktorá pokračovala v tomto chytľavom trende. Ak si myslíte, že šlo o klasický best of, rovno zabudnite. K trom skladbám z debutu prifarili veci z amerického albumu The Grass Is Greener – Bolero, Rope Ladder To The Moon a The Grass Is Greener. A Jumping Off The Sun. Ibaže! Clempson na nej prehral gitary a jeho spev pre zmenu prespieval Chris Farlowe. Plus sa na album dostala nevydaná skladba I Can't Live Without You v štúdiovej verzii z roka 1968. V podstate je to tiež skôr album ako kompilácia.
The Grass Is Greener je dielo, ku ktorému mám osobitý vzťah. Bola to jediná platňa kapely, ktorú mal otec, nevedno, odkiaľ, doma. Preto som ju mal napočúvanú spredu i odzadu. V ére cédečiek som si Colosseum vyzbieral cez rôzne výbery a boxsety komplet, ale keď som nedávno doplnil zbierku o všetky tri štúdiové albumy (reunionové som mal už dávno, podobne ako nedostižný album Live), potešilo ma, že Esoteric Recordings vydalo Valentyne Suite ako dvojcédečko spolu s The Grass Is Greener. Po mnohých rokoch som tak mal možnosť vypočuť si toto dielo opäť tak, ako si ho pamätám.
Hudobne je to stále slasť. Milujem Colosseum, nemôžete odo mňa čakať, že tu budem vypisovať voľajaké zasvätené "akože" kritiky. O sile materiálu svedčí aj fakt, že sa albume Live (1971) v úplne inej zostave zaznejú hneď dve skladby z neho (Lost Angeles a Rope Ladder To The Moon). A ešte aj Jumping Off The Sun kapela často hrávala. Nesmierne zaujímavá je verzia Ravelovho Bolera, neskutočne precízne bicie, skvelá gradácia… Osobne milujem krátku, ale hard-psychadelicky zaonačenú skladbu The Machine Demands A Sacrifice, a preto som rád, že tu je.
Nebudem vás už oberať o čas, jednoducho si tento album vypočujte. Ako ja.
Skladby:
Jumping Off The Sun 3:00
Lost Angeles 5:30
Elegy 3:26
Butty's Blues 6:45
Rope Ladder To The Moon 3:42
Bolero 5:28
The Machine Demands A Sacrifice 2:48
The Grass Is Greener 7:31
Zostava:
Jon Hiseman: bicie
Dick Heckstall-Smith: saxofóny, drevené dychové nástroje
Dave Clempson: gitara, spev
Tony Reeves: basa
Dave Greenslade: organ, piano, perkusie, vokály
James Litherland: spev (3)
The Grass Is Greener
Colosseum
jazz rock
Dunhill
1970
CD (Esoteric Recordings, 2017)
8