Anglická progresívne rocková kapela Bram Stoker je opantaná gotickým imidžom a prekvapivo prístupným mixom psychedelického klávesového art rocku s väzbami na klasickú hudbu. Inými slovami, jej jediný album zo 70. rokov – Heavy Rock Spectacular – stojí za hriech.
Pôvodnú zostavu tvorila štvorica hráčov, menovite Pete Ballam (gitara), Rob Haines (bicie), Anthony Bronsdon (klávesy) a John Bavin (basa, spev). A hoci hlavný podiel viny na komponovaní mal Bavin, bol to práve klávesák Brondson, ktorý dominoval soundu kapely. Miestami pripomínal až Emersona, najmä, keď do skladieb vpašoval viaceré známe motívy z klasickej hudby. Vďaka Rogerovi Daltrymu, spevákovi z The Who, nahrala kapela prvé demo a napokon sa dostala do rúk Tonyho Caldera. Manažér Rolling Stones s ňou podpísal zmluvu pre svoj nezávislý label Windmill. A tam v roku 1972 vyšiel album Heavy Rock Spectacular. Hoci sa kapela úspešne prezentovala na pódiách, kde hrala s veličinami (v londýnskom Marquee klube mala dokonca za predkapelu vtedy ešte neznámu formáciu Queen), aj tak sa v roku 1972 rozpadla.
V roku 2004 obnovili činnosť kapely Bronsdon a Bavin. Odvtedy sa zostava pravidelne menila. V roku 2007 vyšiel album Rock Paranoia. Okrem dvoch nových skladieb išlo o novo nahratý debutový album. V roku 2014 sa na trhu objavil album Cold Reading s novými skladbami (a dvomi prerábkami  debutových skladieb) a aj v roku 2019 sa diskografia kapely rozrástla. Konkrétne o album No Reflection. Napokon, v auguste tohto roku poskytla kapela rozhovor pre Psychedelic Baby Magazine, tak si ho môžete prečítať.
Ale poďme k samotnému albumu. Osem skladieb sa nesie na príjemnej psychedelickej vlne kombinovanej s classical rockom. To "heavy" v názve je pomerne prehnané, neznamená to však, že si hardrockeri neprídu na svoje. Nebudem špeciálne menovať skladbu po skladbe, počúvajú sa všetky viac ako dobre. Pre mňa o to viac, že miestami je to priam Emerson, Lake & Palmer s priamočiarymi bicími.
Na prvom oficiálnom vydaní albumu na CD (Talking Elephant Records, 2015) sa nachádza štvorica bonusov. Prvé dva, Collusion Illusion a Scarborough Fair sú z albumu Rock Paranoia, ide o tie dve nové skladby. Sú to úžasné retro klávesové záležitosti, pričom cover od Simona a Garfunkela je nesmierne vydarený. Mám tú skladbu rád vo všetkých prevedeniach a toto je naozaj kúzelné. Dve kratšie nealbumové skladby nemajú príliš dobrý zvuk a sú vhodné len pre dokumentačné účely.
Čo dodať na záver? K albumu som sa dostal až teraz a neľutujem. Opäť vykopávka, aké milujem.
Skladby:
Born To Be Free 3:46
Ants 3:49
Fast Decay 3:50
Blitz 5:44
Idiot 4:30
Fingals Cave 7:45
Extensive Corrosion 4:21
Poltergeist 4:31
Bonusy:
Collusion Illusion 4:54
Scarborough Fair 3:15
Queen Of Sheba 2:43
Faith Healer 1:47
Zostava:
Pete Ballam: gitara
Rob Haines: bicie
Anthony Bronsdon: klávesy
John Bavin: basa, spev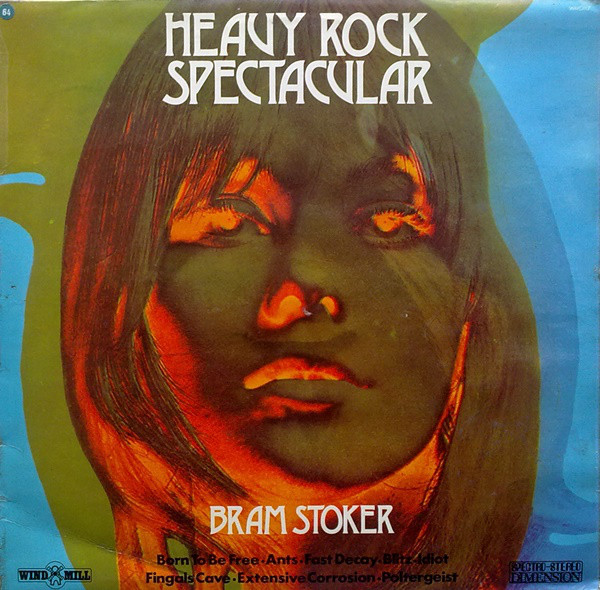 Heavy Rock Spectacular
Bram Stoker
progressive rock, classical rock, psychedelic rock
Windmill
1972
LP, CD
8