Uriah Heep je legendárna hardrocková kapela a hoci v okolí koncertuje často, nikdy som sa nedokázal na žiadne jej vystúpenie dostaviť osobne. Akonáhle som sa dozvedel, že budú mať tri koncerty v Čechách, nezaváhal som.
Pozrel som do mapy, zvolil najbližšiu destináciu a bolo. Škoda, že som nevedel, že budú vo februári aj v Bratislave, nakoľko v čase kupovania vstupeniek o tom nebola reč. Čo už. Lístky sa cez český Ticketportál vrátiť len tak nedajú, čo by mi neprekážalo, keby sa do toho nepriplietli zdravotné komplikácie. Napokon sme vyrazili v dvojici s bratom…
V Havlíčkovom Brode som na koncerte ešte nebol. Zaujímavosti okolo zvolenej destinácie prezradil pre deník.cz Antonín Axman, riaditeľ havlíčkobrodského kultúrneho domu Ostrov, ktorý je zároveň organizátorom podujatia.
"Dá se říct, že v Česku hrají každý rok, ale vždy je to buď na nějakém festivalu, nebo v Praze či Brně. Málokdy je fanoušci uslyší v krajském městě a už vůbec ne v okresním. Musel jsem se domluvit s jinými městy na dalších dvou koncertech. Schválně jsem se vyhýbal Praze a Brnu, protože k Havlíčkovu Brodu jsou moc spádová. Přes známé jsem tak zařídil, že ve čtvrtek 30. ledna hrají v Plzni a v sobotu 1. února v Ostravě. Jen díky tomu si je mohou poslechnout i brodští fanoušci."
Na stránkach kulturáku som dohľadal informácie o časovom harmonograme. O ôsmej predkapela, o trištvrte na desať hlavné hviezdy… Z Bratislavy sme vyrazili o štvrtej, obava zo situácie na cestách bola neopodstatnená. V pohode (deravú pneumatiku nepočítam) sme dorazili okolo siedmej a o hodinu to začalo.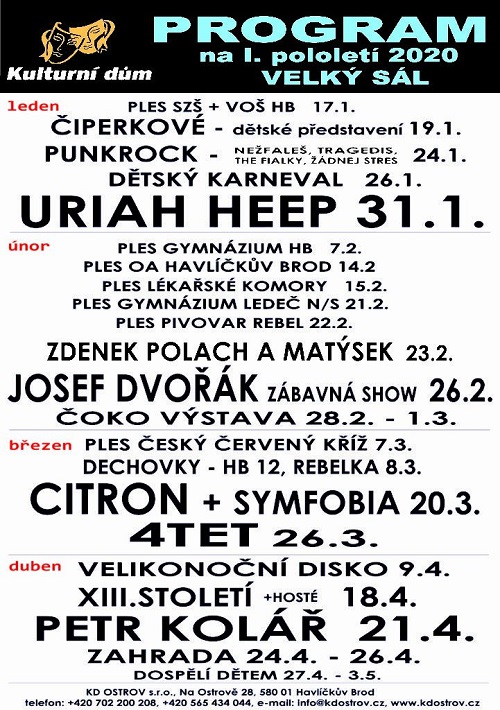 Predkapela Bastard bola pre mňa doteraz neznáma. Dočítal som sa, že je z Havířova, na nete som naďabil na prekáračky s bývalým spevákom, a tak… Jej set potvrdil moje podozrenia, že pôjde o typický český bigbít, ktorému spravil medvediu službu spolok Kabát. Akurát nebol ani vtipný, ani hudobne zaujímavý. Nechcem sa hudobníkov dotknúť, ale muzika, kde je dôraz na barové hulákačky, rytmika úspornejšia ako v AC/DC a gitary toho veľa nenasólujú, tá pre mňa nie je. Musím však férovo uznať, že sála kapele zatlieskala, tak snáď si fanúšikov našla. Okrem toho stihla pokrstiť svoj nový album a s hosťujúcou speváčkou si zahrala baladu, ktorej úvodný gitarový motív znel ako nepodarená pocta skladbe The Journey od Molly Hatchet. Zvuk vpravo pri pódiu nebol moc dobrý, sólové gitary sa strácali, čo bolo na škodu. Za cca trištvrte hodinu bolo po šou, za skladbu Ekoteror majú u mňa "Bastardi" malé bezvýznamné plus. Vôbec im set slušne gradoval, druhá polovica vystúpenia ma celkom chytila.
Povinná prestavba pódia ustala asi desať minút pred pol deviatou. Na scénu vykročili hviezdy večera a bolo to počuť! Pozeral som sa vopred, čo kapela na turné k 50. výročiu existencie hráva a ukázalo sa, že stále to isté. Aj v Brode to odpálila trojicou skladieb z posledného albumu Living The Dream, medzi ktoré vložila prekvapivú spomienku na 80. roky, a síce Too Scared To Run. A znela naozaj ostro! Aj skladby z posledného albumu boli parádne, lepšie ako na albume. Zvuk bol o triedu lepší (a hlučnejší) ako u predskokanov, hudobne sa to ani nedá porovnať. Rytmika Rimmer-Gilbrook je úžasná, najmä šťúply "Indián" s basou hral akoby to bolo naposledy. Ono, "Uriáši" mali vždy k dispozícii majstrovských basgitaristov, radosť počúvať! Rimmer striedal basy častejšie ako zvoláva tlačovky Matovič a jednu mal dokonca so svetielkujúcim krkom. Vyzerala ako vianočný stromček, čudne, ale tak, šlo o hudbu. Mike Box si kapelu vedie s prehľadom, hrá s ľahkosťou Somálčana na diéte, sála z neho pohoda a radosť. Klávesák Lanzon zvláda jednou rukou hrať a druhou dirigovať sám seba, no a Bernie Shaw je skúsený frontman, ktorému to na svoj vek spieva lepšie, než mnohým súčasným mladíkom. Ovláda viacero českých výrokov, takže občas pozdravil, oslovil, pobavil publikum. Čo sa týka zvuku, osobne by som spev vytiahol dopredu, miestami splýval s hučiacou muzikou. Do vytrženia som prepadol hneď, ale extázu načala skladba Rainbow Deamon, moja srdcovka. Napokon, po Rocks In The Road už išli len samé pecky zo 70. rokov. Gypsy, Look At Yourself (s inštrumentálnou dohrou, kde sa hudobníci dosýta vybláznili), July Morning (v záverečnej gradácii na chvíľku zvukár stiahol strunné nástroje, čo bolo dosť nešťastné, ako keď si v Game of Thrones Theon užíval v zajatí s devami a potom zrazu prišiel Ramsay a ušmykol mu prirodzenie) a, samozrejme, Lady In Black. Posledná menovaná spočiatku len na (českej) akustike a so spevom. Ak by som niečo mal vytknúť, čo neurobím, tak by to bolo to, že Shaw si skladby spieva po svojom. Chápem, ale miestami ma vyhodil s konceptu, keďže som si tieto pecky spieval s ním. Publikum povinne "odnanákalo" poslednú menovanú hitovku a bol koniec. Teda, obligátne vytlieskanie prinieslo rovnako obligátne prídavky. Sunrise a hardrockovú jazdu z kategórie najlepších – Easy Livin'.
Čo k tomu napísať? Treba počuť! Ešte sú lístky na vystúpenie v Bratislave, kto chce vidieť a počuť rockovú šou, aké dnes hrajú už len veteráni s energiou zahanbujúcou celú súčasnú generáciu rockerov, nech neváha. Fakt za chvíľku odíde generácia, ktorá rockovú muziku povzniesla na vrchol a ešte aj dnes hrá na doraz. Škoda, že u nás nieto formácie, ktorá by sa hodila ako predkapela. Veď kto dnes skladá rockové skladby, kde hráči ukážu, čo vedia a nie sú len štatisti k popevkom pre masy? Kde sú skladatelia, ktorí sa neboja do hudby vložiť viac ako len krovie? A hlavne, kde je nasadenie, snaha, chuť hrať? Je tu toľko skvelých inštrumentalistov, rutinérov, ale bez ohňa…
No nič, zamyslel som sa, to sa nie vždy vyplatí. Cesta domov prebehla bez problémov a ja sa už teším na Van Der Graaf Generator v Prahe. Kým tie legendy ešte vládzu…
Zostava:
Mick Box: gitara, vokály
Bernie Shaw: spev
Phil Lanzon: klávesy, vokály
Davey Rimmer: basa, vokály
Russell Gilbrook: bicie
Playlist:
Grazed By Heaven /Living The Dream, 2018/
Too Scared To Run /Abominog, 1982/
Living The Dream /Living The Dream, 2018/
Take Away My Soul /Living The Dream, 2018/
Rainbow Demon /Demons And Wizards, 1972/
Rocks In The Road /Living The Dream, 2018/
Gypsy /Very 'eavy… very 'umble, 1970/
Look At Yourself /Look At Yourself, 1971/
July Morning /Look At Yourself, 1971/
Lady In Black /Salisbury, 1971/
Prídavky:
Sunrise /The Magicians Birthday, 1972/
Easy Livin'  /Demons And Wizards, 1972/