Hudba ako zo soundtracku klasického hororu, temná, kúštik psychedelická, tvrdá a neoblomná, to je v skratke definícia produkcie americkej kapely Salem Mass, ktorá po sebe zanechala jediný album s priliehavým názvom Witch Burning.
Odhliadnuc od skutočnosti, že muzika je vždy na prvom mieste, človek sa neubráni úvahám, ak vidí kľúčové slová ako "Salem", "witch" alebo "burning", obzvlášť, keď je na obale albumu zobrazená žena zahalená plameňmi. Iste, dá sa súcitiť ako s obeťami cirkevného šialenstva (resp. premyslenej vypočítavej politiky), tak s tými, čo v existenciu temných síl veria a neváhajú ich vymiesť z povrchu zemského bez ohľadu na spotrebu paliva. Každopádne pre mňa bol album na prvý "omak" jasným kandidátom na očakávanie riadne ostrej rockovej nádielky. A splnilo sa.
Titulná skladba má desať a pol minúty a miestami má z nej človek pocit, že opekajú jeho. Tak znervózňujúce klávesy by nevykúzlil ani Fantóm opery! Vlastne je jedno, či ide o veternú smršť za noci, kedy strigy "sabatujú" alebo sa v miestnom kostole koná pietny obrad v melancholickom opojení, ako tomu je v akože slaďáku My Sweet Jane. Znie to ako zamilovaná pieseň nekrofila uprostred cintorína cca o polnoci. Aby kapela neprišla o všetkých deprimovaných poslucháčov, napáli do nich aj niečo "sixtýsovsky" veselé a spevné, čo sa volá Why. Hustý hardrock You Can't Run My Life pripomína naftové pole. Keď vás zaleje čierna tekutina, tak sa z toho nedostanete, ani keby ste boli spaľovacím motorom. Že netreba furt tlačiť na pílu, by mohla Leatherfaceovi vysvetliť príjemná rockovica (skrytá reklama!!!) You're Just A Dream. Nehostinná skladba pre drevorubačov, Bare Tree, zdvíha varovný prst – ak vytasíš sekeru, zožerú ťa temné besy! Že budú melodramatické prejavy častejšie než Matovičove tlačovky o energiách, berte ako stávku na istotu. Vo finále sa vcelku svižne privalí The Drifter, nech sa vzbudí zdanie, že koniec môže byť aj šťastný. A to sme začali hranicou na počesť nepohodlných žien…
Klávesový hardrock temných farieb môžem vždy a album Witch Burning do mojich preferencií zapadá bezchybne.
Skladby:
Witch Burning 10:26
My Sweet Jane 4:35
Why 2:44
You Can't Run My Life 3:50
You're Just A Dream 3:42
Bare Tree 6:53
The Drifter 3:14
Zostava:
Jim Klahr: klávesy
Mike Snead: gitara, spev
Steve Towery: bicie, spev
Matt Wilson: basa, spev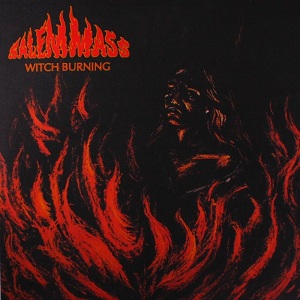 Witch Burning
Salem Mass
hard rock
vlastným nákladom
1971
LP, CD
7