V Británii pôsobilo množstvo hardrockových veličín a jednou z nich bola aj skupina UFO. Hitovka Doctor Doctor obieha na všetkých možných tematických výberovkách á la Best Of The 70's, napokon, nemecká gitarová hviezda Michael Schenker hovorí za všetko. Avšak, to sa bavíme o období po roku 1973, dovtedy šlo o skupinu úplne iného ranku. Psychedelickú, "space" a bluesovú. Preto som sa rozhodol, že si dnes pripomeniem druhý album 2 (Flying One Hour Space Rock) z roka 1971. Prečo?
Pretože je to v mnohých ohľadoch môj najobľúbenejší album od kapely. Rešpektujem neskoršiu úspešnú kariéru, ale zostava s Mikeom Boltonom (gitara) mala v sebe potenciál preniknúť do oblastí bluesrockových psychedelických meditácii. Debutový album z roka 1970 znel ako surové demo bluesrockovej garážovej kapely, nuž album s tromi názvami 2 – Flying – One Hour Space Rock prekvapuje svojim priezračným zvukom a príklonom k dlhočizným melodickým meditáciám.
Osobne milujem hneď pozvoľne gradovanú úvodnú skladbu Silver Bird. Je na nej krásne vidieť, ako štvorica mladíkov hudobne vyzrela. Kým na debute zneli ako typická garážová kapela bez skúseností a s hromadou nadšenia, tu sa neponáhľajú, dokonca počuť istú kompozičnú snahu. Čo mi sedí najviac, je gitarista Mike Bolton. V kryštalicky čistom zvuku nahrávky krásne vynikne jeho bluesrockové cítenie. Devätnásťminútové space meditácie Star Storm osekali rytmiku na minimum, spevák sa pokojne mohol vyzabávať s grupie v zákulisí a prím hrá gitarová seansa. Psychedelické vlnenie miestami naberá na sile, vždy však ide o pomerne ľahko stráviteľné pasáže. Hard rock vystrčí rožky v Prince Kajuku a upokojí sa v The Coming Of Prince Kajuku, ale radšej si nezvykajte. Titulná skladba Flying prináša dvadsaťšesť minút "prierezu" kariérou mladých Ufónov. Je tu všetko. Psychedélia, blues rock, opakujúce sa plochy s dominantnou melodicky sólujúcou gitarou bez potreby rýchlych prstov a tak ďalej. Dokonca zaznie aj časť básne Rudyarda Kiplinga Gunga Din.
Dvojka UFO je vynikajúca ukážka toho, ako sa dá rock bluesovo "zopsychedelizovať" a ako si na koncerte vystačiť s jednou džemovacou skladbou. Milujem ho.
P. S. Stretol som sa s názormi fanúšikov obdobia so Schenkerom, že prvé tri albumy za veľa nestoja. Nemyslím si to. Len netreba očakávať priamočiary hard rock.
 Skladby:
Silver Bird 6:53
Star Storm 18:53
Prince Kajuku 3:55
The Coming Of Prince Kajuku 3:43
Flying 26:30
Zostava:
Phil Mogg: spev
Mick Bolton: gitara
Pete Way: basa
Andy Parker: bicie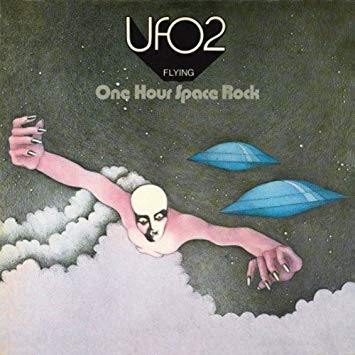 2 - Flying - One Hour Space Rock
UFO
psychedelic rock, space rock, blues rock
Beacon
1971
LP, CD
5