V září roku 1972 jsem na internátě zašel do sousedního pokoje a na stole uviděl obaly dvou LP desek – nádherně barevně a tématicky vyvedený Demons And Wizards od Uriah Heep a originální kulatý E Pluribus Funk od Grand Funk Railroad. Skupinu Grand Funk Railroad jsem znal podle jména, ale Uriah Heep slyšel poprvé. Obě desky jsem si nahrál.

Pásek jsem si přehrával poměrně často a hudba Uriah Heep mi učarovala. Nic jsem o nich nevěděl a kamarád, který tehdy LP přivezl z hlavního města, říkal, že nejlepší je Look At Yourself. Chtěl jsem tu desku mít nahranou, zhruba do měsíce se mi to podařilo. Album znělo tvrději, než Demons And Wizards, už úvodní titulní skladba, v níž hostují bubeníci ze skupiny Osibisa, je toho důkazem. I Wanna Be Free začíná kakofonií, která přejde do táhlého klávesového tónu se sborovým zpěvem. Závěr první strany patří megaopusu July Morning. Skladby podobného typu jsou na deskách jejich souputníků – Led Zeppelin (Stairway To Heaven) a Deep Purple (Child In Time).
Druhá strana alba začíná poměrně tvrdou písní Tears In My Eyes. Po ní následuje Shadows Of Grief, pro mě nejzajímavější skladba. Na poměry skupiny temná, tvrdá, s názvuky psychedelie. Slyším tam vlivy raných Pink Floyd, zvláště Interstellar Overdrive. Po ní zní What Should Be Done jako paprsek slunce po hodně silné bouři. Desku ukončuje Love Machine, skladba podobná Easy Livin' z alba Demons And Wizards…
Postupně jsem si nahrál ještě desky The Magician's Birthday a Live January 1973. Rok na to jsem se dostal k LP Sweet Freedom a to byl pro mě, mimo skladby Pilgrim, propadák. Album Wonderworld jsem už ignoroval a skupinu Uriah Heep přestal poslouchat. Na její místo nastoupili Frank Zappa a Captain Beefheart…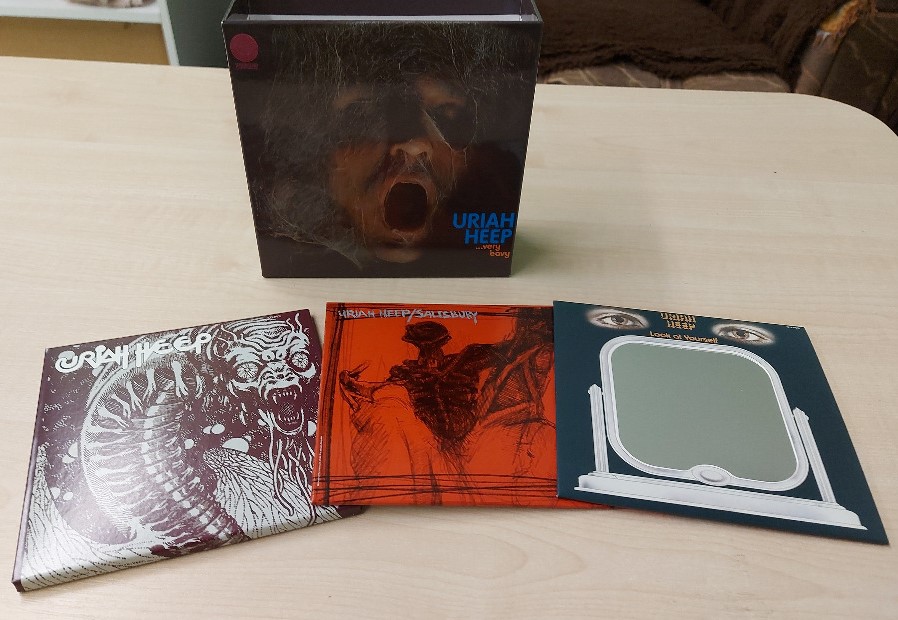 Čtyřicet let jsem Uriah Heep neposlouchal a po revoluci nenavštívil ani jeden z četných koncertů. Před pár lety mi dlouholetý kamarád nabídl ke koupi několik japonských mini LP kapely, které jsem si od něj vzal. Poté jsem na eBayi objevil promo box s prvními pěti alby Uriah Heep spolu s alternativními obaly prvních tří desek a koupil ho. V současné době jsem si jej vzal do kanceláře a poslechem se snažím obnovit si jejich hudební poselství. Nejsem aktivní hudebník, proto nehodnotím instrumentální výkony, ani by mi to nešlo. Když se na těch pět desek podívám zpětně, tak vůbec nejsou špatné a Look At Yourself si zasluhuje plný počet.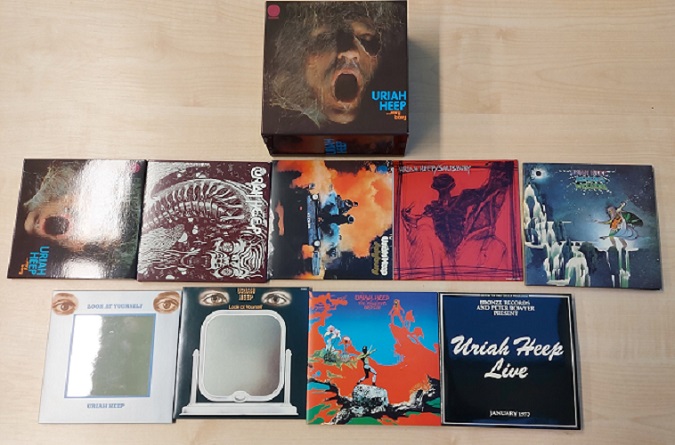 SKLADBY:
1. Look at Yourself (Ken Hensley) 5:11
2. I Wanna Be Free (Ken Hensley) 4:01
3. July Morning (Byron/Hensley) 10:33
4. Tears in My Eyes (Ken Hensley) 5:02
5. Shadows of Grief (Byron/Hensley) 8:40
6. What Should Be Done (Ken Hensley) 4:14
7. Love Machine (Hensley/Box/Byron) 3:40
NOTES:
Originally released in the UK October 1971 on Bronze ILPS 9169
Released in the USA October 1971 on Mercury Records SRM 1614
In North America this album was released with a different cover
Recorded at Lansdowne Studios, July 1971
All arrangements: Uriah Heep
Produced by Gerry Bron
SESTAVA:
Ken Hensley – organ, piano, guitar, acoustic guitar & vocals
Mick Box – lead guitar & acoustic guitar
David Byron – lead vocal
Paul Newton – bass guitar
Ian Clarke – drums
+
Teddy Osei, Mack Tontoh & Loughty Amao from Osibisa – percussion on 'Look At Yourself'
Manfred Mann – moog on 'July Morning' 
Look At Yourself
Uriah Heep
Hard Rock
Bronze
1971
LP
7
CD /2010, Japan/