Téměř čtyřicetiletá autorská a interpretační geneze jedné z nejpozoruhodnějších postav současné hudby Thomase Gabriela "Warriora" Fishera, vyústila do letošního opusu pod hlavičkou souboru TRIPTYKON. Jeho současné hudební těleso, v němž působí, bylo nějaký ten rok spíše nečinné. O nové dlouhohrající desce se dlouho povídá, však poslední studiový počin je z roku 2014. Byly zmiňovány různé důvody odkladu, členové se zabývali jinými aktivitami, čekalo se na nového bubeníka, zrodil se koncertní projekt TRIUMPH OF DEATH s odlišným obsazením. Probíhaly přípravy na další hudební spojení s italskou baskytaristkou Miou W. Wallace (mimochodem, velmi zajímavá osobnost, střídavě působila, či působí, v seskupeních KIRLIAN CAMERA, The TRUE ENDLESS, TRIUMPH OF DEATH, NERVOSA, ABBATH, a spoustě dalších) pod názvem NYRITH, z toho ale po neshodách sešlo. Nevyzpytatelný Warrior si nakonec vše udělal opět po svém, originálně. Nové album je všechno, jen ne studiová nahrávka s novými skladbami. Ta nás pravděpodobně čeká v první polovině 2021, ale kdoví, jak to nakonec bude.
Pokud se nějaká metalová skupina rozhodne vydat svůj materiál v koncertním provedení, většinou se o takovou věc nezajímám. Nejsem koncertní typ. Pokud je živák navíc proveden za podpory symfonického orchestru, vyhýbám se mu zcela programově. Koncertní nahrávka se symfonickým orchestrem. Co horšího si můžu ještě představit. Neznám případ, kdy by smyčcové křoví něco pozitivního přineslo, je to jen na efekt postavená póza. Poslouchat známé fláky utopené v omáčce symfošumu považuji za ztrátu času. Hudba, aby mi poskytovala zážitek, musí disponovat osobním kouzlem, nikoli prefabrikovanou trendy sériovou rutinou. Když TRIPTYKON teď vydali koncertní desku se symfonickým orchestrem, ukázali, že to jde i jinak. Plnohodnotně.
Vždy v jistém slova smyslu progresivní díla různých projektů Toma Gabriela dokázala kritikům rolovat uši do štramberských kornoutů. Je jedno jestli to byli HELLHAMMER, nebo debutní EP a LP CELTIC FROST. U druhého z jmenovaných však hudební avantgarda, nesmlouvavě originální hudební výpověď, získávala postupně navrch nad čistě metalovou tváří. Domnívám se, že je to přirozený projev všestrannosti lidského ducha. Nespoutanost žánry a neustálý vývoj ve smyslu hledání vlastní nové cesty je vlastností kreativních tvůrčích jedinců. Je to jejich znamení i charakter.
Malý výlet do historie. Deska CELTIC FROST z roku 1987 Into The Pandemonium hodně tehdejších metal heads vyšokovala příklonem k prvkům nejen moderní klasické hudby, ale také k rapu, orientu, ženským vokálům (nezapomenutelné Claudia-Maria Mokri a Manü Moan), elektronice a dalším. Celou desku prostupoval tragický duch žalu, bolesti a zmaru. Zcela odlišné pojetí aranží zpěvu, kytar i rytmiky, komplexní využití cizorodých ne rockových prvků, filozofická mysteriózní témata čerpaná napříč staletími. Dost silná káva, sám si to dobře pamatuji, jaké to bylo něco. V jejich muzice se potkávali VOIVOD a MEKONG DELTA, a hlavně zcela svérázný Warriorovský kompoziční rukopis. Dodnes je toto nadčasové dílo výzvou pro hledače neotřelé avantgardy a experimentu, dodnes se jím lze nechat udivovat, jako plátnem Hieronyma Bosche.
Stejně tak v nakrátko oživené poslední inkarnaci CELTIC FROST, tedy v naprosto fenomenálním albu Monotheist, se objevují neobyčejné prvky, které ukazují, jak má black metal blízko k současné klasice. Neslýchanou perlu tam představuje závěrečný třiadvaceti minutový Triptych. Zní, jako uhrančivá a mrazivá moderní klasická hudba, která si vzala něco z Philipa Glasse a transformovala jej do Gigerovských výjevů. Ano, léta jsem si přál a představoval, jaké by to bylo, kdyby nastíněné téma bylo rozvinuto, kdyby se důkladněji zhmotnily pocity zde naznačené. Byla to čirá fantazie, jaké prostě člověk při poslechu muziky má, a víc se tím nezabývá. Nechá je plynout.
Na letošní desce tyto poletující fantazijní představy někdo pochytal a přetvořil je do excelentního hudebního díla. Lapil je nečekaně, a to způsobem, jakým dostal i mne. Provedení bylo realizováno s Metropole Orkest, což je nizozemské symfonické těleso, které má velice široký záběr, od popu a jazzu, až po produkci hudebních soundtracků. Ke spolupráci byl Gabriel Warrior tímto souborem osloven, a výzvu přijal jako příležitost k dovršení vlastního díla Requiem. Po více jak rok trvajících přípravách byla realizována koncertní nahrávka, kde je předvedena tato hudební báseň. Její počátek lze vystopovat ve skladbě Rex Irae na zmíněném albu Into The Pandemonium kapely CELTIC FROST. Posledním dílem je zase závěrečná část již zmíněného triptychu z Monotheist pod názvem Triptych: III. Winter (Requiem, Chapter Three: Finale). Mezi nimi se nalézá nová šestidílná kompozice Grave Eternal v délce téměř třiceti tří minut. Suita pro metalové kvarteto, vokální sbor, tympány, sólové zpěvy a symfonický orchestr. Provedení je zahrané a nahrané s neskutečně precizní čistotou, produkované a mixované mimo všechny představy o současném zvuku. Jakoby se odkudsi vynořil svébytný výboj soudobé hudby, neovlivněný, nepokřivený, nepošpiněný. Bez ohledu na vše kolem si zahrají to svoje a dělej si s tím, posluchači, co uznáš za vhodné. Ukaž, jsi-li hoden.
Na albu se poprvé představuje nový a dlouho hledaný bubeník. Tím se nakonec stal zkušený německý hráč Hannes Grossmann, co má na kontě spolupráci s více jak dvacítkou souborů. Jeho klidná a patřičně dávkovaná hra je ozdobou nahrávky. Stabilní jádro skupiny tvoří nepřehlédnutelný kytarista V. Santura, dále taktéž nepřehlédnutelná, ale z jiného důvodu, basistka Vanja Šlajh, a nakonec samozřejmě Thomas G. Warrior. Skupinu pro tuto performanci vhodně rozšířila nositelka působivého vokálu i uhrančivého zjevu Tunisanka Safa Heraghi. V neposlední řadě je nutno zmínit celý The Dutch Metropole Orkest pod taktovkou Jukky Iisakkily.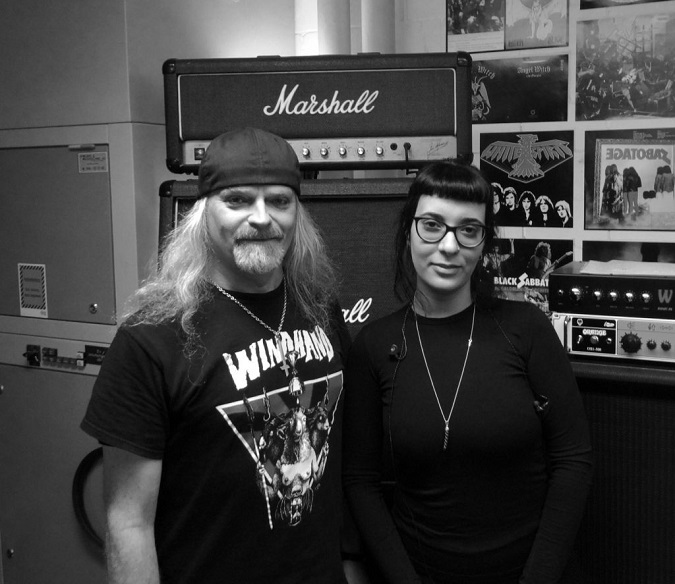 První část Rex Irae je nejenom nejstarší, současně je nejtvrdší, jediná, co nese metalovou pečeť. Je převedena do naléhavější a gotičtější podoby. Hutný spodek s hadovitě se kroutícími kytarovými riffy, s nimiž dovedně prolíná svůj vokál hostující Safa Heraghi. Ohromující a ochromující v jediném nekonečném okamžiku. Orchestr je v této pasáži ještě velmi upozaděn, jen občasné výtrysky houslových tónů dávají o něm vědět. Na pozadí broukají kotle, to také nelze přeslechnout. Hlavní role si však berou kytary v propletených strukturách, hřmící basa a dialog hrdelního vokálu s vysoko posazeným klasickým. Nekompromisní rytmus plasticky vykresluje propojení nebeských i podzemních proudů do jednoho elektrizujícího toku. Na začátek brutální šestiminutová nakládačka.
Nakládačka, co zvolna přechází do první části nové kompozice Grave Eternal. Hned od začátku tam slyším všechny ty vášně moderních skladatelů, Pendereckého, Glasse, Reicha, Adamse, Schnittkeho, a v neposlední řadě Miloslava Kabeláče. Nemohu také nevzpomenout nonkonformě avantgardní RIO soubory jako UNIVERSE ZERO a ART ZOYD. Celá ta mašina postupně zvolňuje a nevím, jestli se kochám víc tou hudební krajinou trombónů, žesťů, violoncell, tympánů a perkusí, nebo jestli ony se personifikovaně kochají mým úžasem. Jsem do křesla vtlačen více, než těmi těžkotonážními kytarami prve. Co přichází zcela nečekaně, je naprosto srdce deroucí kytarové sólo odjinud, v němž se střetává Frank Zappa s Davidem Gilmourem. Podkreslen rytmickou sekcí, nadkreslen vznešeným vokálem paní Heraghi. Jsem tím přikován a emocionálně ždímán. Tohle je Hudba.
Vsuvka č. 1. Koncert vyšel na DVD. Obvykle se na koncerty nedívám. Nebaví mě. Tenhle jsem očima i ušima sežral na jeden dlouhý nádech. Katarzní zážitek.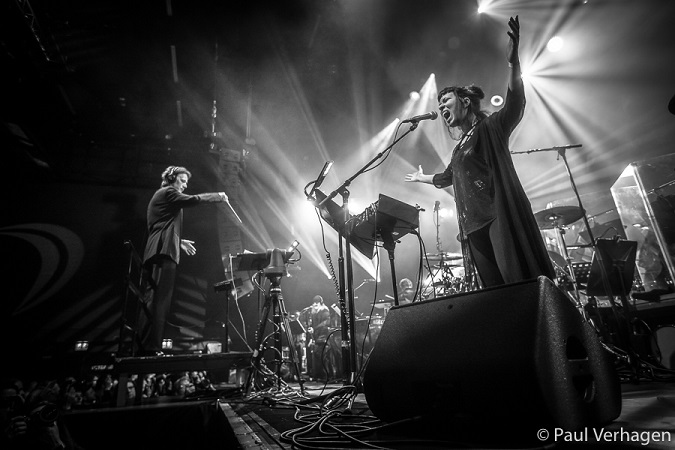 Jak hudba proudí dál, objevuji, že jsem obklopen hradbami královských bubnů, perkusí a zvonů, z nichž údery kladiv a jekot sirén vykreslují jako žhavým drátem další křivolaké jizvy v mém vědomí. Souzvuk zdánlivě protikladných nástrojů a hlasů má neobyčejnou moc. Tu moc, kterou disponuje jen umění v jeho nejvyšší formě. Vlastně je to celé tak poklidné, a tak vzrušující, jako bys odkudsi ze skrytého místa pozoroval neznámý, tajemný a nepochopitelně exotický rituál. Chtěl bys, aby ti to bylo lhostejné, aby se tě to tak bolestně netýkalo, ale stěží dýcháš, nemůžeš se odtrhnout, natož odejít. Hypnotický účinek kompozice tě rafinovaně omámil, spoutal, jsi v jeho moci.
Není zde nic triviálního, laciného, pompézního. Do struktury je třeba proniknout mnoha poslechy. Nespěchat. Není proč, ani kam. Síla této hudby vynikne v otevřené trpělivosti. Dnešní doba instantních zážitků nepřeje takto postaveným hudebním výzvám. Na druhou stranu připraveným a vnímavým lidem přinese monumentální prožitek, jakých je málo. Jsou vzácné a nevšední, ale jsou tu.
Skladba důstojně a majestátně plyne dál. Šamanské tlučení tympánů, hluboké tóny basy, cinkání, prolínání různorodých vrstev, podprahová spektra pocitů, monstrózní erupce trumpet, nemá to konce. Půlhodina, co trvá jako život. Ve chvíli, kdy máš pocit, že už to nepůjde snést, někdo ti hodí odkudsi shůry spásné lano. To když se objeví první známé tóny finálního dílu. Máš pocit, že jsi vyváznul z Charónovy loďky, a musíš se chvíli zorientovávat, na kterém že břehu Styxu jsi vlastně vystoupil. Ta Hudba nikam nespěchá, pozvolné tempo dává až potměšile najevo, že má čas, že si tě stejně najde. Že od teď už bude navždy v tobě. Že si tě chytila, a ty se k ní budeš vždy vracet, bude tě přitahovat jako hlubina, kterou musíš neustále prozkoumávat.
Vsuvka č.2. Fakt se na to DVD podívejte. Gabriel, tam většinu času jen tak stojí a poslouchá s rukama založenýma na kytaře. Jako archanděl dohlíží na provedení svého díla. Přesně ví, co, kam a proč umístil. Poučné.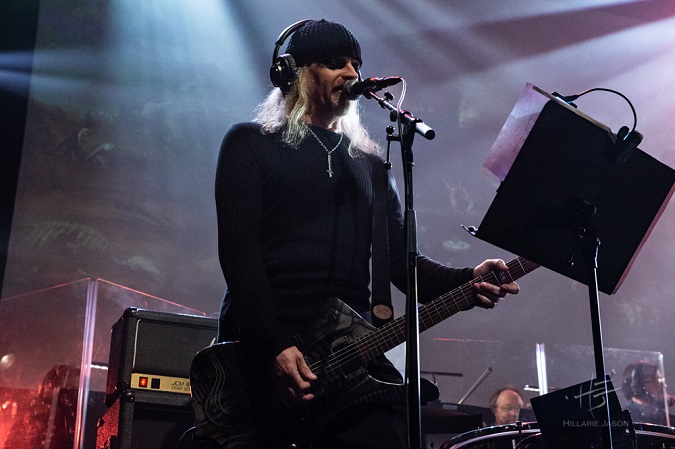 Vzniknul hudební artefakt těžko popsatelné hodnoty. Mám nejenže jasno o vrcholu letošního roku (se zvědavostí i úctou ke všem nahrávkám, co letos ještě objevím), ale i desetiletí, a snad i éry po roce 2000. Album je hudebně velmi odvážné, v kontextu doby novátorské až revoluční. Obávám se, že je odsouzeno k neproniknutí ve všeobecnou známost. Což je v pořádku, Thomas Gabriel "Warrior" Fisher stál vždycky na okraji, a díky tomu zůstal sám sebou. Díky tomu mohl rozvinout svůj talent a dal vzniknout i této události s názvem Requiem.
Přání bylo vyslyšeno. Dostal jsem co jsem chtěl v míře vrchovaté. Ve kvalitě netušené. Nevím, co už chtít víc. Excelentní hudba ve špičkovém provedení s nádherným zvukem. Kdyby to šlo, vymyslel bych si ještě něco. Ale po tomhle jaksi nemám co. Těším se na další a další poslechy. Zneklidňující až tragická, ale v určitém temně aristokratickém stylu povznášející a poetická hudba. Famózním dílem jsem unešen, uchvácen, týdny je poslouchám denně. Zatím jsem ale jen nahlédnul, to největší bohatství mne ještě čeká. V tomhle mám jistotu.
Odkazy:
Blog Thomase G. Warriora
Video ukázka první skladby
01. Rex Irae (Requiem, Chapter One: Overture) – 06:35
02. Grave Eternal (Requiem, Chapter Two: Transition) – 32:28
03. Winter (Requiem, Chapter Three: Finale) – 06:55
Total 46:00
Dynamic range – DR11
Requiem (Live at Roadburn 2019)
Triptykon
Symfonic Art Black Metal
Century Media
2020
CD + DVD
3