Dánska džezrocková formácia Thors Hammer po sebe zanechala jediný album z roku 1971 (Metronome MLP 15412).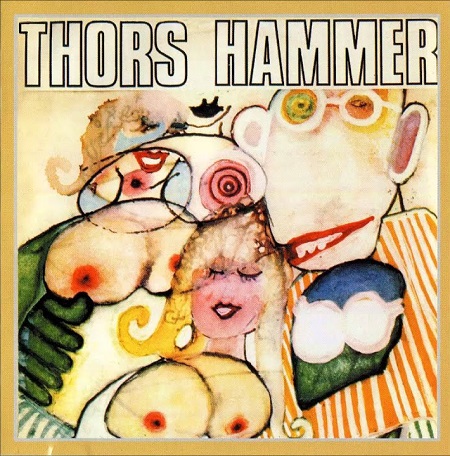 Vznikla niekedy na prelome rokov 1969 a 1970 v Kodani v zostave Thomas Helweg (spev), Michael Bruun (gitara, klavír), Jesper Neehammer (saxofóny), Henrik Langkilde (organ, piano), Henrik Bødtcher (basa) a Simon Koppel (bicie). Občas sa k nim pripájal aj flautista Søren Berggreen. Kapela sa orientovala na progresívny rock s džezovými vstupmi á la Burnin' Red Ivanhoe, Day of Phoenix, Gasolin' alebo Soft Machine. Napokon sa dostala do jediného dánskeho rádia a odohrala do éteru trištvrte hodinový koncert. Kapela spievala v angličtine, pretože dánsky vtedy spievali "akurát folkáči". A preto hľadala speváka, ktorý zvláda angličtinu, nuž sa porúčal Helweg a nastúpil Peter Nielsen. Kapelu opustil aj Berggreen a tu zrazu – kapela podpísala kontrakt s Metronome a od januára do februára 1971 sa zavrela do štúdia, aby spáchala päticu vlastných skladieb (iba Mexico spolutvoril Bruunov niekdajší spoluhráč Niels Henriiksen). Album produkovala dvojica Freddy Hansson a Leif Pedersen a obal albumu nakreslil bubeník Koppel. Pôvodné výlisky mali na obale kopu faktografických chýb (zlé časy atď.), takže sa tlačili opravené, avšak niektoré chybné kusy sa dostali do predaja. Náklad bol niekde medzi 1000 a 3000 kusmi, dnes to už nikto nevie presne.
Muzika na albume najviac pripomína britskú veličinu Colosseum, hneď úvodná megapecka Mexico je toho dôkazom. Saxofóny, ostré bicie, ešte aj spev má taký ten drzý "litherlandovský" nádych. Gitarista si tiež vynúti nejaké tie pasáže plné kvílenia, takže máme čo dočinenia s plnokrvnou muzikou, žiadne umelé náhrady a hadičky pumpujúce život do bezvládneho tela. Not Worth Saying má trinásť minút a náladovo kĺže kamsi k clivote či melanchólii, pričom sa ani za mak nesnaží znieť jemne. Úžasná kombinácia muzikantského prevedenia. To už nie je iba o výborných inštrumentalistoch (a že im to ide), to je umenie. A nič na tom nemení ani fakt, že si zasóluje i bubeník. Podobne sa prezentuje aj Blind Gypsy Woman. Akčný kúsok Believe In What You Want sa zasa raz dlhometrážne vyžíva, takže na záver atmosféra upadá do snov (čo je asi jediná výnimka albumu, inak sa neustále tlačí na pílu). Záverečný kúsok Evasive Dreams Beyond je prekvapivo krátky, ale to mu vôbec nezabránilo pozvoľna gradovať džezovú inštrumentálku až k meditatívnemu gitarovému a klavírnemu sólu, oboje je prekvapivo minimalistické.
Kapela odohrala okolo stovky koncertov a v roku 1972 sa samovoľne rozpadla, keďže hudobníci postupne stratili záujem o spoločné hranie. Čo sa týka inej produkcie, Jesper Neehammer hosťoval na albume Carsten Meinert Musictrain (1970) a so skupinou Trodenskjolds Soldater nahral album Peace (1970). Søren Berggreen hral so skupinou Blue Sun na jednom singli a na albumoch Peace Be Unto You (1970) a Live 1970 (2001). Petar Nielsen sformoval v roku 1973 s niekdajšími členmi Beefeaters kapelu Ragnarok, ale žiadne nahrávky sa nezachovali. Koppel, Bruun a Bødtcher v tom istom roku založili formáciu Anaconda, po ktorej ostal jediný singel Baby, Turn Me Loose/Daytime (1973). Bruun a Bødtcher sa potom živili vo formácii Tyggegummibanden, s ktorou nahrali albumy Nu går det løs (1974), Fuld fart rock'n'roll (1976) a Banden 3 (1977). Bruun hosťoval aj na albume What We Are (1974) kapely Sensory System. Bruun a Bødtcher sa v rokoch 1975-1979 venovali aj fusion formácii Heavy Joker, s ktorou nahrali albumy Heavy Joker (1976), Caesar's Palace (1977) a Peter Klixbüll & Heavy Joker (1977). A aby toho nebolo málo, Bødtcher nahral dva džezrockové albumy aj so skupinou Buki-Yamaz, a síce Buki-Yamaz (1975) a Segundo (1976). Bruun hral od 1979 do 1986 v kapele Tøsedrengene, s ktorou nahral šesť albumov a následne hral vo viacerých skupinách, pričom bol činný aj po roku 2000.
ČO sa týka dochovaných záznamov kapely, existuje DVD bootleg z roku 2003 pomenovaný Going Underground – Underground Treasures Volume I, 1969-1976 (Missing in Action Archives DVD MIAA-0002), kde je zachytená jedna skladba Thors Hammer naživo z nejakého open air festivalu. V zostave chýba Neehammer a kvalita zodpovedá fanúšikovskému "domácemu" snímaniu. Album Thors Hammer sa zjavil na CD vďaka pirátom, za posledných tridsať rokov existuje sedem vydaní. Napokon to kapelu prestalo baviť a na vlastnej značke Thors Hammer vydala v roku 2005 jedinú oficiálnu verziu CD (v roku 2010 aj  LP).
(upravené, pôvodne zverejnené na progboarde)
Diskografia:
Thors Hammer (1971)