Steppenwolf je v našich končinách trestuhodne opomínanou rockovou veličinou, a preto by som rád pripomenul jej úplné počiatky. Album Early Steppenwolf z roka 1969 obsahuje záznam koncertu The Sparrows v klube Matrix v San Franciscu 14. mája 1967.
Pokiaľ vás môj úvod zmiatol, dovoľte mi troška objasniť históriu tejto kapely. Jack London and The Sparrows bola kanadská skupina, ktorá vznikla v roku 1964. Nahrala debutový album a niekoľko singlov, pričom sa nevyhla zmenám v zostave. Po príchode pruského speváka a gitaristu Johna Kaya (v roku 1965) odišiel London a kapela si skrátila názov na The Sparrows. V roku 1966 vyrazila do Mekky hnutia hippies, San Francisca, kde v roku 1967 vznikol koncertný záznam, o ktorom sa dnes budeme rozprávať. Čoskoro na to si zmenila názov na Steppenwolf a zvyšok je, ako sa vraví, história.
Často sa u nás stretávam s tým, že Steppenwolf je kapelou jedného hitu. Nie je! Má len tú smolu, že jeden z jej hitov je nesmrteľný. Born To Be Wild sa vďaka filmu Easy Rider, motorkárom, reklamám atď. stala natoľko známa, že priemerný postsocialistický hudobný konzument nevníma to, že kapela mala tri single v top 10 rebríčku Billboard (okrem menovaného aj Magic Carpet Ride a Rock Me), celkovo 13 v prvej stovke a prvých deväť albumov bolo tiež v prvej stovke rebríčka, pričom hneď štyri boli v prvej desiatke. A to ani nehovorím o tom, že druhý album v predajoch tromfol aj debut, kde sa zmienený megahit nachádza.
Koncertný záznam Early Steppenwolf Born To Be Wild neobsahuje, hoci v zostave je jeho tvorca Dennis Edmonton, ktorý je však známy pod umeleckým pseudonymom Mars Bonfire. Album zachytáva šesť skladieb, pričom prvých päť je klasických bluesových čísiel, veľmi dobre zahraných. Pretože, čo si  budeme hovoriť, chalanom to hralo, ich bluesrock má šťavu a je jedno, že zväčša preberajú klasické kúsky typu Howlin' For My Darling. Skladbu Tighten Up Your Wig nájdete aj na druhom albume Steppenwolf, a síce The Second. Na debute sa pre zmenu nachádza skladba The Pusher, ktorá pôvodne okupovala celú druhú stanu platne. Sme v ére hippies v San Franciscu, a preto sa z dvadsaťjeden minút dve tretiny času psychedelicky bubnuje, gitara väzbí, kvíli, slovom, skladba samotná sa k slovu dostane až na záver. Je mi jasné, že to nie je pre každého. Ale viete čo? Neprekáža mi to! Ide o dobový manierizmus, ktorý však znie prirodzene. Kapela si to na pódiu evidentne užívala a mňa teší, že si môžem tento záznam vychutnávať aj po toľkých rokoch (pravda, z cédečka).
Skvelý koncertný zážitok, ktorý nahrala takmer "steppenwolfovská" zostava a ktorému nedokážem vyčítať ani to, že šlo evidentne o marketingový ťah s cieľom priživiť sa na fenomenálnom úspechu Steppenwolf, a preto dielo nevyšlo pod hlavičkou originálnej kapely. Stojí však za to.
Skladby:
Power Play 2:55
Howlin' For My Darling 4:53
I'm Going Upstairs 7:14
Corina, Corina 3:54
Tighten Up Your WIg 3:14
The Pusher 21:27
Zostava:
John Kay: spev, gitara
Dennis Edmonton (Mars Bonfire): gitara
Goldy McJohn: piano, organ
Nick St. Nicholas: basa, vokály
Jerry Edmonton: bicie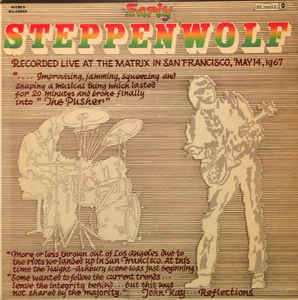 Early Steppenwolf
Steppenwolf
blues rock
ABC Dunhill Records
1969
LP, CD
6