Americkou skupinu The Red Masque založili ve Philadelphii v roce 2001 baskytarista/hráč na klávesové nástroje Brandon Lord Ross a zpěvačka Lynnette Shelley. Personální obsazení ostatních postů se průběžně měnilo. The Red Masque hraje originální formu moderní rockové hudby s vlivy kapel jako King Crimson, Magma, Gong a dle gotického nádechu většiny desek i Bauhaus a Siouxsie & The Banshees.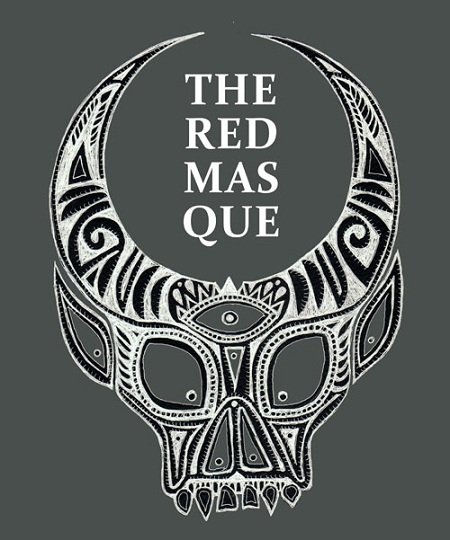 První album Victoria And The Haruspex vyšlo na CDR v roce 2001. Obsahuje čtyři kompozice a jedná se celkem o komorní tajemné dílo. Titulní skladba mi připomíná píseň Mother/Oh Mein Papa od Siouxsie & The Banshees z LP Join Hands (1979), kterou Susane (Siouxsie) zpívá za doprovodu hracího strojku.
Druhá deska Feathers For Flesh vyšla v roce 2004 na CD u společnosti Big Baloon Music. Přináší vyzrálé dílo plné sugestivní temné a tvrdé hudby s výborným zpěvem Lynnette Shelley. Vynikající je už úvodní číslo House Of Ash a na singlu vydaná skladba Beggars & Thieves.
Po této desce následovalo album Fossil Eyes vydané roku 2008, které se nese v podobném duchu jako předcházející dílo. Už z názvu je cítit fascinace historií, dokládá to skladba o kyklopu Polyfémovi, kterého oslepil Odysseus a taky Metamorphosis, která má název podle Ovidiova díla.
Tohle se projevilo na následující desce s názvem Mythalogue, kde se zabývají mytologií starého Řecka, hlavně báji o Theseovi a Ariadně, např. skladby The Labyrinth, The Minotaur a The Sirens And The Snakes.
Diskografii doplňuje v roce 2018 vydané album Fathomless, opět na CDR, ale v pěkném digipakovém přebalu.
Grafika na všech albech je dílem Lynnette Shelley.
DISKOGRAFIE:
Death Of The Red Masque – EP (2001)
Victoria And The Haruspex – CDR (2002)
Beggars & Thieves – promo singl (2003)
Feathers For Flesh – CD (2004)
Fossil Eyes – CD (2008)
Stars Fall On Me (Live At Orion Studios) – flac (2009)
Mythalogue  – CD (2013)
Live At The Kennett Flash –  flac (2018)
Fathomless – CDR (2018)