Na prelome rokov 1975 a 1976 sa bez väčšej pozornosti más zjavil tretí sólový album amerického gitaristu Leslieho Westa nesúci názov jeho sprievodnej kapely – The Leslie West Band.
Doba už, ako sa vraví, bola inde a hrmotajúci blues rock sa vytrácal z dosahu čelných umiestnení v rebríčkoch. Navyše, Leslie West sa tvrdohlavo držal svojho zvuku a odmietal (zatiaľ) vzdať sa svojich hudobných koreňov. Po rozpade formácie West, Bruce & Laing sa vrátil k sólovej tvorbe. Na konte mal zatiaľ dva zaujímavé sólové albumy, Mountain (1969) a The Great Fatsby (1975). O prvom som už písal, druhý si nechám na inokedy. Spomeniem len toľko, že na gitare na ňom hral Mick Jagger. Ako dopadol The Leslie West Band?
West zozbieral zmes kvalitných štúdiových hudobníkov, nechýbal jeho dvorný bubeník Corky Laing. Najväčšie "meno" však nájdeme na poste druhého gitaristu. Mick Jones hral v rokoch 1972 až 1974 v Spooky Tooth a na konte má tri albumy z tohto obdobia. Mihol sa aj na albumoch Petera Framptona i Georgea Harrisona. Rok po pôsobení v The Leslie West Bande založil svetoznámu skupinu Foreigner.
Album väčšina zdrojov uvádza ako dielo z roka 1976, ale napríklad Discogs uvádza 1975. Samotná muzika je jedným slovom úžasná. Od prvej nabúchanej pecky Money (Whatcha Gonna Do) po poslednú cover verziu We Gotta Get Out Of This Place dostávame to, čo od Westa možno očakávať. Parádnu hutnú šou. Inak, cover verzie sú tu celkom dve. To, že Westovi idú, dokázal predchádzajúcim albumom, nuž nečudo, že beatlesovská Dear Prudence znie super. Z Bieleho albumu si ju ani nepamätám, tu na ňu nezabudnem. Jediným mínusom albumu, ak by som o ňom vôbec uvažoval, je jeho krátke trvanie. Dĺžkou zaseknutou tesne za polhodinou by mohol pokojne konkurovať talianskej progresívnej scéne. Avšak, čo by za to dnes dali všetci tí nestriedmi rockeri, ktorí vydávajú dvojdiskové eposy rozotretého riedkeho muzikálneho… produktu, keby mali vyprodukovať takúto hutnú konzistentnú "rokerinu".
Leslie West to v polovici 70. rokov rozbalil tak, že ešte aj dnes mi z toho padá sánka. Tridsaťtri minút vynikajúcej hudby, pokojne by som zniesol raz takú minutáž. The Leslie West Band je osamotený štúdiový počin "bandu", ktorý vedel, ako má znieť poctivá rocková muzika. Kiežby sa aj dnes rodili takéto diela.
Skladby:
Money (Whatcha Gonna Do) 3:40
Dear Prudence 4:44
Get It Up (No Bass – Whatsoever) 2:58
Singapore Sling 1:42
By The River 2:50
The Twister 2:25
Setting Sun 3:42
Sea Of Heartache 3:33
We'll Find A Way 3:15
We Gotta Get Out Of This Place 4:42
Zostava:
Leslie West: gitara, spev
Corky Laing: bicie
Mick Jones: gitara
Don Kretmer: basa
Frank Vicari: dychy
Sredni Vollmer: harfa
Ken Ascher: piano
"Buffalo" Bill Gelber: basa
Carl Hall: vokály
Tasha Thomas: vokály
Hilda Harris: vokály
Sharon Redd: vokály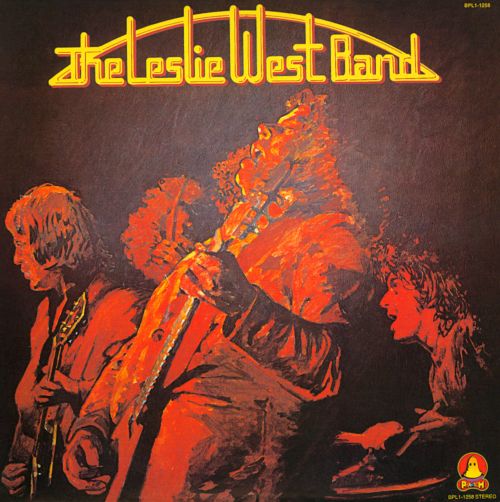 The Leslie West Band
The Leslie West Band
blues rock
Phantom Records
1975/1976
CD (Voiceprint, 2008)
10