Jedna z najvýznamnejších amerických (hard)rockových skupín bola tá, ktorá počúvala na meno The James Gang. V najslávnejšom období svojej existencie pôsobila ako trio, v ktorom hral slávny gitarista Joe Walsh. Prísľub toho, čo príde, prinášal už debutový album Yer' Album z roka 1969.
James Gang ma opantali niekedy v polovici 90. rokov. To som už chvíľku hral na bicie (no, hral, učil sa) a nasával som všetko, čo sme mali doma. A doma sme mali pár platní, hromadu magnetofónových kaziet a záplavu videokaziet s muzikou zo 60. a 70. rokov. Dostal som sa tak ku klipu skladby Walk Away od James Gang z Beat Clubu. A bolo som uhranutý. Za bicou súpravou sedel Jim Fox a hral, akoby bol vynálezcom bicej súpravy. S prehľadom, bez námahy, a predsa naplno! V predajni Roxy na Vysokej v Bratislave (to bola predinternetová éra, žiadny youtube, nijaké streamy, nič!) mali vtedy k dispozícii dva albumy. Výberovku Funk #49 s desiatimi skladbami Walshovej éry a album Passin' Thru. Hoci som vtedy ešte chodil na strednú a z vreckového som si kupoval nekresťansky drahé cédečka veľmi opatrne (600 korún za CD bola pálka, dvojdisky boli za 1 200 korún), a preto som si často radšej kúpil výberovku ako jeden album z rozsiahlej diskografie (neplatilo pre jednoalbumové raritky), James Gang som chcel mať celý. Nuž, výberovke som odolal a kúpil si spomínaný album. Čo vám poviem, bol to šok. Muzika silno americká, ovplyvnená country, chvíľku som si zvykal, ale napokon som si album obľúbil tak, že ho považujem za jeden z najlepších kúskov hudobnej histórie. O tom však inokedy.
Na jar 1998 mi moja žena priniesla z Anglicka album Rides Again, (BGO, 1991), ktorý som si vytipoval z dostupných prameňov ako ten, ktorý musím mať čo najskôr, ale inak som stále nevedel zohnať nič iné. Až v roku 2000 vyšli nové cédečkové vydania od MCA Records, a tak som sa konečne dostal aj k debutu a tretiemu albumu. V priebehu nasledujúcej dekády som postupne zohnal všetky albumy okrem jedného, ktorý som si napálil (Straight Shooter) a dnes ho mám vo verzii s Passin' Thru od BGO Records. Hoci táto dvojalbumová kompilácia vyšla už v roku 2004, trvalo dobré štvrťstoročie, kým som si ju kúpil. V danom čase som nechcel vyhadzovať obmedzené príjmy na niečo, čo už mám spolovice doma. Stále som dúfal, že "šútera" zoženiem samostatne. Nepodarilo sa. Vydanie Passin' Thru od One Way Records (1992) si aj tak strážim ako oko v hlave. Napokon, novšie vydanie neexistuje. Albumy mimo Walshovho obdobia nemajú prakticky žiadne reedície, povážte sami:
Yer' Album – 1990 ( BGO), 1991 (Wounded Bird Records), 2000 (MCA), 2009 (BGO, Geffen Records – japonské), 2010 (Geffen Records – japonské) a pár pirátskych vydaní
Rides Again – 1991 (BGO, MCA – japonské), 1996 (MCA), 2000 (MCA), 2001 (BGO), 2009 (Geffen Records – japonské), 2010 (Geffen Records – japonské), 2017 (Mobile Fidelity Sound Lab) a pár pirátskych vydaní
Thirds – 1990 (One Way Records), 1991 (BGO, MCA), 2000 (MCA), 2009 (Geffen Records – japonské), 2010 (Geffen Records – japonské)
Live In Concert – 1989 (Mobile Fidelity Sound Lab), 1991 (BGO), 1996 (MCA), 2001 (BGO), 2009 (Geffen Records – japonské), 2010 (Geffen Records – japonské)
Straight Shooter – 1991 (One Way Records), 2004 (spolu s Passin' Thru, BGO)
Passin' Thru –  1992 (One Way Records), 2004 (spolu so Straight Shooter, BGO)
Bang – 2009 (Atco), 2014 (spolu s Miami, BGO), 2017 (Atco – japonské) a pár pirátskych vydaní
Miami – 2014 (spolu s Bang, BGO) a vydanie od Atco bez vročenia
Newborn – 2004 (spolu s Jesse Come Home, Wounded Bird Records), 2013 (Lemon Recordings)
Jesse Come Home –  2004 (spolu s Newborn, Wounded Bird Records), iné vydanie neexistuje!
Vyzbierať si túto kapelu dá zabrať. Ale dosť bolo o mne, dovoľte mi prejsť k debutu. Mladá dravá kapela bez štúdiových skúseností, zato s koncertne odskúšanými vlastnými skladbami, vložila svoj osud do rúk skúseného producenta Billa Szymczyka. Ten kapelu len tak odfotil v Kente pred vodopádom, keďže tam všetci členovia študovali. Pritom na obal mali vyčlenený samostatný rozpočet, lenže ich nenapadlo, že by im na to vydavateľ prispel. Fotky spracoval Byron Goto a dovnútra albumu nakreslil zaujímavú grafiku Ladimer Jerig. Obal napokon skompletizoval Henry Epstein.
Bluesway bola odnož ABC Records, ktorá sa špecializovala na bluesovú muziku. Vydávali takých borcov ako B. B. King, Jimmy Reed, John Lee Hooker a mnohých ďalších. A do toho vpadli burácajúci divosi z James Gang! V newyorskom štúdiu The Hit Factory kapele namiesto pozdravu oznámili: "Spravte hit!" Celý album sa nahrával pekne naživo, na prehrávanie sa nikto nehral. Samozrejme, potom sa doplnili aj nejaké nástroje a sláčiky, ale inak sa zachovala koncertná atmosféra. Kapela totiž chcela nahrať to, čo vie aj zahrať.
Zároveň sa v štúdiu dobre bavila. Na konci prvej strany LP sa opakovane ozýva – turn me over (otoč ma), na konci druhej strany LP zasa – play me again (prehraj ma znova). Pravda, z CD tieto Walshom nahovorené ozveny vystrihli, škoda. Okrem vlastných skladieb sa na album dostali aj tri coververzie. Bluebird od Buffalo Springfield, Lost Woman od Yardbirds a Stop od Ragowaya (nahral ju aj Al Kooper na Super Session), ktorý si tu aj zahral na klavír (v prvej verzii skladby na piano hrala jeho mama, ale na album nahrali novú verziu). Napokon, bol majiteľ štúdia, tak kto by mu odporoval.
O čom je vlastne táto muzika? O nespútanom rockovom ošiali. Trio do toho ide po hlave a o dušu, ak si odmyslíme rôzne krátke vsuvky, máme tu v podstate len šesť skladieb a dva dlhočizné "džem sejšny". V Lost Woman sa hráči improvizovane sólovo popredstavujú, v Stop zasa donekonečna opakujú jednu figúru a nie a nie skončiť. Oboje milujem. V pokojných skladbách (Take A Look Around, Collage) počuť, čo bude kapelu zdobiť na ďalších albumoch. Nechýba ani povestný funky-hard rock, ktorým sa kapela vymedzila voči všetkým dobovým kapelám a nikto takto nehral a vlastne dodnes nehrá. Skrátka, je tu Funk #48, prvý singel kapely, ktorý sa umiestnil v americkom rebríčku (na 126. priečke). Album vyznieva ako záznam zo skúšky zo štúdia, o žiadnom akademickom prejave nie je reč. Kedysi dávno som o muzikantoch napísal, že hrajú o dušu, ako správni umastení vlasáči, nikto z nich nemá hrebeň, takže o učesanosti produkcie nemožno hovoriť. A tak je to vlastne dobre. Bývalý americký prezident Bill Clinton sa priznal k dvom nerestiam. K Monike (s nevôľou) a k James Gang (s vôľou). Takže máme jednu vec spoločnú (sorry, Monika).
Milujem hudbu James Gang, zbožňujem Yer' Album. Ide o najsurovejšiu štúdiovú nahrávku kapely, v tomto ju prekonal iba koncertný album Live In Concert. Postupne pre Rockovicu opíšem celú jej diskografiu. Je to to najmenej, čo pre svoju srdcovku môžem spraviť.
Skladby:
Introduction 0:39
Take A Look Around 6:20
Funk #48 2:47
Bluebird 6:01
Lost Woman 9:06
Stone Rap 0:59
Collage 4:03
I Don't Have The Time 2:50
Wrapcity In English 0:57
Fred 4:11
Stop 12:00
Zostava:
Jim Fox: bicie, gitara (1), klavír (4), spev (3)
Tom Kriss: basa, flauta, vibrafón
Joe Walsh: spev, gitara, klávesy
a
Bill Szymczyk: tamburína (4), organ (4), Maracas (7)
Bert "Super Charts" De Coteaux: sláčikové aranžmány (1, 4, 7)
The Seymour Barab Strings: orchestrácia (9)
The Dunn Chorus (Tom, JIm, Bill, Marge, Linda, Ken, Jill, Barry, Crazy John): vokály (10, 11)
Jerry "Rags" Ragovoy: piano (11)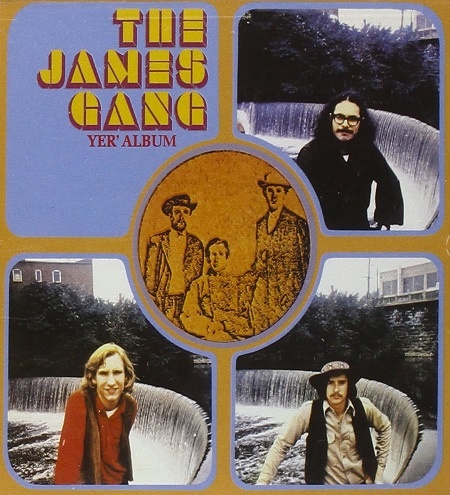 Yer' Album
James Gang
hard rock
Bluesway
1969
CD (MCA Records, 2000)
11