Pripomínať si Garyho Moorea ma nikdy neomrzí. Najmä toho prvotného, dnes neprávom prehliadaného.
To sa stretli dvaja pokročilí tridsiatnici v bare…
– Človeče, pamätáš si na toho írskeho gitaristu Garyho Moorea?
– Toho, čo pred nedávnom zomrel a ktorého si celý svet pamätá ako majstra v držaní tónu?
– Hej, toho.
– Jasné. Svet sa delí na obdobie pred a po Still Got The Blues. Viem, že už v 80. rokoch hral svieži pop rock, ale naša generácia žije jeho deväťdesiatkovým návratom k blues. Tie jeho balady, v ktorých nie je schopný ukončiť sólo ani v momente, kedy to balia aj "freedžezoví" onanisti, to je skrátka terno!
– Kámo, predstav si, že on ti hral blues už v 70. rokoch minulého storočia, keď sme ešte neboli na svete.
– Fakt? Ako je možné, že ho masovo nehrajú v rádiách, veď mal na konte určite množstvo ďalších bluesových balád!
– No, ako by som ti to…
– Po lopate.
– No dobre. Vieš, on ti debutoval už v roku 1973 albumom Grinding Stone, to ti je úplne iná muzika!
– Počkaj, vytasím mobil a vypočujeme.
(začne inštrumentálna skladba Grinding Stone)
– Bŕŕŕ, čo je to?
– Nepočuješ, furt sa tam niečo deje, rytmika sa košatí, Gary Moore sóluje, akoby ani nevedel, že by sa mal držať stále toho istého tónu, je to paráda!
– Houby paráda! Však to nemá hlavu ani pätu! Prečo tu nie je citlivá sloha, majestátna vyhrávka, ktorá tvorí kostru sólovania a vôbec! Však to znie, akoby sa Gary hotoval uvariť obed a vysypali sa mu hrnce!
– Neblázni! To je muzika, ktorá sa na nič nehrá, najmä nie na to, že jej zmyslom je tvoriť šum napríklad pri tom varení.
(nastupuje Time To Heal)
– Aha, teraz sa začalo spievať! Páni, čo to je? Však to je akoby som bol vo výbehu opíc v bratislavskej ZOO. Ešte aj tie sú tichšie.
– Sú, lebo sú znudenejšie. Toto je rocková smršť, na nudu nie je miesto.
– Kam sa podeli vyčačkaní speváci s natupírovanými vlasmi?
– Neuveríš, ale inšpirujú sa takouto muzikou!
(a je tu Sail Across The Mountain)
– Hurá, konečne balada! Ale čo to? Je akási divná, takto sa na špicu hitparády nedostane!
– Presne tak!
(začína krátka vsuvka The Energy Dance)
– Hm, zaujímavé, konečne počuť klávesové nástroje. Nie je mi však jasné, prečo nehrajú niečo priamočiarejšie. Takto to vyzerá, akoby sa tu niekto snažil o veľké umenie. A to, ako je známe, patrí do galérií, do Redút a do povinného čítania. Skrátka, načo ním obťažovať bežného človeka!
– Aby mohol byť za snoba?
– Čuš!
(prichádza Spirit)
– No teda! Čo je zasa toto? Hádam to čoskoro skončí.
– Snívaj! Toto je vyše štvrťhodiny trvajúca extáza!
– Akáže extáza! Skôr sado-maso salón. Kam sa podali krásne jednotvárne melódie?
– Ešte sú len v prenatálnom veku.
– Škoda.
– Veru. Škoda, že dospejú.
– Aha, už je asi koniec, opäť sa tu spieva.
– Ešte nie!
– Mňa z toho šľak trafí!
– Dedičia sa potešia.
(je tu záver – Boogie My Way Back Home)
– Ahaho! Klasické slajdové blues! To by sa ti mohlo páčiť.
– Čo ti ja viem, tie jeho klasiky sú lepšie, čistejšie, zvučnejšie…
– Sterilnejšie.
– Konečne je koniec!
– Tak ako?
– Vôbec sa nečudujem, že sa od tohto masmédiá dištancujú. Však to bol hurhaj.
– Bol to rock a nie to, čo zaň dnes mienkotvorné médiá vydávajú.
– Gary Moore hádam nič horšie nestvoril!
– Počkaj, až ti pustím Skid Row…
Skladby:
Grinding Stone 9:40
Time To Heal 6:20
Sail Across The Mountain 6:57
The Energy Dance 2:29
Spirit 17:16
Boogie My Way Back Home 5:38
Zostava:
Gary Moore: gitara, spev
Pearse Kelly: bicie, perkusie
John Curtis: basa
a
Philip Donelly: gitara
Jan Schellhaas: klávesy
Frank Boylan: basa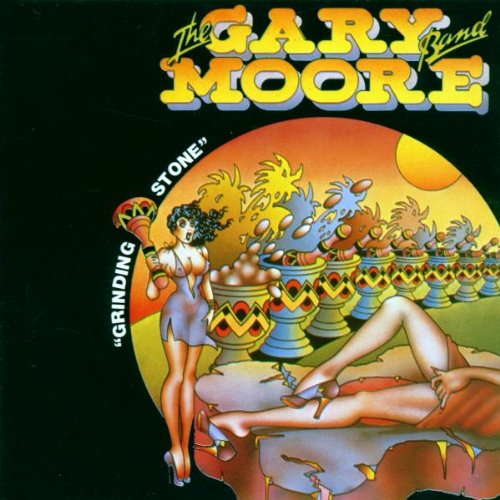 Grinding Stone
Gary Moore Band
blues rock
CBS Records
1973
LP, CD
6