Skupina The Dead Weather vznikla roku 2008 z iniciativy Jacka Whitea, kytaristy a bývalého leadra rockového dua The White Stripes. Do nového seskupení si pozval zpěvačku Alison Mosshart, která předtím působila v podobném duu The Kills, baskytaristu Jacka Lawrence a kytaristu i hráče na klávesové nástroje Deana Fertitu, který, mimo jiné, působil ve stone rockových Queens Of The Stone Age.
V časopise Rock & Pop vyšel článek o nadějných seskupeních, mezi jinými tam psali i o The White Stripes. Za poněkud vyšší cenu jsem si koupil jejich tehdy aktuální album White Blood Cell, které mě dostalo na jejich vlnu a následně jsem si koupil všechna předchozí LP. Když skupina The White Stripes skončila albem Icky Thump, objevil jsem na netu The Dead Weather a jejich debutové album.
The Dead Weather hrají hudbu, kterou si buď zamilujete, nebo ji přímo nenávidíte, já patřím do první kategorie. To, co hrají na Horehound, je směs garážového rocku, alternativy a blues. Takhle nějak si představuji moderní tvrdý rock. Úvodní blues 60 Feet Tall složila Alison Mosshart s Deanem Fertitou a je to pořádně tvrdý kus s parádním kytarovým sólem a výtečným zpěvem. Skladbu I Cut Like A Buffalo složil a taky zpívá Jack White, který jako kytarista v The White Stripes tady hraje na bicí. Vždy se těším na dvojici písní New Pony a Bone House. Na závěr desky skupina vybrala blues Will There Be Enough Water?, kde Jack White hraje na akustickou kytaru.
Jack White patří k hodně činorodým lidem; založil The White Stripes, následně Raconteur s Jackem Lawrencem a Deanem Fertitou a vydavatelství Third Man Records. Hudba The Dead Weather se mi líbí po všech stránkách. Koupil jsem si všechny tři jejich desky na vinylu i na CD, z disku to můžu poslouchat všude i v kanceláři. Když bych měl hodnotit, tak za pět hvězdiček.
SKLADBY:
01. 60 Feet Tall 5:31
02. Hang You From The Heavens 3:37
03. I Cut Like A Buffalo 3:28
04. So Far From Your Weapon 3:37
05. Treat Me Like Your Mother 4:17
06. Rocking Horse 2:49
07. New Pony 3:57
08. Bone House 3:26
09. 3 Birds 3:43
10. No Hassle Night 2:54
11. Will There Be Enough Water? 6:08
SESTAVA:
Jack Lawrence – bass, backing vocals
Jack White – drums, vocals
Dean Fertita – guitar, piano, organ, synthesizer, backing vocals
Alison Mosshart – vocals, percussion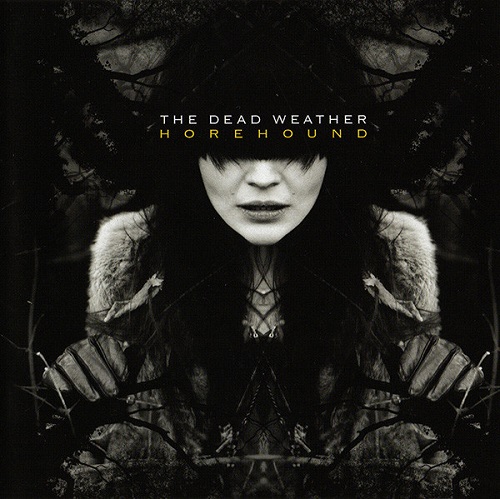 Horehound
The Dead Weather
Acid Rock, Garage Rock, Rock & Roll
Third Man Records
2009
CD, LP
11