Arthur Brown – téměř mýtická postava britské psychedelie, nebojím se ho označit za "praotce britského psychedelického rocku". Poprvé jsem ho zaregistroval v Pop Music Expressu koncem šedesátých let. Jeho občanské jméno bylo Arthur Wilton. Studoval uměleckou výtvarnou školu a protože i na svou dobu nosil hodně dlouhé vlasy, vedení školy mu dalo na výběr – buď dostuduje a ostříhá si vlasy, anebo může provozovat hudbu, vlasy si ponechá a se studii bude konec. Rebelant Arthur si zvolil druhou variantu.

Hodně se psalo o albu, které neslo stejný název jako skupina – The Crazy World Of Arthur Brown, ale nikdy jsem ho u nikoho neviděl. Kamarád mi ale za 100 Kč prodal singl Fire/Rest Cure, který vydala britská pobočka firmy Polydor a já byl od prvního poslechu pohlcen tuto skladbou. Řadu let poté jsem s touto písní sklízel "úspěch" jako disc-jockey na rockových diskotékách. Skladba sice v hardrockovém období stárla, ale stále zabírala dál.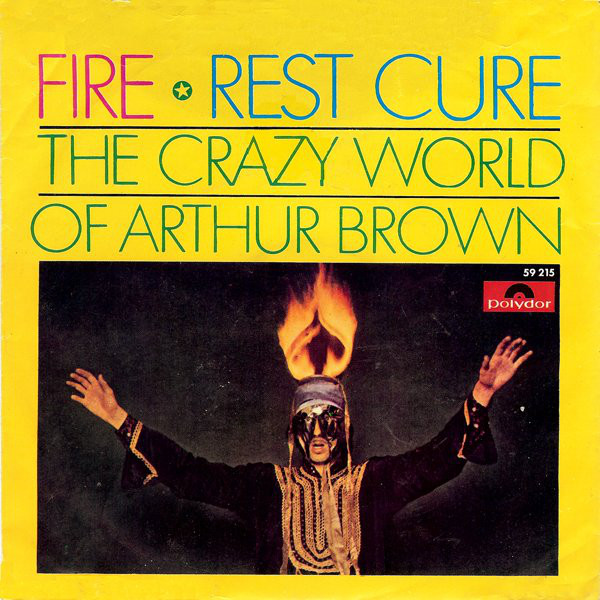 Album se mi dostalo do rukou až nedávno a tak bych se rád rozdělil se svými pocity a dojmy i s vámi. CD verze z roku 1991:
Prelude / Nightmare (Mono) – Úvodní skladba by mohla být vnímána jako úvod k nějakému starému horroru. Potom už jsou v popředí klasické hammondky s Vincentem Cranem, vířivé bicí nástroje a důrazná baskytara. Arthur Brown, třebaže nebyl školený zpěvák a svůj hlas používal jako jednoznačně výrazový prostředek, vás překvapí svým mocným vokálem. Často přechází z dramatického podání do šílené fistule. A skoro se mi chce říci, že tady někde sbíral svou inspiraci později slavný Ian Gillan. Způsob vedení zpěvu ve vypjatých pasážích je dost identický. Hutný úvod alba.
Fanfare / Fire Poem (Mono) – Fanfára orchestru a pak ženský hlas ceremoniářky představuje nástup další skladby. Arthur Brown se zde proměňuje ve vypravěče a moderní forma divadelního dramatu zde nabývá výrazných rozměrů. Hudební doprovod vychází z britského rhythm and blues, ale přeznívání zvuku bicích nástrojů a tremolo varhan sem vhání psychedelický tón.
Fire (Mono) – Monofonní singlová verze legendárního hitu nám předvádí klíčový okamžik na albu. Skladba je krásně vygradovaná – rhythmandbluesové téma postupně graduje do psychedelického rockového tvaru (v něčem zde zaznamenávám odér Iron Butterfly – dokonce i Brownův hlas nemá v základní poloze daleko od Douga Ingle). Opakované hudební schéma zní v hypnotickém rytmu jako čarodějnická formule. Závěrečné svištění hammondek a rozechvělý sound nás opět koupe v psychedelických náladách. Zajímavé, že skladba pro mě neztráci ani po dlouhých letech nic ze své podmanivosti a vygradované tajuplnosti.
Come and Buy (Mono) – Tohle je typický model britského rhythm and blues. Brown jako výtvarný kumštýř dokáže vkládat do interpretace barevnost a mnohotvárnost. Má to vyloženě divadelní charakter a musím konstatovat, že si dokážu bez jakéhokoliv většího zapojení fantazie představit pódiové (divadelní) ztvárnění tohoto tématu. Také je zde cítit vliv slavného amerického muzikálu Hair, který tehdy slavil na evropských scénách velké úspěchy. Do konečného závěru se zde střídají exponované části se subtilními.
Time / Confusion (Mono) – Dramatický nástup dravého typu. Vincent Crane okázalým způsobem vystavěl instrumentální oblouk nad expresemi Brownova zpěvu. Zcela nečekaně zaznějí tubular bells jako kostelní zvonkohra a pak už je tu zase psychedelické téma zádumčivých varhan, cinkajících zvonečků a šeplavě dráždivý Brownův hlas, který čarovně vibruje – zní majestátně a divadelně pateticky, ale opět se vrací ke šeplavé poloze. Kdo bude chtít, uslyší zde i názvuky raných Pink Floyd, ale všechno se děje ve velké proměnlivosti a záhadnosti. Podmanivě krásné a zvláštní.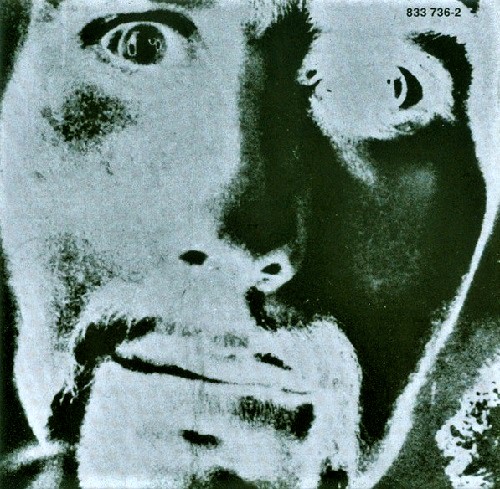 Prelude / Nightmare – Krátký motiv z úvodní části se promění v další psychedelickou formu, kde se zpracovává jeden z motivů skladby Fire v děsivě čarodějné podobě. Znovu se nám vrací zpět tajemný dech a houpavé zvuky varhan, které jsou v playbacích doprovázený razantnějším tématem. Baskytara a bicí jsou přítomný, přesto zde nevstupují do nějakých ďábelských rytmických poloh. Brown svou šílenou fistulí kvílí ve stratosférických výškách a dodává skladbě napětí. Opakující se psychedelické téma v bičovaných harmonických proměnách hammondek zvolna graduje. Crane dodává skladbě neopakovatelnou atmosféru, ale také aranžoval orchestrace dechů, čímž přidává kompozicím na dravosti.
Fanfare / Fire Poem – Dechový úvod v trumpetách fanfár. Do rhytmandbluesového schématu vedle varhan zaznívají tóny flétny. Brown, coby dramatický rétor s patřičným patosem, opakuje slovní formulace jako římský tribun, anebo shakespearovský ceremoniář ve Stratfordu-upon-Avon, velmi zvláštní.
Fire – Stereofonní verze se příliš neliší od monofonní (samozřejmě jinak rozloženým zvukem). Můžeme si zde asi adresněji vychutnat zvuk hammondek, rytmiky, trumpet, fléten a Brownovu interpretaci. Gradující zpívané téma a stupňovaná harmonie instrumentace je velmi přesvědčivá s říznou dechovou sekcí. Opravdu klíčová záležitost na albu, včetně šíleného svištění v závěru, které se rozpadá v nekonečnu.
Come and Buy – Tajemný recitovaný úvod a výrazná rytmická figura, do níž v oktávách vstupuje baskytara a tetelivé hammondky za doprovodu uměřených smyčců. Smyčcové pozadí a čitelná harmonická struktura udrží posluchačovu pozornost v napětí, čemuž zásadním způsobem přispívá Brown svou interpretací. Smyčce v další části vstupují do popředí i s dechovou sekcí a Brown předvádí svoje divoké pěvecké kreace s patřičným zaujetím a dramatickým podáním.
Time / Confusion – Cinkání zvonečků a bublavé téma varhan odvíjí poklidné hudební sdělení ve víceméně klasickém pojetí. Brownův hlas je jako vyměněním zklidněný a zní hladivě, laskavě a příjemně. Ovšem rytmické téma přivolá téměř valčíkový rytmus a Brown se opře do svých hlasivek s neobvyklým náporem, aby se opět uchýlil ke klidnému zpívanému šeplání a jakoby recitování textu. Varhany gradují a rytmika, třebaže není hřmotná a valivá, udržuje jisté napětí pod přetopeným kotlem. Zase se nám sem vrací fragment skladby Fire, který nelze přeslechnout.
I Put A Spell On You – Známá Hawkinsova skladba posloužila k vytvoření coververze. Tuhle píseň zpívá na britské scéně více interpretů, myslím, že ani tato verze Brownovi neubírá na atraktivitě, ostatně podání má výraznou tvář. Z jednoho kanálu se na vás hrnou hammondky, z druhého zdůrazněné kulometné přechody a akcenty bicích nástrojů s modulovanými basy i mírně upozaděným klavírem. Brown ovšem zpívá se soulovým nábojem. Pamatuji si, že u nás tuhle skladbu interpretovali Matadors a Framus Five. Bytelný hudební základ se vším všudy.
Spontaneous Apple Creation – Skladba zní v počátku jako jakási parodie a dojem nadsázky vás provází i v dalších fázích. Šustivé jazzové bicí a baskytara dotvářejí rytmické podhoubí varhanním motivům a cinkání zvonečků v psychedelických metamorfózách. Bicí zde dostávají poměrně výraznější prostor a Crane na hammondky kouzlí v nejrůznějších harmonických obrazcích, pro někoho na hranici únosnosti.
Rest Cure – Rhythm and bluesový melodický motiv je dobře vypreparovaný. Má v sobě výtečné harmonické proměny, které se vzájemně prolínají, opakují, ale nijak nevylučují. Tady ta odvolávka na soul je zcela evidentní a myslím, že by mohlo být zajímavým nápadem propojit ve zpěvu Arthura Browna a takového Chrisa Farlowa – myslím, že by jim to spolu hodně slušelo. Tahle původně B-strana singlu se hodně povedla. Crane navíc nad hammondky ještě natočil svižné, ale krátké klavírní party, opravdu výtečná věc.
I've Got Money – Od svého amerického jmenovce Browna (ale Jamese), si Brown vypůjčil tuhle skladbu a zpracoval ji v britském modelu interpretace. Moje pochvala letí k Vincentovi Cranovi. Jeho téma na hammondky je opravdu špičkové. Přesně cítí, co skladba potřebuje a navíc tam dodává svoje druhé Já – plnokrevná, energii nabitá hudba se vším všudy . Tohle je skutečně emocionální projev ve velkém stylu, který Arthur opravdu ovládá.
Child Of My Kingdom – Poslední skladba může v lecčems navozovat na Mothers Of Invention, ale jenom v úvodním schématu. Posléze se zde rýsuje umírněnější téma, které se melodicky hodně proměňuje a přináší další prvky vzrušení. The Crazy World Of Arthur Brown do rhythm and blues s přehledem vloží jazzové téma, v němž Crane opět vedle varhan hraje výtečně na klavír. Po řadě melodických, harmonických a instrumentálních eskapád dochází k jakési závěrečné katarzi, ale všechno probíhá v klidnějších akcentacích.
The Crazy World Of Arthur Brown prošli muzikantskými výměnami. Vedle Arthura Brown jako zpěváka, zde hrál už tehdy démonický varhaník Vincent Crane, který famózním způsobem vynikajícího hudebníka a improvizátora a ještě navíc showmana dotvářel Brownovu nevídanou pódiovou prezentaci, bubeník Drachen Theaker a baskytarista Sean Nicholas.

Poté přišel technicky kreativnější bubeník Carl Palmer. Není mi známo, zda se zachoval nějaký koncertní nebo studiový záznam, ale tahle parta způsobovala na britské scéně díky svým vystoupením velký šok. Je třeba doplnit, že Arthur Brown měl na sobě černokněžnický plášť, tvář pomalovanou tajemnými znaky a barvami, vousy, dlouhé vlasy a na hlavě železnou korunu, jejíž součástí byla nádobka (nádržka), v níž vzplála hořlavina a nad jeho hlavou se vznášely plameny. Na scéně to muselo působit jako zhmotnění démona. Brown přitom na pódiu tančil a svíjel se. Jak přiznal, hořlavina rozpálila podle fyzikálních zákonů kov a ten začal pálit Browna na kůži a také ho brzy rozbolela hlava. Později to prý různě podkládal koženým řemenem, aby kontakt horkého kovu s hlavou byl omezen.
Tohle všechno se dělo předtím, než se objevil Roy Wood, David Bowie, Alice Cooper, New York Dolls, Kiss… Arthur byl prostě první (třebaže Mick Jagger při představení Their Satanic Majestic Request měl také pomalovanou tvář…). Možná nebylo náhodou, že se produkce ujal ďábelský excentrik Kit Lambert, kterému asistoval Pete Townshend.
Několikrát mě během poslechu napadlo, jak by asi vyzněla virtuální spolupráce Arthura Browna a Syda Barretta, zda by si oba excentrici dokázali porozumět a co by vlastně stvořili. Jsem v postavení mezi čtyřmi až pěti hvězdičkami. Možná zde některé věci měly trochu uzrát, ale za interpretační výkon a klávesový podíl těch pět hvězdiček dám.
Ještě poznámka: namalovaný obrázek (karikatura) Arthura Browna v PME nás natolik s kamarádem zaujala, že jsme si po zkopírování tohoto obrázku nechali v chemigrafii knihtiskárny zhotovit kovový štoček, a ten jsme potřeli tiskařskou černí a vytiskli si tento motiv na trička. Bylo to elitářské. Tohle tričko jsme měli jenom dva a později ještě jeden kamarád a všichni nám to záviděli. V té době ještě u nás nebylo zvykem nosit trička s nějakými poticky nebo nápisy (psal se rok 1972). Dodnes si lámu hlavu, kde tento štoček skončil. Dnes by to všechno řešil sítotisk…
SKLADBY – LP (1968):
01. Prelude-Nightmare (Brown) 3:30
02. Fanfare-Fire Poem (Brown, Crane) 1:53
03. Fire (Brown, Crane, Finesilver, Ker) 2:55
04. Come And Buy (Crane) 5:45
05. Time / Confusion (Brown, Crane) 5:18
06. I Put A Spell On You (Screamin' Jay Hawkins) 3:38
07. Spontaneous Apple Creation (Brown, Crane) 2:51
08. Rest Cure (Brown, Crane) 2:39
09. I've Got Money (James Brown) 3:05
10. Child Of My Kingdom (Brown, Crane) 6:07
SESTAVA:
Arthur Brown – vocals
Vincent Crane – keyboard
Nick Greenwood (billed as "Sean Nicholas") – bass guitar
Drachem Theaker – drums
+
John Marshall – drums (on "I Put a Spell on You" and "Child of My Kingdom")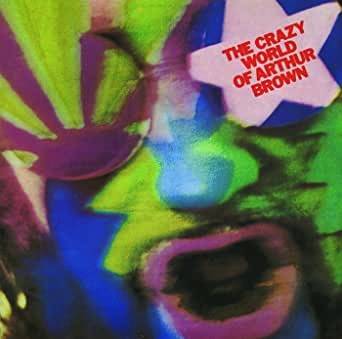 The Crazy World Of Arthur Brown
The Crazy World Of Arthur Brown
Psychedelic Rock
Track Record
1968
LP
10
CD - Polydor /1991/