Allman Brothers Band je legenda. Napriek tomu som sa s jej tvorbou viac-menej míňal, pričom v ére budovania zbierky som si ju spočiatku "odbil" dvomi výberovkami, A Decade Of Hits 1969-1979 (1991) a Mycology • An Anthology (1998), o ktorej by som rád niečo napísal.
Pokým som študoval, boli moje finančné zdroje obmedzené. V roku 1998 som nastúpil na civilnú vojenskú službu, nuž finančná mizéria pokračovala. Aj preto som si kupoval dosť výberoviek, najmä od skupín, ktoré mali bohatú diskografiu. Allman Brothers Band bola jednou z nich, nuž som chcel mať aspoň reprezentatívny výber. V tých časoch ešte v Bratislave fungoval Bonton pod Michalskou bránou, kde sa dali často nakúpiť rôzne cédečka aj za priaznivé ceny. Kým A Decade Of Hits 1969-1979 priniesol preverenú klasiku, s Mycology • An Anthology som vkročil do neznáma. Netušil som, čo Allmanovci hrajú, ale predpokladal som, že keď sa reunionovo darilo Lynyrd Skynyrd alebo Molly Hatchett, musí sa aj ďalšej veličine južanského rocku.
Veľkým plus bolo zistenie, že v kapele pôsobil gitarista a spevák Warren Haynes, ktorého formácia Gov't Mule mi neskôr učarovala. A tiež basák Allen Woody, ktorého na poli rockovej hudby v 90. rokoch netromfol nikto! Allman Borthers Band mám rád v pôvodnej inkarnácii, nesadol mi v 80. rokoch a opäť mi učaroval práve na konci storočia. Hudobníci sú to bez výnimky skvelí, zdvojené bicie, trojica sólových spevákov, z ktorých Haynes a Allman majú parádne medvedie hlasy, o Allenovi som sa už zmienil, nuž ešte dodám, že k osvedčenej gitare Dickeyho Bettsa sa vynikajúco hodí skvelý gitarista Haynes (však s Bettsom hral už v 80. rokoch v jeho "Bande").
V období 1990-1998 vydala obrodená kapela presne tri štúdiové albumy a dva koncertné kúsky. Všetky sú zastúpené (chronologicky) na tejto kompilácii. Skromne, ale predsa! Čisto štatisticky, prvé dve skladby sú z albumu Seven Turns (1990), nasleduje dvojica zo Shades Of Two Worlds (1992), koncertný kúsok z An Evening With The Allman Brothers Band (1992), dvojica skladieb z Where It All Begins (1994) a jedna skladba zo živáka An Evening With The Allman Brothers Band (1995). Pred dvadsiatimi rokmi sa vydavateľský trh vyžíval v zdaní, že prináša aj niečo naviac, takzvané bonusy. Táto výberovka ich pomenovala "Choice Extras" a sústredila sa na raritné koncertné skladby. Prvou je hitovka Midnight Rider prezentovaná akusticky, odznela v klube Club R&R v Los Angeles 6.11.1992. Druhou je spomienka na klasickú zostavu s Duanom Allmanom v čele, vypaľovačka Every Hungry Woman bola zachytená na Atlanta Pop Festivale 7.3.1970.
Kompilácia je doslova etalónom toho, ako sa z minima dá vyťažiť maximum. Aj ľudia, ktorí celú tvorbu kapely nemusia, by mohli byť spokojní. Priznávam bez mučenia, že netuším, prečo je obal ladený ako obrázkový sprievodca zväčša nejedlými hubami, páčil sa mi, keď ma lákal v obchode a neprestal s tým dodnes.
Prezentovaná muzika nemá chybu. Vrcholom sú pre mňa dve koncertné metelice, pričom prvá jedenásťminútová Knowbody Else je vrcholom aj na pomery tvorby kapely. Pôvodne bola zaznamenaná na album Shades Of Two Worlds, koncertná verzia sa mi páči o kúštik viac. Rovnako živá pripomienka albumu Where It All Begins – Sailin' Cross The Devil's Sea má grády. Jedinou chybou krásy je, že by nosič zniesol aj viacej muziky. celková minutáž okolo hodiny by umožnila zaradiť ešte niekoľko skladieb a extáza by trvala dlhšie.
Nič to! Mycology • An Anthology je bomba. Veľmi rád sa k tejto kompilácii vraciam. A nie je to iba preto, lebo som vďaka nej spoznal tvorbu Allman Brothers Band v 90. rokoch. Skúste ju, počúva sa náramne!
Skladby:
Good Clean Fun 5:05
Seven Turns 5:03
End Of The Line 4:38
Get On With Your Life 6:59
Nobody Knows (live) 11:00
No One To Run With 5:58
Back Where It All Begins 9:10
Sailin' Cross The Devil's Sea (live) 4:58
Midnight Rider (1992 Live Acoustic Performance) 3:08
Every Hungry Woman (1970 Live – Atlanta Pop Festival) 4:14
Zostava:
Gregg Allman: organ, piano, ak. gitara, spev
Dickey Betts: gitary, spev
Jaimoe: bicie, perkusie
Butch Trucks: bicie, perkusie
Warren Haynes: gitary (1-9), vokály (1-9)
Allen Woody: basa (1-9), vokály (1-9)
Marc Quinones: kongá (6-8), perkusie (6-8)
Johnny Neal: piano (1-2), klávesy (1-2), vokály (1)
Duane Allman: gitara (10)
Berry Oakley: basa (10)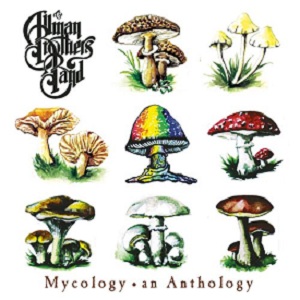 Mycology • An Anthology
Allman Brothers Band
blues rock
Sony Music Entertainment
1998
CD
10