Ten Years After bola, dodnes sa na tom nič nezmenilo, jednou z najlepších bluesrockových kapiel všetkých čias. Pod vedením fenomenálneho Alvina Leeho vytrela zrak nielen účinkujúcim a návštevníkom Woodstocku, ale prakticky každému dobovému gitaristovi. Alvin bol svojho času považovaný za najrýchlejšieho gitaristu na planéte (určite aj v priľahlých Galaxiách, účastníci vesmírnych programov to aspoň nikdy nedementovali). Po jeho odchode prišiel mladý energický chalan Joe Gooch, kapela preto mohla veselo fičať aj po roku 2000. Po zemetrasení v roku 2014 (rok po smrti Alvina Leeho), kedy z kapely odišiel vynikajúci basák Leo Lyons a Goocha vzal so sebou do skupiny Hundred Seventy Split, to vyzeralo, že je koniec. Ale kapela pokračuje ďalej a čerstvo vydala aj album – A Sting In The Tale.
Keď mi v obchode s cédečkami strčili pod nos túto novinku, chvíľku som rozmýšľal, či to má cenu, napokon som sa rozhodol, že to počká. Vonku pršalo a mne sa nechcelo ísť do bankomatu a späť. Lenže, len čo som vyšiel na ulicu, niečo sa vo mne zlomilo. Spomenutú tortúru som vykonal, album zhrabol a rovno si ho pustil. A bolo!
Možno ma nalákal obal, sépiová hnedá navodzovala dojem, že sa vraciame ku koreňom, že sa deduškovia rozhodli, že ešte nie sú na odpis. Svoje určite zohrala aj skutočnosť, že basgitary sa chopil Colin Hodgkinson, ktorého virtuóznu hru obdivujem z čias jeho džezrockovej formácie Back Door. Najmä na albume 8th Street Nites (1973) mal niekoľko vražedných bluesových variácií. O Marcusovi Bonfantim som doteraz nevedel nič. Ide o britského mladíka, ktorý evidentne nastúpil do generácie súčasných bluesových gitaristov/spevákov, od roku 2008 do 2013 vydal tri sólové albumy a jedno EP. Podľa všetkého má rád akustickú gitaru, čo je pre Ten Years After rozhodne plus.
Album ponúka dvanásť autorských skladieb, skrz-naskrz bluesovo zafarbených. Miestami je to až popovo ľúbivé (Stoned Alone), je jasné, že čerstvý frontman má ambíciu zaujať širšie vrstvy vnímavých poslucháčov. Osobne kvitujem, že akustický sound (Two Lost Soul) sa nevtieravo, ale nekompromisne votkal pomedzi klasické bluesrockové vypaľováky (Land Of The Vandals, Last Night Of The Bottle). Aby toho nebolo málo, melancholické, resp. pochmúrne balady (nepliesť so slaďákmi!) majú náboj, ktorý ma neomylne odpaľuje, a preto kúsky ako Up In Smoke alebo Diamond Girl právom vyčnievajú. Najlepšou skladbou albumu je pre mňa temná a v refréne až južansky spevná parádička Retired Hurt.
A Sting In The Tale je novinka ako lusk! Kombinuje elektrické i akustické blues s rockom tak, aby to znelo chutne a podmanivo. Bonfanti je z gitarovej trojky Lee-Gooch-Bonfanti rozhodne najmenej výrazný, ale to neznamená, že nie je mužom na správnom mieste. Je z nich všetkých najbluesovejší, a preto celkové vyznenie nie je tak surové, ale vôbec to nevadí. Potom, čo Leo Lyons odišiel, som si myslel, že je to definitívne koniec kapely, Hodgkinson je však dobrou voľbou. Jeho inštrumentálne parádičky z čias kapely Back Door sú síce pasé, ale rytmika v pohode šliape a neprekáža mi, že priveľmi nevytŕča. Musím pochváliť zvuk albumu, kapela si ustrážila decibely, takže v záplave dnešnej hlučnej produkcie znie mäkko a zdanlivo ticho. Dobrá muzika skrátka nemusí dunieť, aby zaujala.
Album sa mi zapáčil od prvého vypočutia. Chvíľku som zvažoval, ako sa vysporiadať s nešvárom zvaným hviezdičky. Je to dobrý, príjemný počin, s vrcholnými dielami kapely sa ale porovnávať nedá a ani by to nemalo zmysel. Radím si ho niekam k poslednej doske Colossea. Veteráni, ktorí si nemusia nič dokazovať, nechali priestor mladej krvi, aby sa popri nich zviditeľnila. A Bonfanti z toho nespanikáril, ide si to svoje pekne v pokoji, bez stresu. O to lepšie to vyznieva. Aj preto subjektívne pridávam jednu hviezdu, myslím, že tento album bude v mojej priazni ešte rásť. Čo dodať na záver? A Sting In The Tale – príjemná alternatíva k Bonamassovi, Shepherdovi a ostatným mnohopočetným zameniteľným bluesovým rockerom dneška.
Skladby:
01. Land Of The Vandals 4:09
02. Iron Horse 3:25
03. Miss Constable 4:06
04. Up In Smoke 6:13
05. Retired Hurt 5:36
06. Suranne Suranne 3:24
07. Stoned Alone 4:09
08. Two Lost Souls 4:06
09. Diamond Girl 5:17
10. Last Night Of The Bottle 4:09
11. Guitar Hero 4:55
12. Silverspoon Lady 3:18
Zostava:
Ric Lee: bicie, perkusie
Chick Churchill: klávesy
Colin Hodgkinson: basa
Marcus Bonfanti: spev, gitara, harmonika, perkusie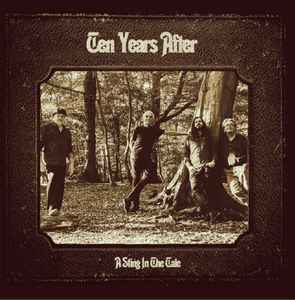 A Sting In The Tale
Ten Years After
blues rock
Butler Records
2017
LP, CD
12