Rob Tognoni je tasmánsky gitarista hrajúci bluesovo zrockovanú muziku. A to veru riadne od podlahy. Okamžitá prekvapivá správa, že zahrá v šamorínskom Šup Šupe, za mizerných 10 eur vstupného, mi nedala veľmi na výber. Spakovali sme rodinné fanúšikovské kvarteto a šlo sa.
Odkiaľ ho vlastne poznám?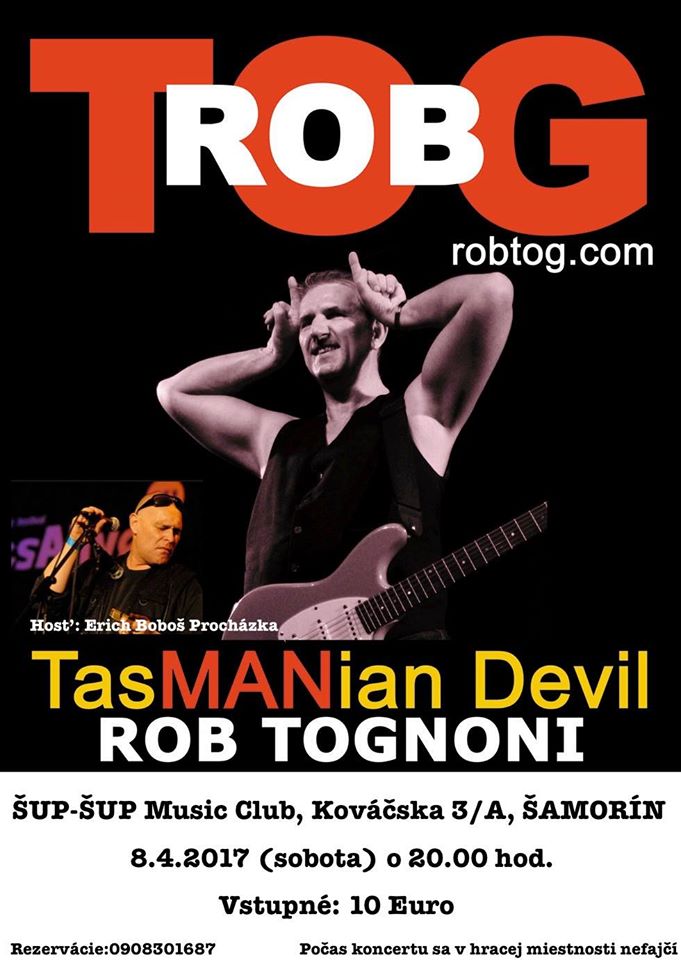 Zoznámenie prebehlo prostredníctvom albumu Capital Wah z roku 2007 (občas sa uvádza aj rok 2008, beriem to, čo je na obale). A hoci to nie je zlý album, skladba Rain sa mi dokonca páči veľmi (mix ZZ Top a znelky zo seriálu True Blood), po ďalšej tvorbe som nikdy nepátral. Čo neznamená, že si človek nevybehne na bluesovo zrockovaný koncert, všakže. Album som si cez deň pustil, nech sa naladím, až som ho nechal vo veži a z prípadného podpisu nebolo nič. Nevadí!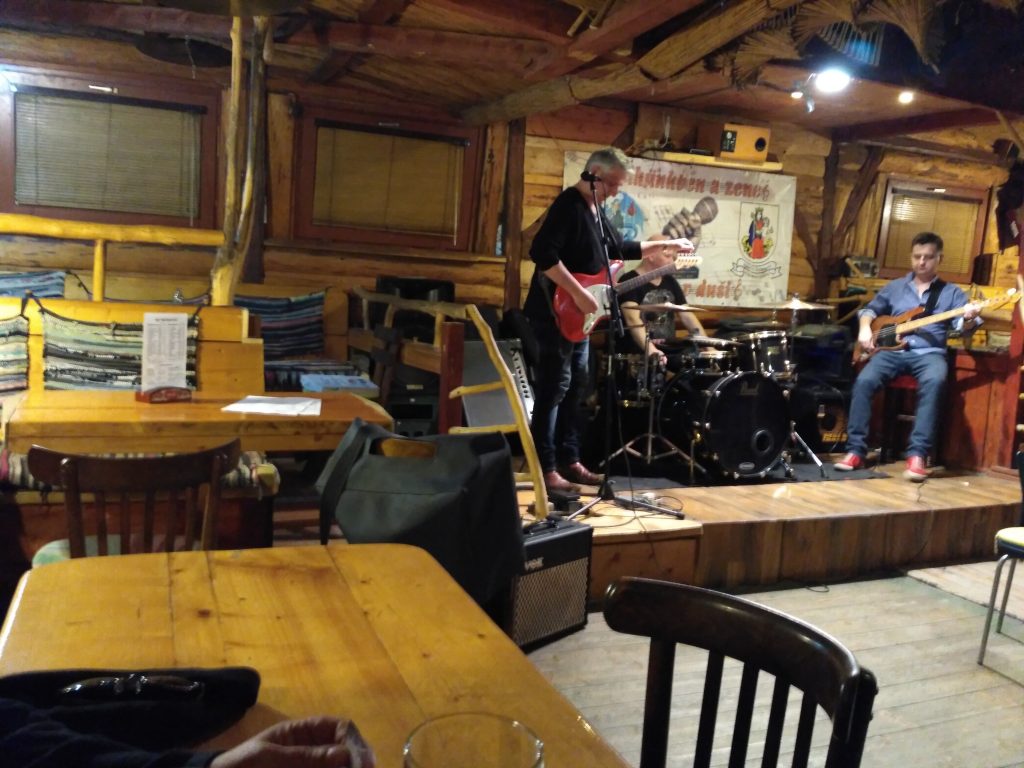 Včera (8.4.2017) mal Rob vystúpiť v Uherskom Brode U Michala, hlásajú jeho oficiálne stránky. Evidentne niečo u našich západných susedov vybuchlo a hľadala sa záplata. Keď už má to turné po Európe, tak nech si zahrá. Neviem, či tušil, kam vlastne ide.
Šamorínsky Šup Šup je úžasný maličký podnik, hrá sa tam bluesová muzika, vždy ticho, aby sa nedráždili policajné zložky tohto štátu, všetci vieme, prečo. Predstava, že sa doň vprace hviezda súčasného bluesrocku, ma dosť šokovala. Ako to bude vyzerať? Vojdú sa tam vôbec tie davy obdivovateľov? Pre istotu som si aj telefonicky zarezervoval stôl…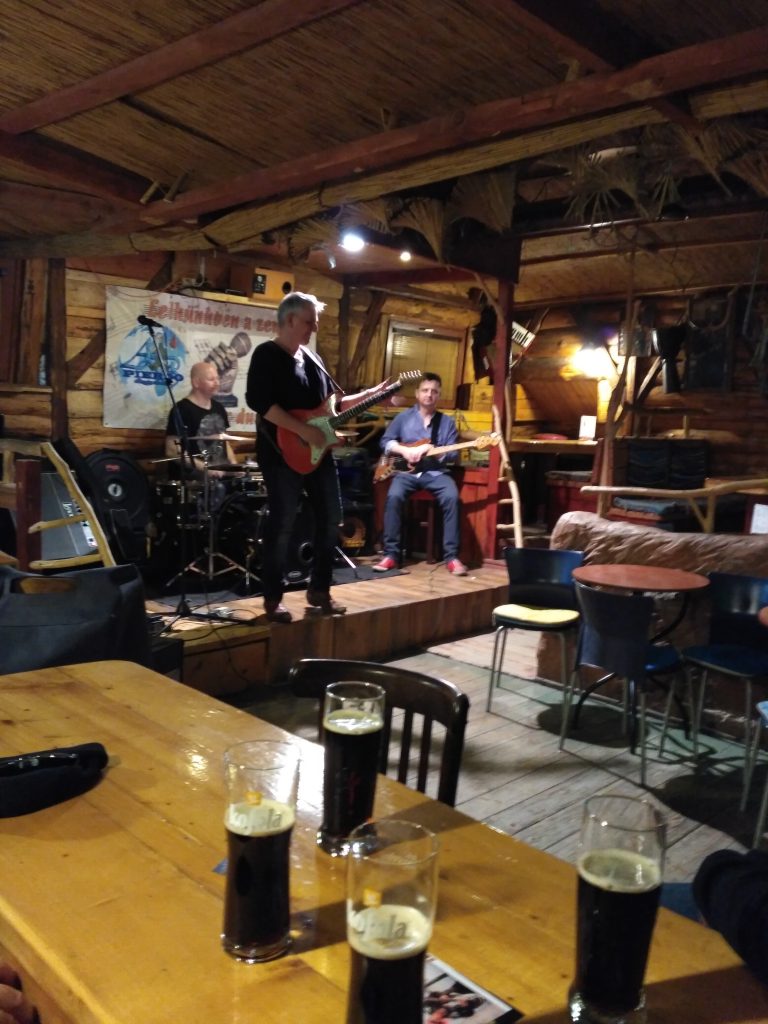 Predstavte si, vošli. Pretože ho u nás zasa tak veľa ľudí nepozná. Hold, nielen Bonamassom je bluesrock živý. Chápem, že propagácia bola prakticky nulová (vďaka za facebook, inak by som na to nenaďabil), ale aj tak. Na miestne rôznorodé džemovačky a maďarské kapely prichádza ľudí dosť, tak keď príde naozajstná svetová hviezda, okolo ktorej môžete normálne chodiť a prehodiť slovo-dve, tak si nikto nedá ani tú námahu, aby si ho vygúglil a zistil, že je to eso…
Prišli sme cca o pol ôsmej a obsadili sme jeden stôl v ľavom rohu, pričom v pravom rohu bol tiež len hlúčik priaznivcov s pracovným názvom P.P. Band a spol (predsa len bol Boboš prizvaný ako čestný hosť). Tento stav pretrvával až do štvrť na deväť, kedy sa trio muzikantov vysúkalo z V.I.P. sekcie (stôl vľavo pri pódiu) a rozpútalo šou.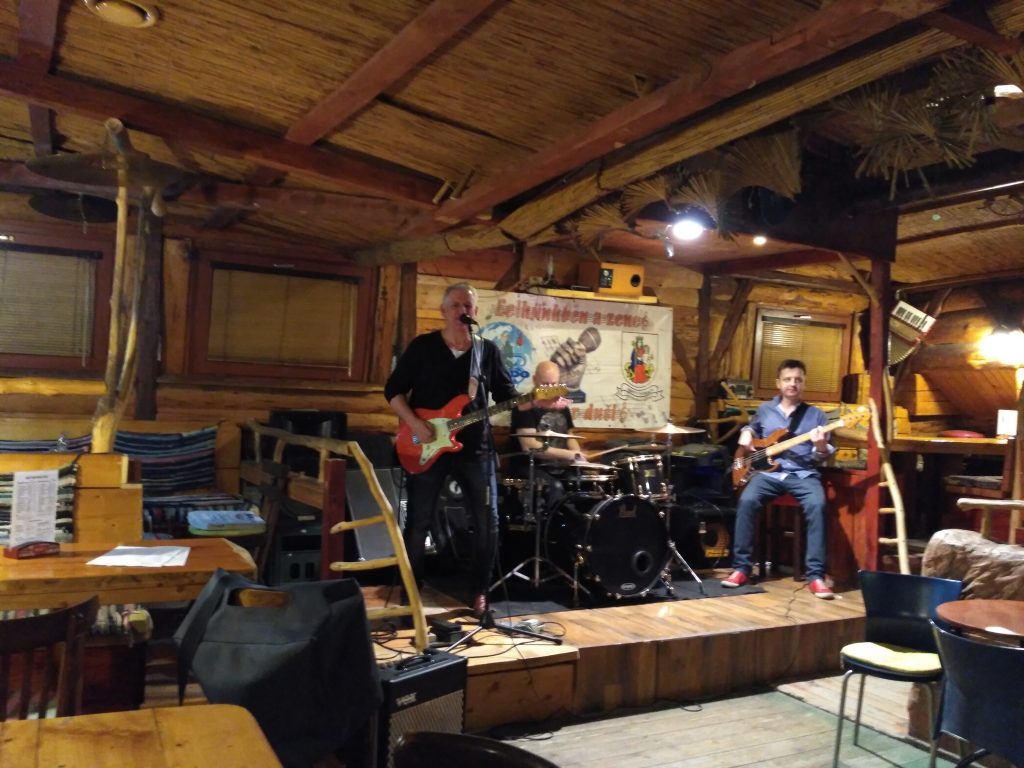 Rob Tognoni je sympatický a dobre naladený chlapík. Okamžite poďakoval obom stolom za to, že sme prišli, predstavil kapelu (poľská rytmika Lukasz Gorczyc: basa, meno bubeníka som, žiaľ nerozlúštil) a začal hrať. A ako! S prehľadom, ľahučko, ostro a úžasne. Zvuk bol ukážkový, aj keď si nepamätám, že by som v Šup Šupe počul niekoho hrať tak nahlas. A tá dobrá nálada, ktorú mal, to sa u našich profesionálov vidí málokedy. Pamätám si nemenovaných našich muzikantov, ktorí by pri menšej návšteve zamračili aj moskovskú oblohu počas vojenskej prehliadky, navzdory vládnym opatreniam na rozháňanie oblakov. Nehovoriac o tých vážnych výrazoch veľkých umelcov, ktoré sa, neviem prečo, vyskytujú v nepriamej úmere s bezvýznamnosťou lokálnych hviezd. Ale o inom som chcel.
Rob zvládal vylámať aj slová pripomínajúce "dobrý večer" a "ďakujem" (zneli poľsky, čo neprekvapuje), nuž nemal núdzu o nadšené reakcie publika. To sa časom trošku rozrástlo, prišlo ešte niekoľko priaznivcov dobrej muziky. Aspoň, že tak.
Rytmika hrala presne to, čo bolo treba, aby sa hlavná hviezda mohla dosýta vyšantiť (napríklad hraním za hlavou). Rob sa neustále smial, ospravedlnil sa, keď sa za behu dolaďoval, skrátka, bola tam atmosféra ako na rodinnej oslave. Pripadal som si, že mi hrá rovno v obývačke.
Kapela odohrala dve trištvrte hodinové kolá, pričom gro tvoril vlastný repertoár (došlo aj na prvý album), zo skladieb spomeniem aspoň úžasnú parádičku Dark Angel, nechýbala tutovka Drink Jack Boogie alebo žene venovaný kúsok Blue Butterfly.
V druhom kole prizval aj Boboša, strihli si rezkú verziu Baby Please Don't Go a Roudhouse Blues. Boboš sa úlohy zhostil tak, ako to len on vie. Inými slovami, otočil sa publiku chrbtom a hral o dušu. S Robom sa na dlhé minúty postavili proti sebe a riešili jeden improvizovaný sólový dialóg za druhým, bolo to vďačné. Sám Rob to ohodnotil slovami: "It was fun." Následne vyzval Boboša, aby si zahral aj v jeho vlastnej skladbe, teda, odrapotal to v angličtine a obrátil sa na basáka, nech to preloží. Bolo mu oznámené, že Boboš mu rozumel, čo ho pobavilo. Aby bola k dispozícii tá správna harmonika, neváhal počas skladby do mikrofónu ohlasovať tóninu, takže jeho "B-flat" počuli hádam až v Kvetoslavove.
Po desiatej hodine večernej sa aj austrálskej hviezde dostalo miestneho napomenutia, aby sa stíšil. Rob to evidentne nepochopil, lebo zahlásil, že teda dá ešte jeden slaďák a končí. A tak aj bolo.
Nemyslite si, vytlieskali sme ho, nuž musel zahrať aj prídavok. Vzal gitaru, hrabol do strún a nič! Zabudol si zapnúť kombo. So smiechom to napravil a ako sa lampy zahrievali, tak sa krásne pridával zvuk, čo okomentoval tak, že miluje prebúdzajúci sa aparát. Nečudujem sa. Prídavok mohol začať. Zo srandy spustil AC/DC (počas koncertu zahral niekoľko nenápadných odkazov na známe diela, zväčša počas sól, nikdy sa nesnažil z toho prvoplánovo ťažiť vďačné reakcie publika, čo bolo super), ale napokon zahral Stolen Heart.
Ako to bolo v podstate krátke vystúpenie, tak bolo intenzívnejšie, než mnohé veľké koncerty. Rob bol evidentne v pohode, veľmi sa mu páčilo, že ľudí oslovujú jeho vlastné veci (a že boli rezké a chutné!), nuž sa spýtal, že či by sme sem na neho prišli aj o rok. Jasné, že áno. Takže, ak sa tak stane, neváhajte!
P.S. Rob, if you find this article, don't forget to come next year to Šup Šup and please, be so kind to play a song Rain from Capital Wah. Thank you. It was a magical evening.