V záplave zabudnutých kapiel zo 70. rokov už niekoľko rokov rád lovím v talianskych vodách. Jedným z úlovkov bol album Fede, Speranza, Carità (1972) od kapely J.E.T..
Skupina pochádzala z talianskeho Janova a za svojho života vydala jediný album agresívneho hard-progrocku a inak fičala na komerčných popových singloch. Vznikla počiatkom 70. rokov zo skupiny toho istého mena (hm). Časť hudobníkov hrala predtým v popovej skupine Ricchi e Poveri. Zostava Piero Cassano (klávesy), Renzo "Pucci" Cochis (bicie), Aldo Stelita (gitara, spev) a Carlo Marrale "Bimbo" (basa) debutovala rádiovým singlom Vivere in te/Uomo z roka 1971. V podobnom duchu vychrlila v roku 1972 single Non la posso perdonare/Donna dove sei? a Il segno della pace/Non la posso perdonare. Aký to musel byť šok, keď v tom istom roku vyšiel album Fede, speranza, carità, ktorý rozsekal dovtedajší imidž kapely a ponúkol drsnú rockovú nádielku. Avšak, všetky single z roku 1973 (Anikana-o/Guarda con i tuoi occhi, Gloria Gloria/Sinfonia per un re a Voodoo woman/Satan is waitin') fičali opäť na rádiových vlnách. Nečudo, že v roku 1974 zostavu obohatila speváčka Antonella Ruggiero a Cochisa vystriedal bubeník Giancarlo Golzi z Museo Rosenbach. Týmto krokom vznikla skupina Matia Bazar, úspešná popová formácia fungujúca dodnes. Inak, singel Akana-o vyšiel aj vo Francúzsku, Grécku a dokonca v Mexiku, so španielskym spevom. V roku 1995 sa zjavil kompilačný album J.E.T. obsahujúci single i pôvodný album pekne pokope.
Album ma oslovil drsným rockovým zvukom, hard rock mal v Taliansku živnú pôdu, aj keď toho art rocku bolo viac. Už od prvých tónov je jasné, že to nebude žiadna jemná selanka. Organ si pre seba vyhradí úvodné navodenie chrámovej atmosféry, ktorú mu s chuťou sprzní špinavá gitara. Vo výsledku dostávame v úvodnej skladbe Fede, speranza, carità obludnú dávku dobového hard rocku s niekoľkými inštrumentálne frivolnými pasážami. Kadejaké stopky sa striedajú s porušovaním dávania prednosti v jazde, tu i tam má klavírna predvádzačka čo dočinenia s džezom či závanom klasiky. Nechýbajú psychedelické výkriky, skrátka, je to dobová momentka pripomínajúca prvé albumy Uriah Heep alebo Bodkin. Aby som nezabudol, spev je z kategórie jačákov, nuž je vám asi jasné, koľká bije. Nad rozbúrenou rytmikou (najmä bubeník sa počuteľne odviazal, po nahrávaní najskôr stiekol spoza súpravy) si klávesy vyhrávajú srdca bôľne motívy aj v druhej, jedenásťminútovej, kompozícii Il prete e il pescatore. Spev sa spočiatku nechá sprevádzať iba klávesmi, aby to znelo patrične náladovo, celkovo je to typická preemotivovaná talianska rocková balada, ktorá nemá k rachotu ďaleko. Sólové pasáže sú samozrejme plné "nadžezlého" ubiehania z vytýčenej trasy, symfonických ladných medzihier a všetkého, čo má tento typ muziky v génoch. Ce' chi non ha začína ticho i zlovestne, kapela sa evidentne vyžívala v pomalých nástupoch, aby mala priestor gradovať "do aleluja". Vo svojej podstate je to napokon najpozitívnejšia balada na albume, refrén je priam zaliečavý. Že bude Sinfonia per un re najambicióznejšou skladbou kapely, azda dôjde aj tým, čo z taliančiny nerozumejú ani "ň". Progresívny hard rock v symfonickom art rocku určite dostane do varu nejedného "škatuľkára", tak prečo to nenapísať… Na záver je tu vlastne jediná krátka skladba, a síce Sfogo. Mierne sa vymyká doterajšiemu dianiu, bezslovný spev vo veselej klavírnej skladbe, to tu ešte nebolo!
Bonusové skladby sú na mojom CD hneď dve. Gloria, Gloria je skôr rádiová záležitosť, popové vokálne zbory, troška disko, za hrsť slákovej polevy, podobný pokrm mi nechýba. Guarda col tuoi occhi je na tom lepšie, ide o preexponovaný slaďák so zaujímavými staccatovými dôrazmi.
Klávesový melodický hardrock, ktorý sa nebojí opustiť priamočiare vody a hrať, čo sa mu zachce, môžem vždy. Obzvlášť, keď je tak skvelý ako v podaní kapely J.E.T., nuž, ak ste podobne naladení, skúste. Ľutovať pravdepodobne nebudete.
(upravené, pôvodne zverejnené na progboarde)
Skladby:
Fede, Speranza, Carità (10:56)
Il prete e il peccatore (11:10)
C'e' chi non ha (6:35)
Sinfonia per un Re (7:59)
Sfogo (3:39)
Zostava:
Piero Cassano: klávesy
Renzo "Pucci" Cochis: bicie
Aldo Stelita: gitara, spev
Carlo Marrale "Bimbo": basa, marimba, čelo, vibrafón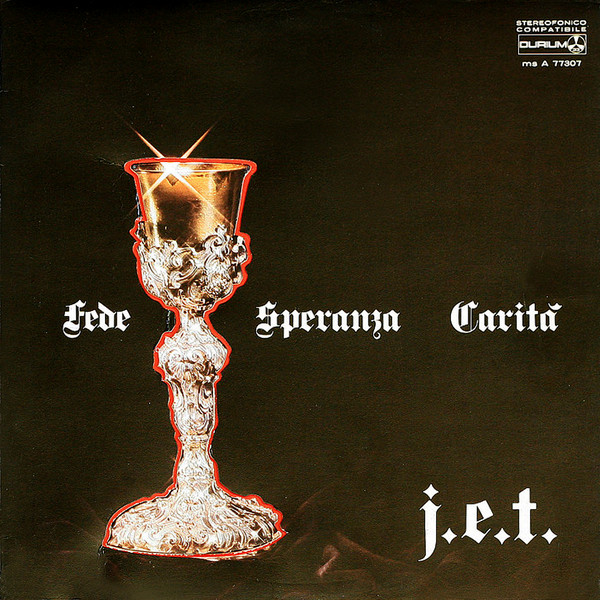 Fede, Speranza, Carità
J.E.T.
hard rock
Durium
1972
LP, CD
5