Na rôznych výberových kolekciách typu "best of 70's" som naďabil na speváčku Melanie, ktorej mierne zastretý hlas mi učaroval. Prvý stret nastal vďaka trojdiskovému výberu Saigon, na ktorom bola milá skladba Peace Will Come a brutálna, na doraz odspievaná, Lay Down (Candles In The Wind). Časom som odpadol z najlepšej verzie Ruby Tuesday na zemeguli a do uší sa mi zatúlali aj skladby What Have They Done To My Song, Ma a Brand New Key. Až na poslednú menovanú sa všetky nachádzajú na dvojalbumovej výberovke z roka 1972 – The Four Sides Of Melanie. BGO ju v roku 2009 vydalo ako dvojdiskové CD a ja som si ju nedávno kúpil.
Melanie Anne Safka (neskôr Schekeryk) bola rodená Newyorčanka, ale otec mal ukrajinské a matka talianske korene. Navyše, bola aj džezová speváčka, a preto neprekvapuje, že sa aj z Melanie stala speváčka. S gitarou. Po nezdare s Columbia (CBS) Records (v roku 1968 pre nich nahrala dva neúspešné single) si ju všimol Neil Bogart z Buddah Records a pretiahol ju (vo všetkej počestnosti) k sebe. Zoznámil ju s Petrom Schekerykom, ktorý sa stal jej manažérom a takmer okamžite i manželom. Nasledovala rada albumov a singlov, Melanie hrala na Woodstocku a jej sláva začala rýchlo závratne stúpať. A to až tak, že v roku 1971 založila s manželom vlastné vydavateľstvo Neighbourhood Records, aby nemusela nahrávať albumy "na povel". Ako na truc, hneď prvý z nich, Gather Me, obsahoval najväčší hit jej kariéry – Brand New Key. Buddah Records sa začali priživovať na úspechu, vydali albumy so starším materiálom (vrátane tejto výberovky), pustili do hitparád staršie skladby ako single, takže v jeden moment mala Melanie tri hity v prvej štyridsiatke amerického rebríčka. Skrátka, kariéra sa sľubne rozvíjala, až sa v roku 1974 rozhodla, že rodinný život jej je prednejší a hoci sa hudbe venovala aj naďalej, z povedomia más sa vytratila.
Tento kompilačný album bol pôvodne rozdelený na štyri strany dvoch LP, pričom každá strana ukazovala inú polohu tvorby. Prvá strana (skladby na CD1: 1-7) predviedla počiatky kariéry. Druhá strana (CD1: 8-13) sa zamerala na hity. Tretia strana (CD2: 1-5) prinášala cover verzie, no a štvrtá strana (CD2: 6-10) obsahovala koncertný prejav.
Ja na pesničkárstvo nie som nijako zvlášť fixovaný. Vlastne vôbec. Ale v prípade Melanie rád urobím výnimku. Jej hlas má všetko, čo má mať. Silu, zastreté hlasivky, mierny chrapľák, vie byť melancholický i ostrý ako ihla po kúre v pyramíde. Osobne nedám dopustiť na jej verziu Ruby Tuesday. Album Candles In The Rain sa stal vrcholom "rockovej" stránky jej tvorby, v titulnom hite ju skvelo doplnila vokálna skupina Edwin Hawkins Singers. "So raise the candles high…", v tomto okamihu ma mrazí! Skladbu zložila na počesť Woodstocku, kde hrala počas dažďa. Vyzvala divákov, nech zapália sviečky, aby dážď prestal. Neprestal, ale diváci vytvorili zaujímavú kulisu. Pôvodne som počul singel, albumová verzia má takmer osem minút, čo je neskutočná dávka emócií. Skladbu odvtedy prevzalo množstvo interpretov, na koncertoch ju dnes občas zaraďuje aj Greta Van Fleet.
Zaujímavé tiež je, že hit What Have They Done To My Song, Ma u nás nahrala Helena Vondráčková ako Kam zmizel ten starý song. Aj iné jej skladby sa stali terčom ďalších interpretov, za všetky menujem Christopher Robin, ktorú v islandčine pod názvom Bænin prespievala na svojom detskom debute (1977) jedenásťročná Björk.
Čo by som dodal na záver? Nič extra. Treba sa započúvať a možno vás Melanie uhranie ako mňa.
Skladby:
CD1:
Somebody Loves Me 2:27
Beautiful People 3:35
In The Hour 3:04
I Really Loved Harold 4:05
Johnny Boy 2:41
Any Guy 2:50
I'm Back In Town 2:17
What Have They Done To My Song, Ma 4:02
Lay Down (Candles In The Rain) 7:52
Peace Will Come (According To Plan) 4:47
Good Book 4:02
Nickel Song 3:42
Babe Rainbow (Reprise) 0:50
CD2:
Mr. Tambourine Man 4:20
Carolina In My Mind 3:37
Ruby Tuesday 4:32
Sign On The Window 2:22
Lay Lady Lay 6:15
Christopher Robin 2:35
Animal Crackers 2:12
I Don't Eat Animals 2:10
Psychotherapy 4:55
Leftover Wine 4:42
Zostava:
Melanie: gitara, spev
a hostia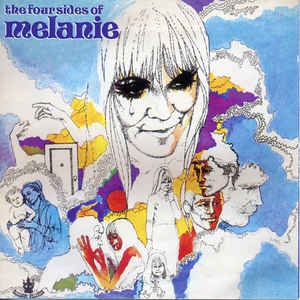 The Four Sides Of Melanie
Melanie
folk
Buddah Recordings
1972
LP, CD
23