Steven Seagal je znám především jako legenda akčních filmů a znalec bojových umění, ale málokdo ví, že se už od svých nácti aktivně věnuje hudbě a mezi jeho oblíbence (kromě převažující oblasti blues) patřili také třeba King Crimson nebo Procol Harum. Skoro všichni, takže i ti, kteří Stevena Seagala jako herce opravdu nemusí, uznávají, že jeho hudba, a to zejména jeho CD Songs From The Crystal Cave (vyšlo ve Francii), je více než příjemným a překvapujícím překvapením. Neboť příjemným překvapením zvedlá, udivená obočí recenzentů jsou z jejich kritik víc než cítit. Kupodivu…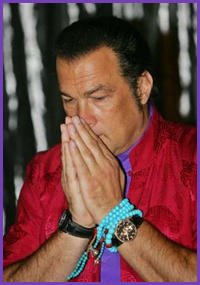 Ano, Steven Seagal není jen herec, ale také spisovatel, buddhista, držitel 7. danu v aikidu (a to opravdu nemá leckdo), držitel černého pásu v karate, černého pásu v judu, černého pásu v kendu, je také velkým znalcem východních filozofií a náboženství (a mimochodem s buddhismem začal dávno předtím, než se to v Americe stalo módou – Steven strávil mnoho let svého života v Asii), mohli bychom se dostat k dalším odvětvím, se kterými si tyká, jako je např. akupuntkura, bylinky, kaligrafie… Ale já zde chci hovořit především o Stevenovi Seagalovi – hudebnímu skladateli, zpěvákovi, textaři, hráči na kytaru (a dále také třeba na bicí).
V posledních letech, zejména poté, co Stevenovi zemřela matka, se stále více tento charismatický člověk věnuje hudbě, což bylo také poslední přání jeho matky – aby své písně vydal: "Lidem se budou líbit", řekla mu… V roce 2004 tak vyšlo první hudební CD Songs From The Crystal Cave. Steven téměř vše zkomponoval sám, otextoval, zazpíval, nahrál kytary a bicí. Album na posluchače vrší jedno překvapení za druhým. Od spoluúčasti Steveho Wondera zejména po bohatou škálu hudebních nápadů a stylů. Uslyšíte rock, pop, blues, reggae, okrajově i rap, ale asi nejvíce překvapí, s jakou lehkostí Steven Seagal proplouvá teriroriem etnického světa. Zejména druhá polovina alba je taková steakovitě šťavnatá porce world music. Steven Seagal je také řádně zcestovalý člověk, např. svá mladá léta strávil v Japonsku, proto také jeho hudba zní prožitě, navíc také vzhledem k jeho věku (narozen 1951) překvapivě mladě (čemuž jistě pomohla účast několika jamajských DJs).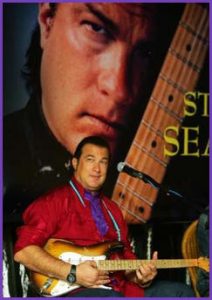 Toto album je opravu bohatý koktejl velice zajímavé hudby, téměř každá píseň je stylově jiná, takže kdybych chtěl ohodnotit některé skladby jednotlivě, skončil bych asi u toho, že bych rozebral všechny skladby. Snad si čtenář jakýs takýs obrázek o hudbě udělá. Další věc, která příjemně překvapí, je Stevenův hlas (zpěv je lehce podobný… je to taková kombinace Erica Claptona, Dava Matthewse a Steva Millera). Osobně se domnívám, že nejvíce se Stevenův hlas hodí do bluesově laděných písní, což Steven dokázal v roce 2006 na svém dalším albu Mojo Priest, kde ale již napevno zakotvil v řece blues. Pro ty, kdo mají Stevena Seagala spojeného s (výborným, ale hlasově trochu jinde) hlasem dabéra Jiřího Štepničky, je tedy jeho hlas dalším překvapením na tomto albu.
Skladby jako např. Better Man, Not For Sale nebo Goree také víc než výmluvně dokazují to, co vím už dávno a čemu jen těžko uvěří člověk věřící bulváru – že Steven Seagal je citlivý člověk. A má talent nejen na skládání hudby, ale i na psaní textů – za takový refrén jako My God is better than your God/My God is bigger than yours by se nemusel stydět ani Roger Waters.
Album Songs From The Crystal Cave si zaslouží 5 hvězdiček, protože za prvé a především se mi moc líbí, za druhé zde ale jasně cítím i objektivní kvalitu a za třetí je to skutečně progresivní hudba (v tom smyslu, co slovo "progresivní" znamená) a ne jen "napodobíme Close To The Edge". Kdo se chce ponořit do nekřečovitého, výživného koktejlu world music, reggae, rocku, popu a blues, tomu mohu toto album jen doporučit. Obě Stevenova hudební CD se dají bez problému koupit. Je lahůdkou (minimálně pro mě) mít daná CD v originále; už třeba jen proto, že vám tak neunikne např. fotka B. B. Kinga a Stevena Seagala, jak to spolu rozbalili na pódiu. Z přiložených fotek v CD brožurce je jasně vidět, že hudba Stevena Seagala opravdu baví. Koneckonců – sám přiznal, že v posledních letech víc než točení akčních filmů.
SKLADBY:
01. Girl It's Alright /Barnhill, Seagal/ – 3:51
02. Don't You Cry /Barnhill, Seagal/ – 4:59
03. Music /Barrett, Seagal/ – 4:14
04. Better Man /Barnhill, Seagal/ – 4:29
05. Route 23 /Seagal/ – 4:31
06. My God /Seagal/ – 3:58
07. Lollipop /Fisher, Seagal, lidová/ – 4:36
08. Not For Sale /Fisher, Seagal/ – 4:57
09. Dance /Fisher, Seagal/ – 3:34
10. Jealousy /Hall, Seagal/ – 4:22
11. War /Laing, Seagal/ – 3:47
12. Strut /Hall, Seagal/ – 3:05
13. Goree /Seagal/ – 6:00
14. The Light /Seagal/ – 4:54
SESTAVA:
Steven Seagal – kytary, bicí, zpěv
+
Al Anderson – kytary; Babakar – africké bubny; Greg Barnhill – akustická kytara; Patrick Carroll – baskytara; T. H. Subash Chandran – perkuse, židovská harfa, tabla; Russ Desalvo – syntezátor, kytary; Habib Faye – baskytara, klávesy; Shaun Fisher – baskytara, bicí, klávesy, doprovodný zpěv; Marty Grebb – klávesy, hammond organ; Tommy K – kytary; Remi Kabaka – Talking Drum; Lady Saw – DJ; Lieutenant Stitchie – DJ; Michael Okri – zpěv; Tony Rebel – rap; Veit Renn – klávesy; Rhonda Smith – baskytara; Kavita Subramaniam – zpěv; Mani Subramaniam – housle; Frank Valardi – bicí; Stevie Wonder – harmonika.
+
Rose Banks, Sharon Bryant, Dana Calitri, Ripley Fairchild, Lisa Frazier, Curtis King, Janice Brocking Renn – doprovodný zpěv.
Songs From The Crystal Cave
Steven Seagal
Blues Rock, Folk Rock, Pop Rock
nsb - NonSolo Blue's
2004
CD
14